Click image for BBB rating
See our Privacy Policy
cool="cool" width="786" height="6658" border="0" cellpadding="0" cellspacing="0" gridx="16" showgridx="showgridx" usegridx="usegridx" gridy="16" showgridy="showgridy" usegridy="usegridy" bgcolor="#99ccff">

Welcome to Spaightwood Galleries, Inc.
120 Main Street, Upton MA 01568-6193
You can follow us on Facebook and Twitter!
We blog regularly on Facebook and announce special events and special sales on both sites.
Old Master Drawings: 16th-Century Italian Drawings and Engravings after Michelangelo
Giorgio Vasari, whose prime loyalty was always to Michelangelo, offers his ultimate praise at the beginning of his Life of Michelangelo in The Lives of the Artists, published in 1568. The first paragraph sets the tone of the 84 pages that follow: "While industrious and choice spirits, aided by the light afforded by Giotto and his followers, strove to show the world the talent with which their happy stars and well-balanced humors had endowed them, and endeavoured to attain to the height of knowledge by imitating the greatness of Nature in all things, the great Ruler in Heaven looked down and, seeing these vain and fruitless efforts and the presumptuous opinion of man more removed from truth than light from darkness, resolved, in order to rid him of these errors, to send to earth a genius universal in each art, to show singlehanded the perfection of line and shadow, and who should give relief to his paintings, show a sound judgment in sculpture, and in architecture should render habitations convenient, safe, healthy, pleasant, well-proportioned, and enriched with various ornaments. He further endowed him with true moral philosophy and a sweet poetic spirit, so that the world should marvel at the singular eminence of his life and works and all of his actions, seeming rather divine than earthly" (Everyman edition, vol. 3, 108). During the sixteenth century, Michelangelo bestrode the art world like a colossus, and artists desperately sought to learn how to understand his works by making drawings of them and studying them, seeking there inspiration and the ability to please patrons who demanded they achieve the effects that Michelangelo's paintings and sculptures had. Michelangelo's own drawings ranged from quick sketches, proposals from commissions mixing his hand-written ideas with sketches, working drawings for paintings and sculptures, proposals for ornaments, architectural projects, and presentation drawings for his friends. On occassion he also gave drawings to artists to use as a basis of their own compositions (see The Death of Phaeton below).

Select Bibliography: Charles de Tolnay, Michelangelo. 5 volumes (Princeton: Princeton University Press, 1943-1960; rpt. 1968); J. A. Gere, Drawings by Michelangelo in the Collection of Her Majesty the Queen at Windsor Castle, The Ashmolean Museum, The British Museum, and other English Collections (London: The British Museum, 1975); J. A. Gere, Drawings by Michelangelo from The British Museum (NY: The Pierpont Morgan Library, 1979), Paul Joanides, Michelangelo and His Influence: Drawings from Windsor Castle (Washington D.C.: The National Gallery of Art, 1996); Paul Joanides, The Drawings of Michelangelo and His Followers in the Ashmolean Museum (Cambridge: Cambridge University Press, 2007).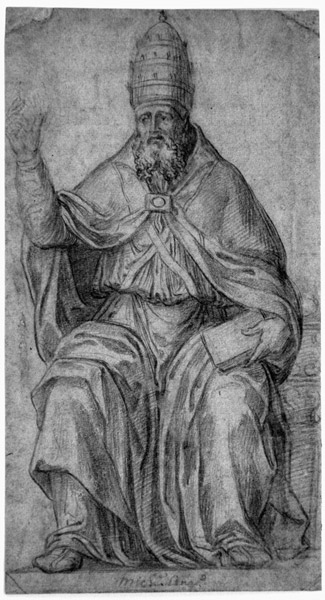 After Michelangelo, Pope Clement VII Blessing. Pencil on old laid paper after a design by Michelangelo. Charles De Tolnay, Michelangelo: The Medici Chapel Vol. 3 (Princeton: Princeton University Press, 1970), prints several works ( figures 314-323) apparently modelled after Michelangelo's lost design for a sculpture for the project on the Medici Dukes and Popes (Leo X and Clement VII). Figure 315 presents the Monument of Pope Clement VII by Antonio da Sangallo and Bandinelli in Santa Maria Sopra Minerva in Rome, a sculpture possibly modelled upon the original of this drawing. The Medici Dukes ended up with their own monument in the Medici Chapel at San Lorenzo in Florence; the Popes are in Rome. The idea was first discussed in 1520 and Michelangelo worked on it, off and on, until Clement VII's death in 1533, when the new Pope, Paul III ordered him to paint the Last Judgment for the Sistine Chapel and two large frescoes for the Pauline Chapel, The Calling of St. Paul and The Crucifixion of St. Peter. Our drawing is inscribed "Michelangelo" at the base. Our hypothesis is that someone saw Michelangelo's apparently lost original drawing and copied it, the norm for any work of Michelangelo to anyone vouchsafed a view. Image size: 231x125mm. Price: $15,000.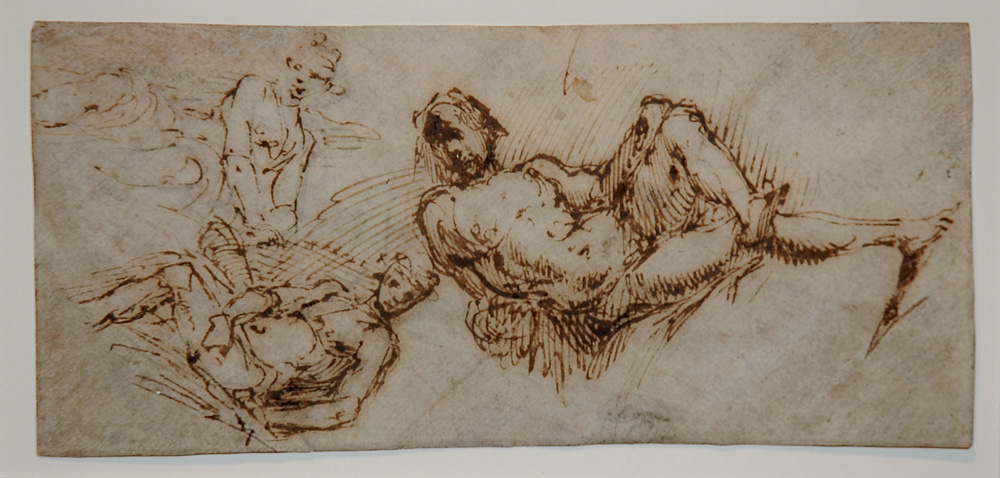 Alessandro Casolani (Italian, 1552-1606), Studies of reclining figures. Pen and brown ink on cream laid paper. On the verso, an early hand annotated the sheet "Michelangelo," probably not because he thought the drawing was by Michelangelo, but because he was reminded of Michelangelo's sculpture Aurora (Dawn) in the Medici Chapel in Florence (Charles De Tolnay, Michelangelo: The Medici Chapel Vol. 3 (Princeton: Princeton University Press, 1970), fig. 9-11). Casolani's sketches may be studies for a pediment or a lunette fresco. Image size: 87x187mm. Price: $8850.

Casolani was born in Mensano in the rural area of Casole d'Elsa between 1552 and 1553. Although he was probably not conscious of how good he was, his fame spread throughout Italy and abroad. His artistic formation took place in Siena under the guidance of the Arcangelo Salimbeni, where he developed, with some study companions (Cristofano Roncalli and the sculptor Prospero Roncalli, called the "Bresciano"), a passion for fantastic inventions and chromatic liveliness. Casolani studied for some years in Rome as well and succeeded, upon his return to Siena, in uniting the Sienese and Roman schools and become the"modern" Sienese painter who received the most prestigious commissions in Siena. His famous Adoration of the Shepherds for the Duomo di Siena dates to the '90s; he also worked for the Certosa di Pavia. A major retrospective was held in the Casole d'Elsa in Siena to honor one of the most important Sienese painters of the 16th century.

Bibliography: Alessandro Bagnoli, Patrizia La Porta, ed. Il Piacere del colorire: Artistic Itinerary of Alessandro Casolani 1552/53 - 1607: Guide to the exhibition held at Museo Archeologico e della Collegiata, Casole d'Elsa (Firenze: Centro Di, 2002.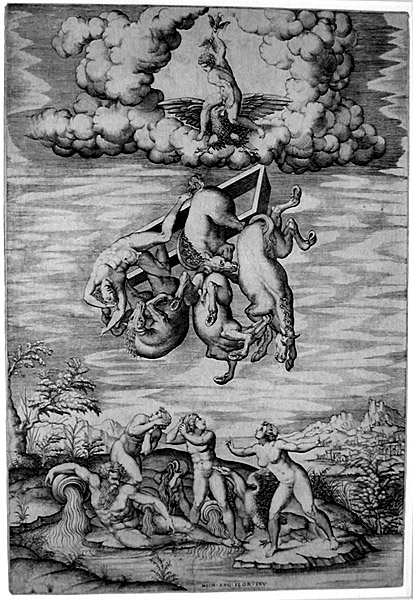 Nicholas Beatrizet (Italian, c. 1515-1560), after Michelangelo, The fall of Phaeton. Edition unknown. This engraving is based upon a drawing made for Sebastiano del Piombo who was trying to get a commission for a painting in competition with Raphael (see Vasari, Lives of the Painters, Sculptors and Architects, 4 vols., trans. A. B. Hinds (NY: Everyman's Library, 1963; 1970), III: 113. Repaired tear at bottom, trimmed on margins within platemark. Both Michelangelo's drawing and Beatrizet's engraving are reproduced by Joanides 1996 on pp. 56-57. Ours is a very good impression after Nicholas Beatrizet's c. 1540s engraving. Image size: 411x283mm. Price: $5000.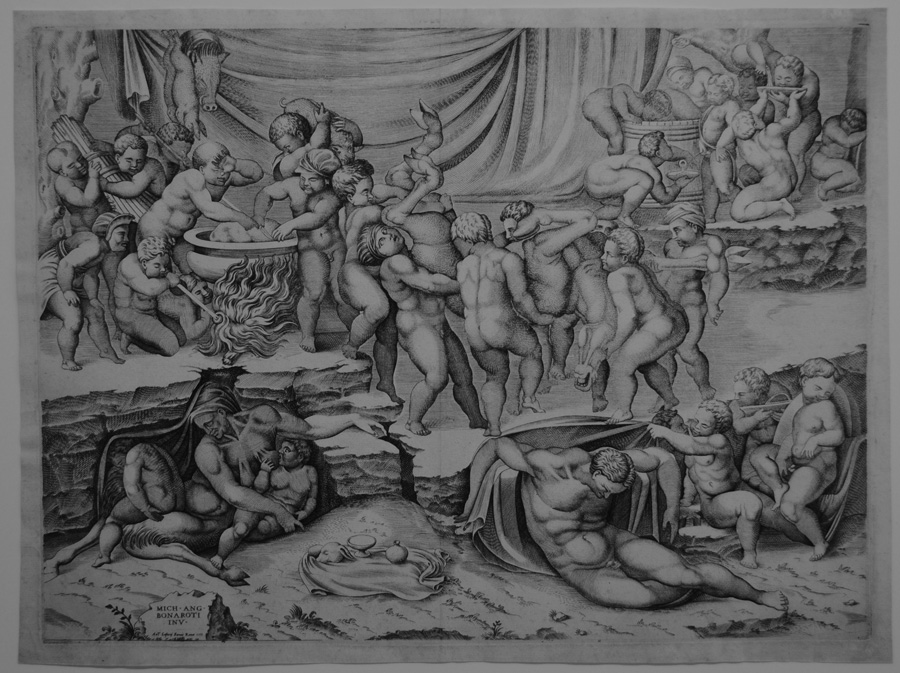 Nicholas Beatrizet (Italian, c. 1515-1560), after Michelangelo, Bachanal of children (B. 40i/iii). A beautiful early impression with large margins on laid paper with the "crossbow in a circle" watermark. Published by Antt. Lafreri in Rome in 1553. Beatrizet was an important figure in popularizing the art of the high Renaissance. His engravings after Michelangelo introduced Michelangelo's works to Europe. Image size: 297x400mm. Price: $5000.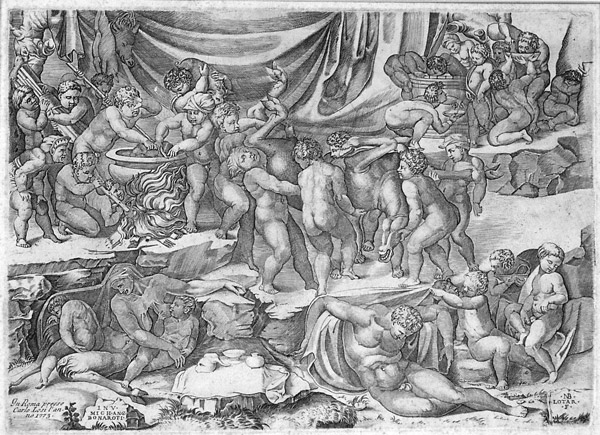 Nicholas Beatrizet (Italian, c. 1515-1560), after Michelangelo, Bachanal of children (B. 40). A later impression on antique laid paper; with large margins. Beatrizet was an important figure in popularizing the art of the high Renaissance. His engravings after Michelangelo introduced Michelangelo's works to Europe. Originally published by Beatrizet in Rome, our impression was published in Rome in 1773. For a very interestingdiscussion of the symbolicmeaning of Michelangelo's drawing, see James hall, Michelangelo and the Reinvention of the Human Body (N.Y.: Farrar, Straus and Giroux, 2005), pp. 189-191. Image size: 284x402mm. Price: $2850.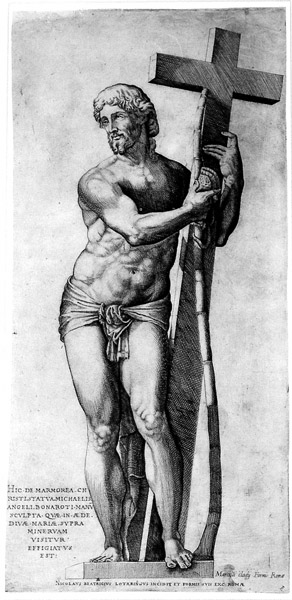 Nicholas Beatrizet (Italian, c. 1515-1560), after Michelangelo, Jesus Christ Standing, Holding His Cross (B. 33). Engraving after Michelangelo's sculpture. A later impression on antique laid paper; margins trimmed. Originally published by Beatrizet in Rome, ours is from the edition of Marcelli Clody (Rome). The plate is still printing well. Image size: 435x238mm. Price: $1950.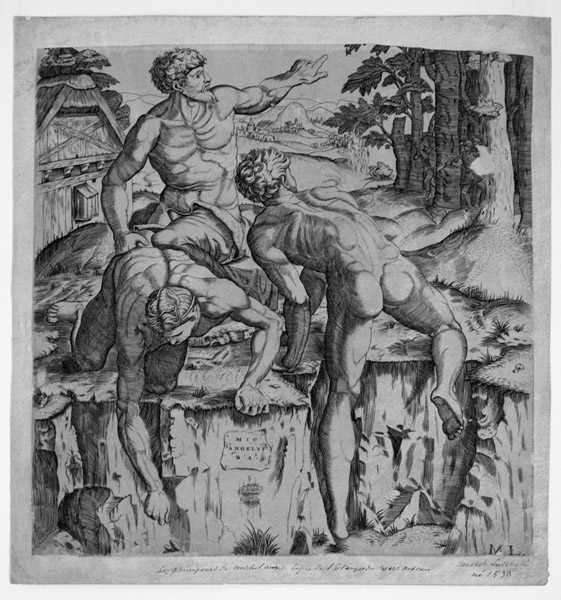 Michele Lucchese (Rome, 1529-after 1604), The Climbers (B. 487a). Engraving after Marcantonio Raimondi, c. 1560. Good impression on laid paper, trimmed on or within border. Signed with the initials in the plate. Marcantonio's work is based on Michelangelo's now-destroyed painting of the Battle of Cascina. Image size: 230x224mm. Price: $1250.
Spaightwood Galleries, Inc.
To purchase, call us at 1-800-809-3343 (1-508-529-2511 in Upton MA & vicinity) or send an email to spaightwood@gmail.com.
We accept AmericanExpress, DiscoverCard, MasterCard, and Visa.
We also accept wire transfers and paypal.

For directions and visiting information, please call. We are, of course, always available over the web and by telephone (see above for contact information). Click the following for links to past shows and artists. For a visual tour of the gallery, please click here. For information about Andy Weiner and Sonja Hansard-Weiner, please click here. For a list of special offers currently available, see Specials.

All works are sold with an unconditional guarantee of authenticity (as described in our website listing).

Copyright 2004-2017, Spaightwood Galleries, Inc.

Go back to the top of this page.

Visiting hours: Saturday 10:00 am to 5:00 pm and Sunday noon to 6:00 pm and other times by arrangement.
Please call to confirm your visit. Browsers and guests are welcome.