Click image for BBB rating
See our Privacy Policy
cool="cool" width="786" height="5829" border="0" cellpadding="0" cellspacing="0" gridx="16" showgridx="showgridx" usegridx="usegridx" gridy="16" showgridy="showgridy" usegridy="usegridy" bgcolor="#99ccff">

Welcome to Spaightwood Galleries, Inc.
120 Main Street, Upton MA 01568-6193
Old Master Drawings: 18th-Century Drawings
The 18th century is a new area of interest for us. We have had three drawings by Mouricault ever since Andy fell in love with them while on a research trip to Paris; our more recent acquisitions of works by Crespi, Parrocel, and Jean François de Neufforge, (Comblain-au-Point, 1714-1791 Paris), a sculptor, architect, and printmaker), who sometimes signs his drawings I:D:N, are perhaps simply responses to interesting pieces that caught our eye either because one or both of us was interested in a particular image (like Justice or Mary Magdalene, acquired during our show of Images of Women in Old Master Drawings and Prints in the winter of 2002) or because someone made us an offer we couldn't refuse, in this case a portfolio of drawings mostly by I:D:N, but also containing several late 16th or 17th century drawings. Of the artists on this page, Crespi is certainly the most prominent. Following the publication of a study and catalogue raisonne of his works (Mira Pajes Merriman, Giuseppe Maria Crespi (lo Spagnolo) [Rizzoli, 1980]) he was featured in a show at the Kimbell Art Museum in Fort Worth that occasioned a fascinating accompanying monograph by John T. Spike, Giuseppe Maria Crespi and the Emergence of Genre Painting in Italy (1986). Other retrospectives followed in short order, including Andrea Emiliani and A. B. Rave, Giuseppe Maria Crespi 1665-1727 (Bologna: Nuova Alfa, 1990; this show also travelled to Stuttgart, Germany); Elvio Mich, ed, Giuseppe Maria Crespi ed altri Maestri Bolognesi nelle Collezioni di Castel Thun. Il Ciclo di Ercole dalla Quadreria di Francesco Ghisilieri (Trento: Castello del Buonconsiglio, 1998); see also Michael Liebmann, Giuseppe Maria Crespi. Mit einem Text von Luigi Crespi (Dresden: Verlag der Kunst, 1976).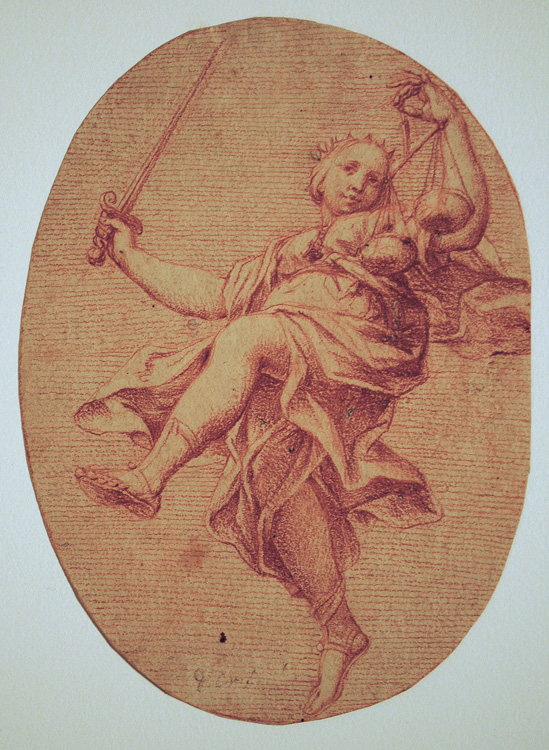 Giuseppe Maria Crespi called Lo Spagnuole (Bologna, 1665-1747), Justice. Red chalk on cream laid paper. This very finished-looking drawing offers the low perspective of a viewer gazing on a ceiling painting or one for a high wall. There is also an Allegorical Figure of Good Government on the verso. There are a number of prints after Crespi, though there is no print associated with either of these drawings. The high auction price for a Crespi drawing in red chalk is $45, 949 at Sothebys London, 7/1/91. Image size: 185x133mm. Price: $12,500.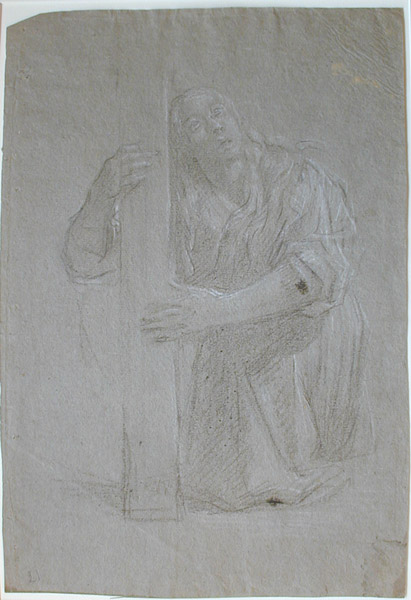 Etienne Parrocel called "Le Romain" (French, 1696-1776), Mary Magdalen Embracing the Cross. Black & white chalk drawing on blueish green laid paper. Possibly a study in connection with the decoration of the dome of the Church of the Magdalen in Rome. In the past 15 years, 46 of his works have sold at auction, of which 28 were drawings; the high price for a black-and white chalk drawing was $17, 750; for a drawing: $10, 310. Parrocel's father and uncle were also painters. In 1717, he accompanied his uncle Pierre to Rome and settled down there, becoming a member of the Academie de Saint-Luc (the patron saint of painters). He received commissions for paintings at the Churchs of Sainte-Marie and Saint-Louis des Francais in Rome as well as commissions for numerous portraits of the holy family, cardinals, and saints. Image size: 413x281mm. Price: $8950.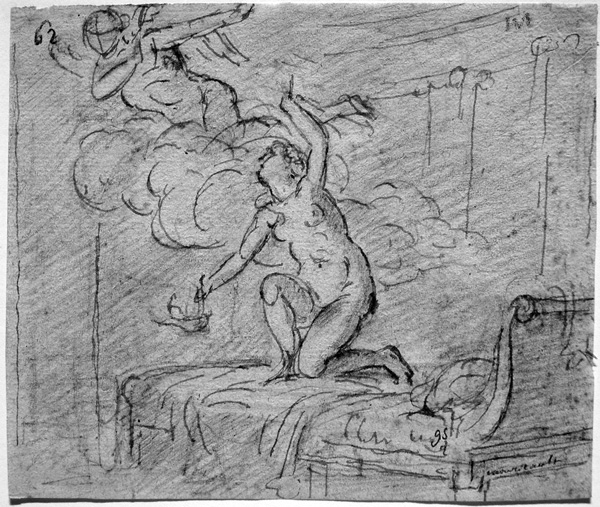 Mouricault (French, fl. 1768-1795), Cupid fleeing from Psyche. Pencil on gray laid paper, c. 1780. Signed "Mouricault" lower right. Provenance: all three of our drawings came from the same collection as indicated by the noatation "g-s/varies" on each piece in the lower right quadrant. For other drawings by Mouricault, click here. Image size: 136x165mm. Price: $2000.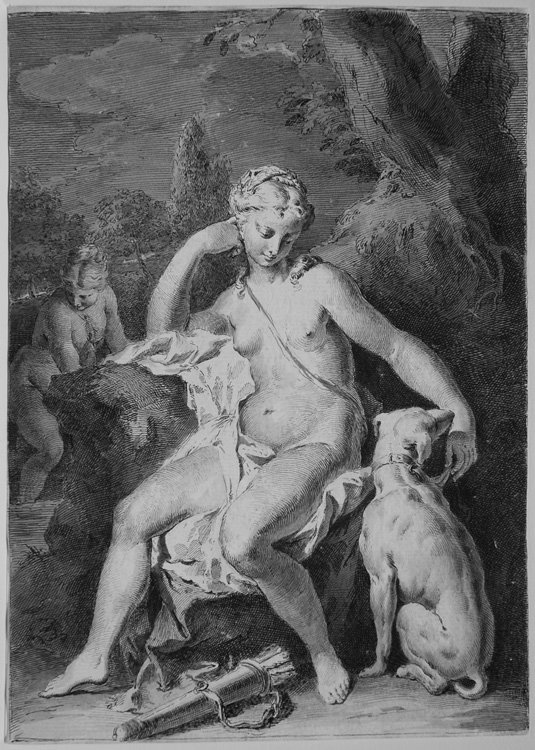 François Boucher (French, 1703-1770), School, Diana, a hunting dog, and one of her nymphs. Pen and black ink on laid paper watermarked with a horned moon over a crown above the letters GF or CF. In a note on the website of the Metropolitan Museum of Art, Perrin Stone economically sums up Boucher's career: "From a humble background, Boucher initially supported himself as a printmaker and designer of book illustration. Around 1726–28, he was employed by Jean de Jullienne . . . making etchings after drawings by Antoine Watteau. These activities eventually financed his trip to Italy in 1728, where his interests seem to have been largely focused on masters of the Baroque . . . Boucher also clearly studied Venetian eighteenth-century painting and the bravura handling of Giovanni Benedetto Castiglione's rustic caravans and animals.

Returning to Paris around 1731, Boucher increasingly turned his attention to large-scale mythological painting and soon found official recognition in the form of royal commissions and membership at the Royal Academy . . . in 1734. His wide-ranging production soon graced the walls of an equally wide-ranging clientele, from King Louis XV, Madame de Pompadour, and Count Carl Gustav Tessin, Swedish ambassador to Paris, to bourgeois collectors of much more modest means. In 1765, he was appointed to the two highest positions in the French arts establishment: first painter to the king and director of the Royal Academy." Our drawing may have been insired by Boucher's painting, Diana at the Bath, which also features a seated naked Diana, a perilous sight as Actaeon discovered. See François Boucher 1703-1770 (NT: Metropolitan Museum, 1986), 197-199. Image size: 288x255mm. Price: $3500.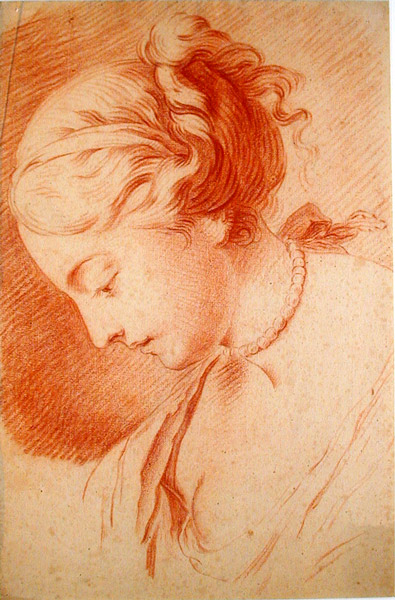 Jean François de Neufforge (Comblain-au-Point, 1714-1791 Paris), Woman with pearl necklace looking down II. Red chalk drawing on laid paer, 2nd half of the 18th century. Watermark: "Coat of arms." Image size: 450x305mm. Price: $5000.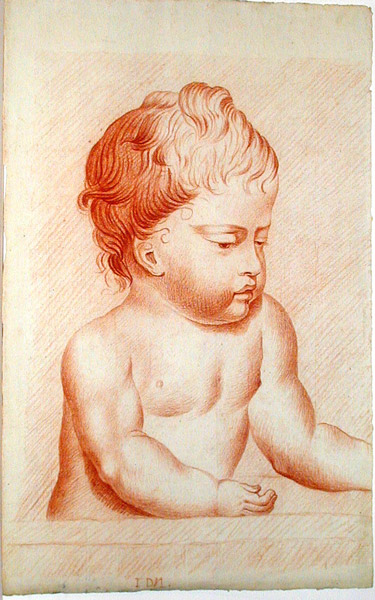 Jean François de Neufforge (Comblain-au-Point, 1714-1791 Paris), Infant Christ child I. Red chalk on laid paper. Signed "I:D:N" left of center at bottom. Watermark: Fleur-de-lis over coat of arms (Churchill 431: 1688 and after). Image size: 430x305mm. Price: $4000.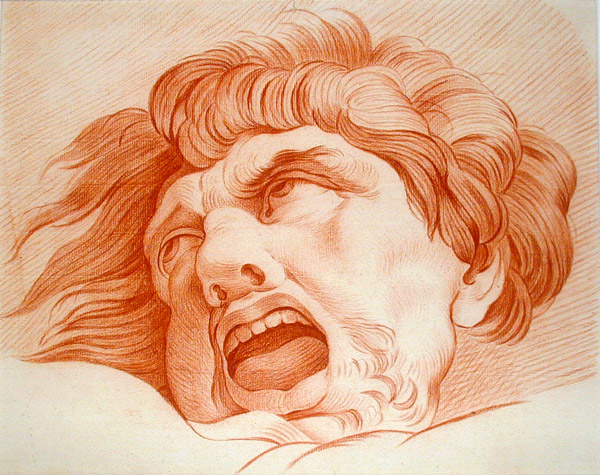 Jean-François de Neufforge, Comblain-au-Point, 1714-1791 Paris), Man screaming. The subject matter would perhaps have been determined by larger composition, perhaps showing warriors in battle; perhaps one of the damned in Hell. Red chalk on laid paper. Watermark similar to Churchill 432, Strasbourg bend and lily, after 1686. Image size: 300x356mm. Price: $3500.
Spaightwood Galleries, Inc.
To purchase, call us at 1-800-809-3343 (1-508-529-2511 in Upton MA & vicinity) or send an email to spaightwood@gmail.com.
We accept AmericanExpress, DiscoverCard, MasterCard, and Visa.
We also accept wire transfers and paypal.

For directions and visiting information, please call. We are, of course, always available over the web and by telephone (see above for contact information). Click the following for links to past shows and artists. For a visual tour of the gallery, please click here. For information about Andy Weiner and Sonja Hansard-Weiner, please click here. For a list of special offers currently available, see Specials.

All works are sold with an unconditional guarantee of authenticity (as described in our website listing).

Go back to the top of this page.

Visiting hours: Saturday 10:00 am to 5:00 pm and Sunday noon to 6:00 pm and other times by arrangement.
Please call to confirm your visit. Browsers and guests are welcome.