Click image for BBB rating
See our Privacy Policy
cool="cool" width="784" height="9544" border="0" cellpadding="0" cellspacing="0" gridx="16" showgridx="showgridx" usegridx="usegridx" gridy="16" showgridy="showgridy" usegridy="usegridy" bgcolor="#99ccff">

Welcome to Spaightwood Galleries, Inc.
120 Main Street, Upton MA 01568-6193

You can follow us on Facebook and Twitter!
We blog regularly on Facebook and announce special events and special sales on both sites.
Mary's role in the Bible is minimal compared to that of her son, yet in late Medieval and Renaissance art, the case is different. Although the Gospels of Matthew and Mark accord her a very small role, and that of Luke, depite an enlarged early history, does little more, legend and liturgy accord her a far more important place in the story. Mark, whose Gospel is the earliest, skips Mary entirely in the beginning, choosing to start the story with John the Baptist: "The beginning of the gospel of Jesus Christ, the Son of God; As it is written in the prophets, Behold, I send my messenger before thy face, which shall prepare thy way before thee. The voice of one crying in the wilderness, Prepare ye the way of the Lord, make his paths straight. John did baptize in the wilderness, and preach the baptism of repentance for the remission of sins. And there went out unto him all the land of Judaea, and they of Jerusalem, and were all baptized of him in the river of Jordan, confessing their sins. And John was clothed with camel's hair, and with a girdle of a skin about his loins; and he did eat locusts and wild honey; And preached, saying, There cometh one mightier than I after me, the latchet of whose shoes I am not worthy to stoop down and unloose. I indeed have baptized you with water: but he shall baptize you with the Holy Ghost. And it came to pass in those days, that Jesus came from Nazareth of Galilee, and was baptized of John in Jordan. And straightway coming up out of the water, he saw the heavens opened, and the Spirit like a dove descending upon him: And there came a voice from heaven, saying, Thou art my beloved Son, in whom I am well pleased" (Mark:1-11).

Matthew starts his story early, by introducing Mary at the moment she does what it is necessary that she do: beome "with child": "Now the birth of Jesus Christ was on this wise: When as his mother Mary was espoused to Joseph, before they came together, she was found with child of the Holy Ghost. Then Joseph her husband, being a just man, and not willing to make her a public example, was minded to put her away privily. But while he thought on these things, behold, the angel of the Lord appeared unto him in a dream, saying, Joseph, thou son of David, fear not to take unto thee Mary thy wife: for that which is conceived in her is of the Holy Ghost. And she shall bring forth a son, and thou shalt call his name JESUS: for he shall save his people from their sins. Now all this was done, that it might be fulfilled which was spoken of the Lord by the prophet, saying Behold, a virgin shall be with child, and shall bring forth a son, and they shall call his name Emmanuel, which being interpreted is, God with us. Then Joseph being raised from sleep did as the angel of the Lord had bidden him, and took unto him his wife: And knew her not till she had brought forth her firstborn son: and he called his name JESUS" (Matthew 1:18-25). John dispenses in his opening with any human agency, preferring instead to begin with a divine begetting: "In the beginning was the Word, and the Word was with God, and the Word was God. The same was in the beginning with God. All things were made by him; and without him was not any thing made that was made. In him was life; and the life was the light of men. And the light shineth in darkness; and the darkness comprehended it not" (John 1:1-5).

In place of these Mark's 11 verses, Matthews 6, and John's 5, Luke gives us over 130, introducing Mary's cousin Elizabeth, her son John, The Archangel Gabriel, shepherds, and prophets, ending with a 12-year-old Jesus teaching in the Temple and going about His Father's buiness. Luke, whose work inspired painters himself became the Patron Saint of the Painters' Guild and is often painted painting a vision of Mary holding the infant Jesus. In addition to Luke's extended stry, the Golden Legend and other literary and popular stories became important sources for the the stories of her own miraculous birth, her early dedication to God, and her love for her divine son.
Venetian School, late 16th century, The Birth of the Virgin. Pen and brown ink on thin laid paper. This seems to have been in a collector's album of drawings at one point: it is numbered 36 in ink upper right and attributed to Veronese in pencil under the drawing left of center. In the background, St. Anne reclines in a canopied bed attended by a servant while others clean up after the birth. In the foreground, another servant shows the Virgin to Joachim. Image size: 155x200mm. Price: $6500.
Albrecht Durer (Nuremburg, 1471-1528), Presentation of the Virgin in the Temple (Bartsch 81, Strauss 79, Meder M. 193g). Original woodcut, c. 1503-1504. Executed for The Life of the Virgin, this impression from c. 1596 is printed on paper with the Double Eagle with flower watermark. Margins trimmed to or within the image. Ours is an impression from what was evidently an edition of the "Life of the Virgin" c. 1596-1600 printed from Durer's woodblocks. This print is illustrated in almost every book on Durer's work as a printmaker. Image size: 299x210mm. Price: $6800.

For other images from Durer's Life of the Virgin, please click here; for images by Durer of the Virgin and Child, please click here.
Cornelis Cort (Netherlandish, 1533-1578), The Presentation of the Virgin in the Temple (Holl. 96, TIB 52:21-III). Engraving after Taddeo Zuccaro, 1570. Very good impression on laid paper, ex collection Fabricius (Lugt. Sopp. 847a & 919ter; see below). Slightly rubbed area top left in the blank space by the high priest's right hand. Cort spent some time working in Venice and was one of the leading Mannerist engravers working in the Netherlands during the formative years of the Antwerp School. Cut on or within platemark. signed left on the bottom step and dated 1570 lower left in the plate. Published by Ant[oine]. Lafrery (1512-1577). Image size: 262x197mm. Price: $1600.
Also available: another impression of slightly better quality, without rubbed areas but without collectors' marks: $2400.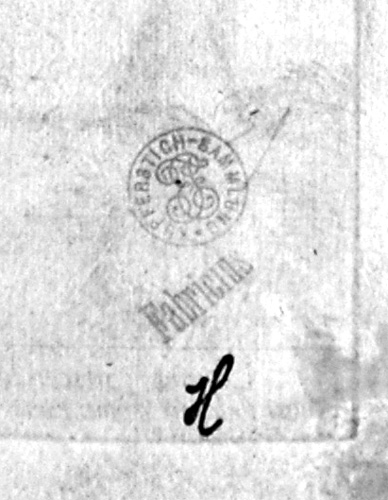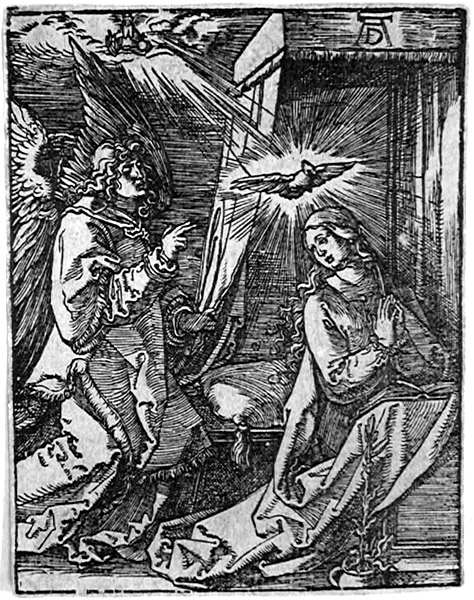 Albrecht Durer (Nuremburg, 1471-1528), The Annunciation to the Virgin (B. 19, Meder 128b, Strauss 139). Original woodcut, c. 1508. A good 16th-century impression with thread margins outside the border. Although the border is beginning to chip, the block is still printing well. 126x97mm. Price: $6000.
Jan Sadeler (Dutch, 1550-1600), The Annunciation to the Virgin (TIB 7001:130 S2, Holl. 160). Engraving after Maarten de Vos (New Holl. de Vos 256 ii/ii), 1579. A very good impression on laid paper of the second state of two with the signature in the plate. Dated "1579" lower left; inscribed "M. DE VOS INVE / SADELER FECIT" lower right; "CVM GRAT. ET PRIVIL.S. CAES M." center. Trimmed on or within the platemark. Published by Sadeler as part of a series of 12 engravings depicting the youth of Christ. Image size: 187x130mm. Price: $1000.

Albrecht Durer (Nuremburg, 1471-1528), AFTER, Madonna with the Swaddled Infant (Bartsch 38, Strauss 94, Meder 40). Reverse copy of Durer's 1520 engraving executed by Jan Wierix (Antwerp, 1549-1618) c. 1563 (Maquoy-Hendrixx 1705). Heller notes the existence of twelve other copies. A beautiful impression on laid paper of one of Wierix' most successful recreations of a Durer masterpiece. The Wierix brothers were the most technically proficient engravers in Antwerp in the later 16th century. They chose to make engravings after Durer's masterpieces to prove their technical skills. Image size: 143x100mm. Price: $2500.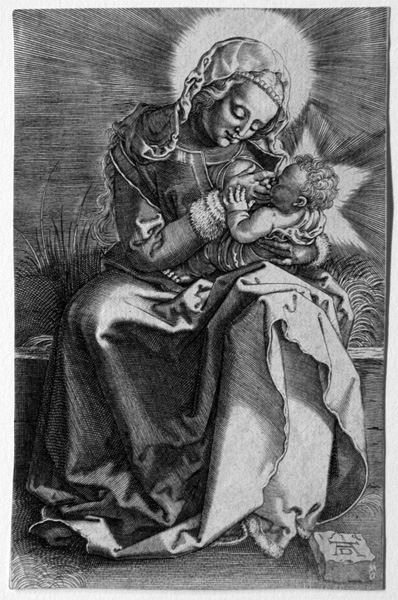 Albrecht Durer (Nuremburg, 1471-1528), AFTER, Madonna Nursing (Bartsch 36 copy 4, Strauss 91-reversed). Reverse copy of Durer's c. 1518 engraving. A very good 16th century impression on laid paper of this work which is based upon one of Durer's late masterpieces. Heller notes that the work was copied by Wierix and 6 other engravers. Trimmed within the platemark. The engraver's initals MD are printed on the right corner of the stone with Durer's monogram. size: 113x72mm. Price: $1600.
Albrecht Durer (Nuremburg, 1471-1528), AFTER, Madonna Crowned by Two Angels (Bartsch 39, Strauss 87, Meder 19c-d). Reverse copy of Durer's c. 1518 engraving. Good impression trimmed inside the platemark. From the existence of copies by Jacob Binck (c. 1500-1569), Jan Wierix, and 13 others, we may assume that this was one of Durer's most popular prints. Durer's original has been praised as "the prettiest and most elegant of Durer's Madonnas" (Kohler) and as having "a Raphaelesque equilibrium of loveliness & serenity" (Panofsky). Image size: 141x90mm. Price: $1400.
Marco Dente da Ravenna (Italian, fl. Rome, 1515-1527), The Virgin of the Fish (Bartsch 54). Engraving after Raphael published by Antonio Salamanca (active c. 1542-48, Rome). A beautiful impression with large margins showing the Virgin and Child, St. Jerome, Tobias, and the Angel Raphael. One of Marcantonio Raimondi's chief assistants, Marco Dente was murdered during the Sack of Rome in 1527. Inscribed lower left: "MF" (Marco fecit); left center "Ant. aal. exc" Image size: 260x218mm. Price: $2850.
Albrecht Durer (Nuremburg, 1471-1528), Christ teaching the doctors in the Temple (Bartsch 91, Strauss 38, Meder 203). Original woodcut, c. 1503. Executed for The Life of the Virgin, this impression from c. 1580 is printed on paper with the fishbladder watermark. Repaired diagonal tear lower left corner. Margins trimmed to or within the image. One of Durer's masterpieces. Image size: 298x210mm. Price: $7500.
Federico Zuccaro (Italian, 1540-1609), Attributed, The Lamentation. Pen and reddish brown ink and gray wash and red chalk with white heightening on cream laid paper. The Virgin Mary tenderly swaddles her dead son as she did her infant years earlier. The action takes place at the foot of the cross unnoticed by two men talking behind her to the right of the right cross. For works very close stylistically to this piece see E. James Mundy, with the assistance of Elizabeth Ourusoff de Fernandez-Gimenez, Renaissance Into Baroque: Italian Master Drawings by the Zuccari, 1550-1600 (Milwaukee: Milwaukee Art Center, 1989), plates 56, 82, 85, and 88. Image size: 232x165mm. Price: $16,500.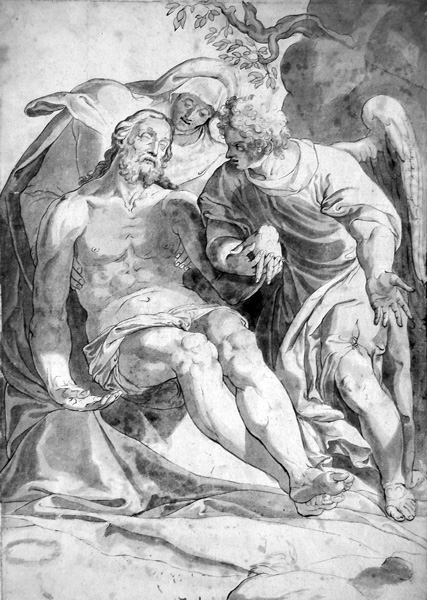 Agostino Carracci (Italian, 1557-1602), AFTER, Pieta. See Diana DeGrazia Bohlin, Prints and Related Drawings by the Carracci Family (Washington D.C.: National Gallery of Art, 1979), n. 102. Pen and brown ink and gray wash on cream laid paper, after 1582. This drawing after Agostino's engraving after Paolo Veronese's painting suggests the way that paintings, drawings, and prints might all function in the artistic market. De Grazia suggests that Agostino interpreted Veronese's painting with his consent. Our drawing shows an artist studying Agostino's work. For an interesting study of the way artists can use their copies of works by other artists, see Jeremy Wood, Rubens: Drawing on Italy (Edinburgh: National Gallery of Scotland, 2002), which discusses Rubens use of drawings by Italian artists of the High Renaisance, Mannerist, and proto-Baroque movements (incluing Annible Carracci and Federico Zuccaro) not just while he was in Italy but after he returned as well. Image size: 403x295mm. Price: $9500.
Hans (Jan Baptist) Collaert (Antwerp, 1566-1628), The Entombment (New Hollstein de Vos 323 iv/iv). Engraving after Maarten de Vos. This is number 49 of the 51-piece series, "The Life and Passion of Christ," based upon drawings by Maarten de Vos and executed by Jan Baptist Barbe, Jacques de Bie, Adriaen Collaert, Jan Baptist Collart, and Cornellis Galle I. A very good impression on laid paper with margins. Inscribed across the bottom: :M. de Vos inuentor / Ioan Collart sculp. / Adrian COllaert excud." The second edition was published by Theodore Galle, and the third, from which ours comes, was published by Ioan. Galle. Image size: 180x218mm. Price: $1100.
Jan Sadeler (Dutch, 1550-1600), The Entombment (TIB 7001:177, Holl. 188). Engraving after Dirk Barendsz., c. 1586. Very good impression after the crack in the plate upper left on laid paper with large margins. Small stain at right just outside platemark. Illustrated in Judson's monograph on Dirck Barendsz (1970), figure 26a. Inscribed "Theodore B. Amst. figurauit. Ioan. Sadler scalps. et excud." center right; "3" below the ewer. The composition is based upon a Titian painting. Image size: 244x197mm. Price: $1250.
Spaightwood Galleries, Inc.
To purchase, call us at 1-800-809-3343 (1-508-529-2511 in Upton MA & vicinity) or send an email to spaightwood@gmail.com.
We accept AmericanExpress, DiscoverCard, MasterCard, and Visa.
We also accept wire transfers and paypal.

For directions and visiting information, please call. We are, of course, always available over the web and by telephone (see above for contact information). Click the following for links to past shows and artists. For a visual tour of the gallery, please click here. For information about Andy Weiner and Sonja Hansard-Weiner, please click here. For a list of special offers currently available, see Specials.

All works are sold with an unconditional guarantee of authenticity (as described in our website listing).

Copyright 2004-2017, Spaightwood Galleries, Inc.

Go back to the top of this page.

Visiting hours: Saturday 10:00 am to 5:00 pm and Sunday noon to 6:00 pm and other times by arrangement.
Please call to confirm your visit. Browsers and guests are welcome.