Click image for BBB rating
See our Privacy Policy
cool="cool" width="800" height="12381" border="0" cellpadding="0" cellspacing="0" gridx="16" showgridx="showgridx" usegridx="usegridx" gridy="16" showgridy="showgridy" usegridy="usegridy" bgcolor="#99ccff">

Spaightwood Galleries, Inc.
120 Main Street, Upton MA 01568-6193; 800-809-3343; email spaightwood@gmail.com
Special offers
From time to time, we will offer the opportunity to our clients to share in a special purchase we have made. Some of hose offers will each have their own special page linked to this one and to our home page; others will be available for onw only on one of the Specials pages we will be adding during the next few days. Quantities will be limited and works will be sold on a first-come basis. In mmany cases, we will also have additional works at regular prices by the same artists, so if you cannot find a piece with which you immediately fall in love, don't despair—we may have others by the same artist on another linked page or in inventory awaiting its own web page; in any case, always feel free to email us or to call us. At present, we are offering works by the following artists:

Snake Fish. Original color lithograph, 1977. 100 signed and numbered impressions for the deluxe edition of Pierre Alechinsky, Paintings and Writings (Pittsburgh: Carnegie Museum, 1977). Published on the occasion of the award of the first Mellon Prize to Alechinsky, the deluxe edition of 100 is signed by Alechinsky; this lithograph was originally produced to accompany the book, though it has taken on a separate life of its own. The snake on the right appears to resent the process of evolution by which the fish, seen most clearly in his tail (bottom center) appears to be evolving into a life form able to leave the sea behind (unless, of course, he is warmly greeting this new life form by giving it a welcoming sniff with his sensory apparatus. Image size: 300x210mm. Price: $1250.

For other works by Alechinsky, please click here.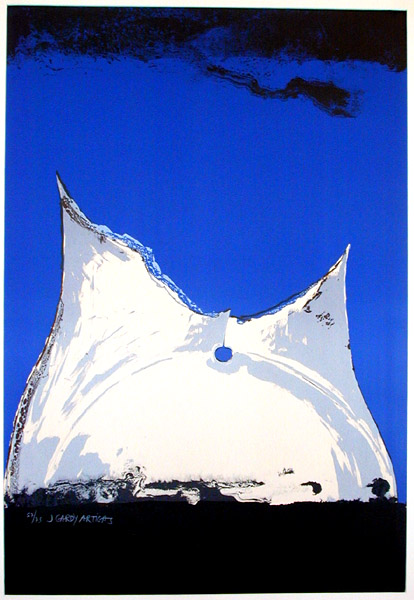 Joan GardyArtigas (Catalonian, b. France, 1938), Platre / Plaster. Original color lithograph, 1968. 75 signed and numbered impressions published by Maeght Editeur in Paris. This work is related to a series of fragmentary plaster sculptures Artigas was making at the time. Artigas has explained his love of lithography as follows: "If I want power, impact, a startling image, I use lithography. With the technique of printing directly off the stone, it is possible to get a maximum of ink on the paper. This ... allows ... powerful color." Image size: 865x595mm. Price: $900.
Jim Bird (English, b. 1937), Madison Series 12. Mixed media, 1987. These works combine monotype, acrylic, oil stick, pastel, and other media. They might be best described as exploring the space between painting, drawing, and print-making. The color of the ground upon which the colors assert themselves is actually gray, not brownish-green. Image size: 376x574mm (14-3/4x22-5/8 inches). Price: $1850.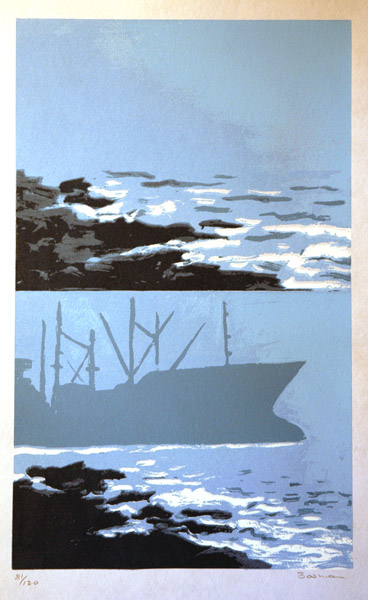 Richard Bosman (American, b. 1944), Aground (Stevens 74). Original color serigraph, 1988. 120 signed and numbered impressions for the Madison Print Club plus 20 artist proofs printed at Tandem Press (University of Wisconsin). Despite all appearances, the paper the print is printed upon is actually white. Image size: 552x340mm. Price: $1150.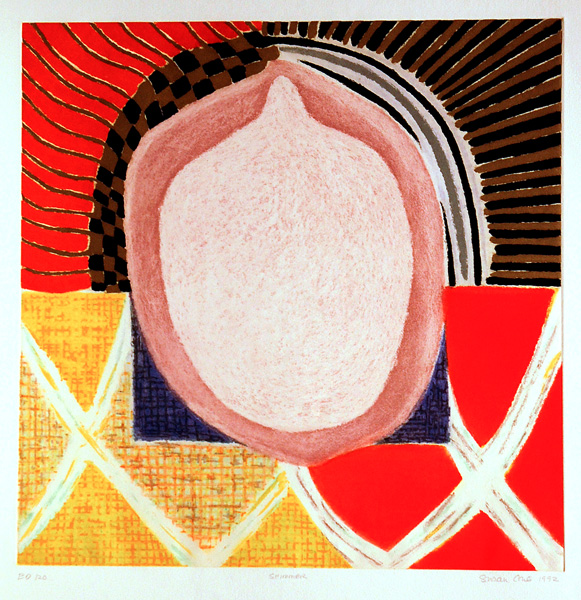 Susan Crile (American, b. 1942), Shimer. Original 10-color etching, 1992. 120 signed impressions annotated "Edition 120" commissioned by the Madison (WI) Print Club. Crile is a noted painter and printmaker whose work is featured in A Graphic Muse and the catalogue of the painting and sculpture acquisitions of the Albright-Knox Gallery. Her work is in the collections of The Solomon R Guggenheim Museum, The Metropolitan Museum of Art, The Brooklyn Museum, The Hirshhorn Museum, The Phillips Collection, The Albright Knox, The Cleveland Museum of Art, The Denver Art Museum, The Carnegie Institute Museum of Art and The Library of Congress among others, as well as many corporate collections. She has also be included in a number of important juried group shows, including Whitney Annual, The Corcoran Biannual, The American Academy of Arts and Letters Annual Purchase Exhibition, and Painting of the Nineties, which was curated by Barbara Rose and traveled to museums in Europe and Eastern Europe. She was also commissioned to do a screenprint in the Lincoln Center Print Collection. She has had over 50 U.S. one-person shows, including 10 shows at museums. For more information, see Elzabeth Frank, Susan Crile Recent Paintings (Cleveland: Cleveland Center for Contemporary Art, 1984) and Mark Danner, Abu Ghraib | Abuse of Power: Works on Paper By Susan Crile (NY: Leubsdorf Art Gallery at Hunter College, New York, 2006). Her resume is available at http://susancrile.com/resume.html. Image size: 505x501mm. Price: $1100.
Lesley Dill (American, b. 1950), Listen: Dust is the only secret. Original lithograph on stained paper with synthetic fiber, 2006. 120 signed and impressions annotated "Ed. 120" for the Madison Print Club plus 20 artist proofs. Her work is included in the collections of the de Young Museum in San Francisco, The Library of Congress, MoMA, the Metropolitan and Whitney Museums, & others. Image size: 410x260mm. Price: $1000.

The poem is titled after an Emily Dickenson poem of the same name:
Dust is the only Secret—
Death, the only One
You cannot find out all about
In his "native town."

Nobody know "his Father"—
Never was a Boy—
Hadn't any playmates,
Or "Early history"—

Industrious! Laconic!
Punctual! Sedate!
Bold as a Brigand!
Stiller than a Fleet!

Builds, like a Bird, too!
Christ robs the Nest—
Robin after Robin
Smuggled to Rest!
Claude Garache (French, 1929), Bleue VI. Original color aquatint and etching, 1994. Printed by Maurice Felt in Paris and published by Spaightwood Galleries. 25 signed and numbered impressions plus 3 e.a. and 6 H.C. impressions. Image size: 820x610mm. Price: $1500.
Sam Gilliam (American, b. 1933), Elegy II (Jones Road 56). Part of a mixed media series of 4 monoprints using handpainting (with oil paints), embossing, and relief printing on very heavy hand-made paper, 1980. Printed at the Jones Road Print Shop with Bill Weege (Professor of Art at the University of Wisconsin, Madison), from whom we acquired it. Signed, dated 21 July 1980, and titled "Elegy 2" on the reverse of the image. As the catalogue raisonné puts it, "the five editions of embossings of 1980 are printed on thick handmade paper produced by Paul Douglas at the Jones Road Print Shop and Stable. The embossed and relief printed images are common, while each impression is made unique by individual painting." Sam Gilliam has been acclaimed as one of the most important and inventive colorists of the last thirty years; he is also a ceaseless experimenter in putting color on media, whether it be unstretched draped canvas or handmade, hand-painted paper upon which diverse media have been diversely applied. In a 1980 essay in ARTnews, Barbara Rose decried those who proclaim the death of painting and pointed to Sam Gilliam, Nancy Graves, Robert Moskowitz, and Susan Rothenberg as providing evidence to the contrary and applauded them as creators of work that is "transcendent, universal, humanist" and that tries to bring back "the pleasure of texture and the optical qualities of painting." One of the two or three most important African-American artists of the twentieth century, Sam Gilliam was the subject of a 1983 retrospective exhibition at the Corcoran Gallery in Washington D.C., Modern Painter at the Corcoran: Sam Gilliam and a 2005-2007 traveling exhibition that went to 5 museums, starting at the Corcoran. His works can be seen in such museums as the Art Institute of Chicago, the Beymans Museum in Rotterdam, the National Gallery of Art, the Phillips Collection, the Corcoran Museum, the Hirschhorn Museum, and the National Museum of American Art in Washington D. C., the Metropolitan Museum, the Whitney Museum of Modern Art, and the Museum of Modern Art in NYC, the Tate Modern in London, the Walker Art Center in Minneapolis, the Menil Collection in Houston TX, the Elvehjem Museum of Art in Madison WI, and the Musee d'Art Moderne de la Ville de Paris among many others. Image size: 580x910mm (irregular). Price: $6500.
Karen Kunc (American, b. 1952), Backwater clearing. Original 36-color reduction woodcut, 1993. 120 signed & numbered impressions for the Madison Print Club plus a Roman-Numeral edition of XX for the artist plus 10 arist's proofs. Kunc is one of the most interesting emerging women artists. She has been a visitor at the University of Wisconsin–Madison's Tandem Press workshop and her work has been featured in shows in the US and abroad. Image size: 715x510mm. Price: $1000.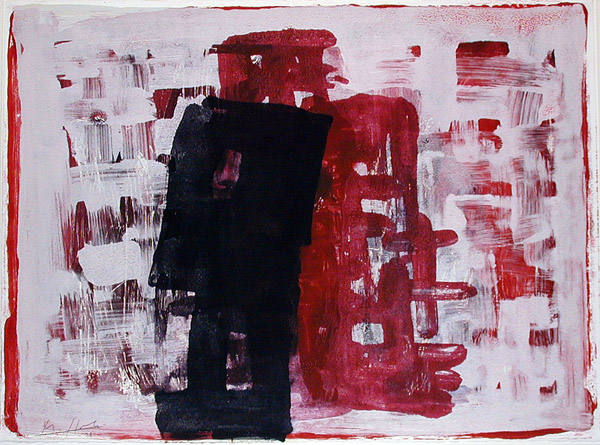 Manel Llèdos (Spanish, b. 1955), Stoughton Series A. 11. Original color monotype, 1991. Edition: One of a series of monotypes printed at Wayne Taylor's Stoughton Atelier and published by Spaightwood Galleries. Signed in pencil lower left. Image size: 575x770mm. Price: $2250.

Manel Llèdos left Spain to come and live in New York. A native Catalonian, Llèdos works in New York and teaches art at the City University of New York, yet his work has been described as partaking of the melancholy of the exile, even while he adjusts quite successfully to his new home. Many of Manel Llèdos's works seem to be inspired by or recall places, once home, now alien; once present, now absent. Llèdos is an accomplished artist in the tradition of the Spanish art informel, their version of abstract expressionism, but in his hands art becomes a function of memeory as well as the imagination, reminding him (and us) of the places we have loved and left and reminding us us well that we cannot go home again execpt as visitors. Llèdos was praised by reviewer Holland Cotter in ARTnews (May 1990) for the "unusually accomplished body of work" he has produced, and for creating works that "neither recapitulate an older style nor promote themselves with novelty," but instead present "images of beauty and complexity" while offering the viewer "the sense of a fine performance brought to a faultless, logical close." As Cotter notes, "Llèdos' hand is adept at doing several contradictory things at once," and he praises him both for his ability to create "compelling forms" and for "his gorgeous and discreetly exacting touch." In the Winter 1992 issue of Partisan Review, Karen Wilkin, author of books on Stuart Davis and Kenneth Noland, located him within a "kind of tradition of simplified frontal 'imagery,'" and praised the materiality of his works: "I enjoyed this evident pleasure in his materials in all of his work. How thin or how dense paint can be, the way it retains the memory of how it was put down, are as crucial to the structure of a Llèdos painting as changes in tone or color. His large canvases are as much about how it feels to drag a brush full of paint from top to bottom of a band of color as they are about any kind of allusion, but they never degenerate into simple manipulation of material. And there's a conviction in the paintings that is a welcome change from the worldly-wise cynicism of the new abstract painters at Sidney Janis" (117).

A. R. Penck (aka Ralf Winkler, German, b. 1939), Mul. Bul. Dang & Sentimentality. 300 signed & numbered impressions plus 30 artists proofs, 1988. One of the leading German artists working today, Penck has had over 118 one-person shows at museums & galleries in Europe, the U.S., and Japan. For an introduction to his work, see John Yau, A. R. Penck (NY: Abrams, 1993). Printed at the Landfall Press in Chicago forrthe 1988 Seoul Olympics, but never published because the Olympic Portfolio publisher went bankrupt. We have been told by one of the principal creditors (from whom we acquired our impressions) that while the prints were in storage awaiting the outcome of the bankruptcy proceedings, many of the prints were ruined by water damage. Both of our impressions, however, are in excellent condition. Image size: 748x552mm. Price: $1750.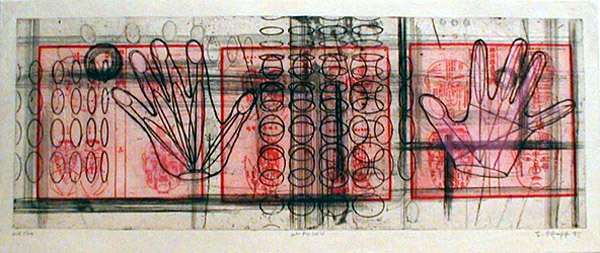 Judy Pfaff (American, b. London, 1946), WU FU WU. Original etching with hand-coloring, 1995. Edition: 120 signed impressions for the Madison Print Club plus 20 artists proofs printed at the Tandem Press of the University of Wisconsin–Madisons. Image size: 260x720mm. Price: $1950.

Judy Pfaff represented the United States at the 1998 Sao Paulo Bienal. Her work in sculpture, paint, and graphics, has been shown internationally and is in many important collections including the Museum of Modern Art and the Whitney Museum in New York City, The Philadelphia Museum of Art, the Detroit Institute of Art, and the Elvejhem Museum of Art of the University of Wisconsin, Madison. She has also received important grants in recognition of her work including suport from the National Endowment for the Arts in 1979 and 1985 and a Guggenheim Fellowship in 1983. A common theme in her work is the relationship of the natural world to the creations of humankind and to the societies that value those artistic creations. Her work features both natural and constructed objects while stylistically reminding viewers of various artistic movements including Abstraction, Cubism, and Surrealism.

Bibliography: Irving Sandler, Judy Pfaff (NY: Hudson Hills Press, 2003) has an extensive bibliography on pages 131-140.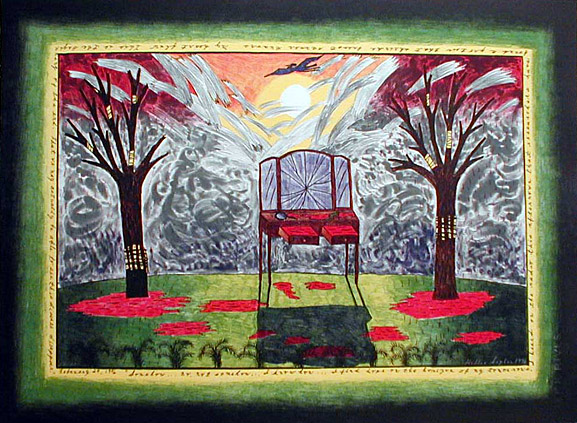 Hollis Sigler (American, 1948-2001), I find hope on the horizon of my tomorrows. Original color lithograph, 1997. 120 signed impressions plus 20 artists proofs. The text running around the central image says, "February 19, 1996. Somehow . . . no, not somehow . . . I know how I find hope on the horizon of my tomorrow. I heard on the radio this afternoon that researchers have found a protein that shrinks breast cancer tumors. My heart flew. This is the beginning of the end. That we may actually be able to see this disease disappear." Sigler has said that she views her work as "visual poems, and the individual visual metaphors are very important to the pieces. These metaphors, or icons, have become part of a vocabulary that I have used to explore my emotional life on paper. . . . in the Breast Cancer Journal pieces, the vanity showed up again. I have always found it fascinating that we have a piece of furniture called a "vanity," and I have used it frequently as a symbol since 1976. I had always meant vanity, literally: a place where women view their bodies with admiration. Now, the nature of the object "vanity" meant something different. The body was no longer whole. The shattered image of the vanity's mirror reflected woman's pain, her fragmented sense of self. . . . I introduced to the drawings the image of a dead and broken tree. The Lady (a consistent personality in my narratives, but one who is never seen except on rare occasions as a shadow) is trying to repair the tree by reattaching the branches. It is a fruitless gesture on her part, for it will never again be a living tree. The dead tree is the old self, the self before cancer. The lady is struggling with irreversible life changes." In this piece, with its sudden expression of a new hope, the trees are both bandaged, perhaps not dead but only wounded and capable of being healed. Image size: 570x760mm. Price: $3500.
Joan Snyder (American, b. 1940), Requiem. Original color lithograph, etching, and woodcut, 1998. 120 signed and numbered impressions for the Madison Print Club plus 20 artist proofs. Snyder has been an important presence in the feminist art movement since the early 1970s. Her work has been shown in many galleries and museum in the US and Europe. In 1994, "Joan Snyder-Painter: 1969 to Now," was featured at the Rose Art Museum, Brandeis University, Waltham (MA). In 1998 the Brooklyn Museum of Art presented a retrospective of her prints; in 2005 "Joan Snyder: A Painting Survey, 1969–2005" opened at the Jewish Museum in NYC organized by Katherine French of the Danforth Museum of Art in Framingham, MA where it is currently showing (Dec. 2005). A book by Hayden Herrera, with an essay by Jenni Sorkin and an introduction by Norman L. Kleeblatt, accompanies the show. Image size: 657x510mm. Price: $1800.
Pierre Soulages (French, b. 1919), Composition (Soulages: L'oeuvre imprimé, p. 109, Sérigraphie n. 18), 300 signed & numbered impressions plus 30 artists proofs, 1988. One of the founders of School of Paris post-war Abstract art, Soulages is an important figure in the history of 20th-century French art. A large retrospective of Soulages' works was held at the L'Institut d'Art Moderne de Valence in Valencia, Spain to commemorate his receipt of the 2007 prix Julio González. Soulages was also the subject of a major retrospective at the Musée national d'art moderne, Paris in 1967 with a text by Bernard Dorival. James Johnson Sweeney remarked in his study Soulages (Greenwich CT: New York Graphic Society, 1972) that "a painting by Soulages is like a chord on a vast piano struck with both hands simultaneously -- struck and held." There is a 3-volume catalgoue raisonné of his paintings edited by Pierre Encrevé (Paris, 1994-1998); there is also a catalogue raisonné of his prints, Georges Duby, Soulages. Eaux-fortes, lithographies 1952-1973, published by Yves Riviere (Paris, 1974) and one cataloguing his etchings and his bronzes: William Rubin & M. Ragon, Pierre Soulages. L'Oeuvre Grave, 1951-1996, Catalogue Exhaustif des Eaux-Fortes et des Bronzes (Paris: Galerie d'Art , 1997). Image size: 892x590mm. Price: SOLD.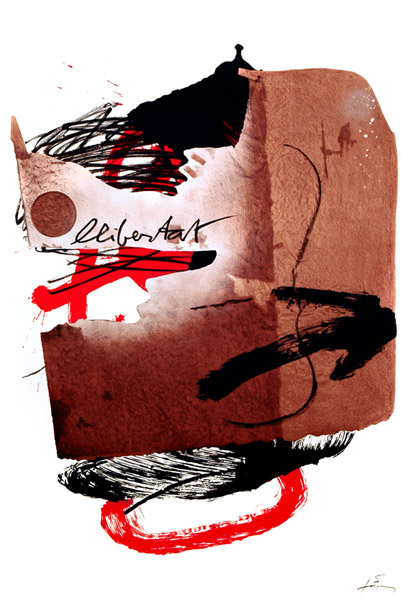 Antoni Tàpies (Spanish, b. 1923), Llibertat / Liberty. Original color lithograph, 1988. Edition: 300 signed and numbered impressions plus 30 artists proofs printed by Galerie Lelong, Paris, for the 1988 Olympic Print Portfolio. The work was never published because the Olympic Portfolio publisher went bankrupt. We have been told by one of the principal creditors that while the prints were in storage awaiting the outcome of the bankruptcy proceedings, many of the prints were ruined by water damage. All of our impressions, however, are in excellent condition. Image size: 892x590mm. Price: $5250.

For more large lithographs in a vertical format (and access to almost allof our other works byTàpies, please click here.
Emmi Whitehorse (Navaho, b. 1958), Light on water. Original color lithograph with hand-coloring, 2001. 120 signed and numbered impressions for the Madison Print Club plus 20 artist proofs. Printed at Bud Shank's Atelier in Colorado for the Madison Print Club. Signed lower right with three vertical red marks, her Navaho name; signed in pencil on the verso "Emmi Whitehorse." Image size: 766x568mm. Price: $2500.

In an essay on Emmi Whitehorse, "In the open, under the Surface," Lucy Lippard concludes by placing Emmi Whitehorse: "In the recent work, Whitehorse has traveled into more remote territory, looking through one world into another, still walking in beauty. Now it is as though she were moving backward into time, or leaning forward to see every detail, having heightened the cosmic fusion of microcosm and macrocosm, intimacy and distance, personal and tribal. There is a weightless quality to her images, anchored by the powerfully material tradition of weaving, so deeply ensconced in her own esthetic and psyche. Her paintings seem to catch the momentary pause before these light transparent creatures blow away again. . . . The forms in her new works appear to be pressed upon the retina, mediating between self and landscape, melting boundaries, forming and reforming from one painting to another (Santa Fe: LewAllen Contemporary, n.d.).

Spaightwood Galleries, Inc.
To purchase, call us at 1-800-809-3343 (1-508-529-2511 in Upton MA & vicinity) or send an email to spaightwood@gmail.com.
We accept AmericanExpress, DiscoverCard, MasterCard, and Visa.
We also accept wire transfers and paypal.

For directions and visiting information, please call. We are, of course, always available over the web and by telephone (see above for contact information). Click the following for links to past shows and artists. For a visual tour of the gallery, please click here. For information about Andy Weiner and Sonja Hansard-Weiner, please click here. For a list of special offers currently available, see Specials.

All works are sold with an unconditional guarantee of authenticity (as described in our website listing).

Go back to the top of this page.

Visiting hours: Saturday 10:00 am to 5:00 pm and Sunday noon to 6:00 pm and other times by arrangement.
Please call to confirm your visit. Browsers and guests are welcome.