Click image for BBB rating
See our Privacy Policy
cool width="802" height="3362" border="0" cellpadding="0" cellspacing="0" gridx="16" showgridx usegridx gridy="16" showgridy usegridy bgcolor="#33fff3">
---
Spaightwood Galleries
Last updated: 6/23/2019
---
Jacob Lawrence (American, 1917–2000)
Jacob Lawrence, probably the most important African-American artist of the middle third of the twentieth century, came to printmaking fairly late in his career. Beginning in the late 1970s, Lawrence explored many of the themes of his earlier paintings via a series of prints. According to Romare Bearden and Harry Henderson's History of African-American Artists from 1792 to the Present, "If the work of all American artists were to be viewed as a historical continuum, that of Lawrence would seem to burst like a furious rocket upon it. His subject matter, his stylizing of figures, his method of painting, his indifference to the academic rules of drawing and perspective that trapped many American artists before him, his ignoring of artistic fashions and fads—all these have set him apart from the artistic conventions of the last fifty years. Most artists need such conventions and many, attempting departures, might fail ignobly. Lawrence succeeded brilliantly."

Born in 1917, Lawrence came to prominence in the 1940s and he spent his life charting African-American experience. Following an invitation to the White House, Lawrence said: "My pictures express my life and experience. I paint the things I know about, the things I have experienced. The things I have experienced extend into my national, racial, and class group. So I paint the American scene." In 1993, the Phillips Collection in Washington D.C. and the Museum of Modern Art, which in 1941 had jointly purchased Lawrence's 60-painting Migration Series, organized a touring exhibition that reunited all of the paintings in this series and circulated it over the next two years as the show traveled from Washington D.C. to Milwaukee WI, Portland OR, Birmingham AL, St. Louis MO, and concluded at the Museum of Modern Art in New York. In honor of the event, an important monograph was published by the Phillips Collection with an introduction by noted African-American scholar Henry Louis Gates (co-editor with the UW's Nellie McKay of the Norton Anthology of African-American Literature), and essays by a number of scholars. This retrospective confirmed Jacob Lawrence's painterly role as a witness to the "epic" story of the migration of the African-American from the South and the Midwest all over America. In these paintings, according to Gates, his works transcended their materiality and became metaphors that conveyed the "injustice, strife, struggle, change, hope, ambition, and even beauty" of the African-American migrants' struggle to find a new place in American society.

Spaightwood Galleries had acquired five impressions of Jacob Lawrence's Supermarket—Flora, a large, brilliant 23-color screenprint printed on paper measuring 35" x 26-3/4", and available in both a pencil-signed and numbered edition of 108 impressions and as a 23-color screenprint with poster text on slightly larger paper (the text is printed below the image and can be matted so that only the image is visible; in the great tradition of the affiche, this is not a photo-mechanical reproduction but an original print) in an edition of about 500 impressions.
Supermarket—Flora, commissioned by New York's Lincoln Center, presents a moment of quiet beauty, a pause in the day's activities when one can reach out, touch, and be touched by the living plants on a tray in an otherwise unidentifiable space. In this work, the then 80-year old artist offers a reminder of the universal need to be able to find and contemplate a "daily beauty" without which life can seem ugly. Of the five signed & numbered impressions we had, only one remains; we urge you not to miss this opportunity to acquire one of Lawrence's most beautiful works.

Selected Bibliography: Romare Bearden and Harry Henderson, Six Black Masters of American Art (NY: Zenith Books, 1972); Milton W. Brown, Jacob Lawrence (NY: Whitney Museum of American Art, 1974); Jacob Lawrence, Aesops''s Fables (Seattle: University of Washington Press, 1997); Jacob Lawrence, The Great Migration (NY: Museum of Modern Art, 1993); Walter Dean Myers (Illustrated by Jacob Lawrence), Toussaint L'Ouverture (NY: Simon and Schuster, 1996); Peter T. Nesbett, Jacob Lawrence: The Complete Prints (1963-2000)—A Catalogue Raisonne (Seattle: University of Washington Press, 2001); Peter T. Nesbett and Michelle DuBois, Over the Line: The Art and Life of Jacob Lawrence (Washington, DC: The Phillips Collection, 2001: published to accompany a major retrospective of Lawrence's art that will travel from the Phillips to the Whitney Museum of American Art—opening 8 Nov. 2001— aand then to three other locations); Peter T. Nesbett & Michelle DuBois, The Complete Jacob Lawrence: Paintings, Drawings & Murals (1935-1999): A Catalogue Raisonne (Seattle: University of Washington Press, 2000); Ellen H.Wheat, Jacob Lawrence, American Painter (Seattle: University of Washington Press, 1986); Ellen Harkins Wheat, Jacob Lawrence: The Frederick Douglass and Harriet Tubman Series of 1938-40 (Hampton, VA: Hampton Univeity Museum, 1991).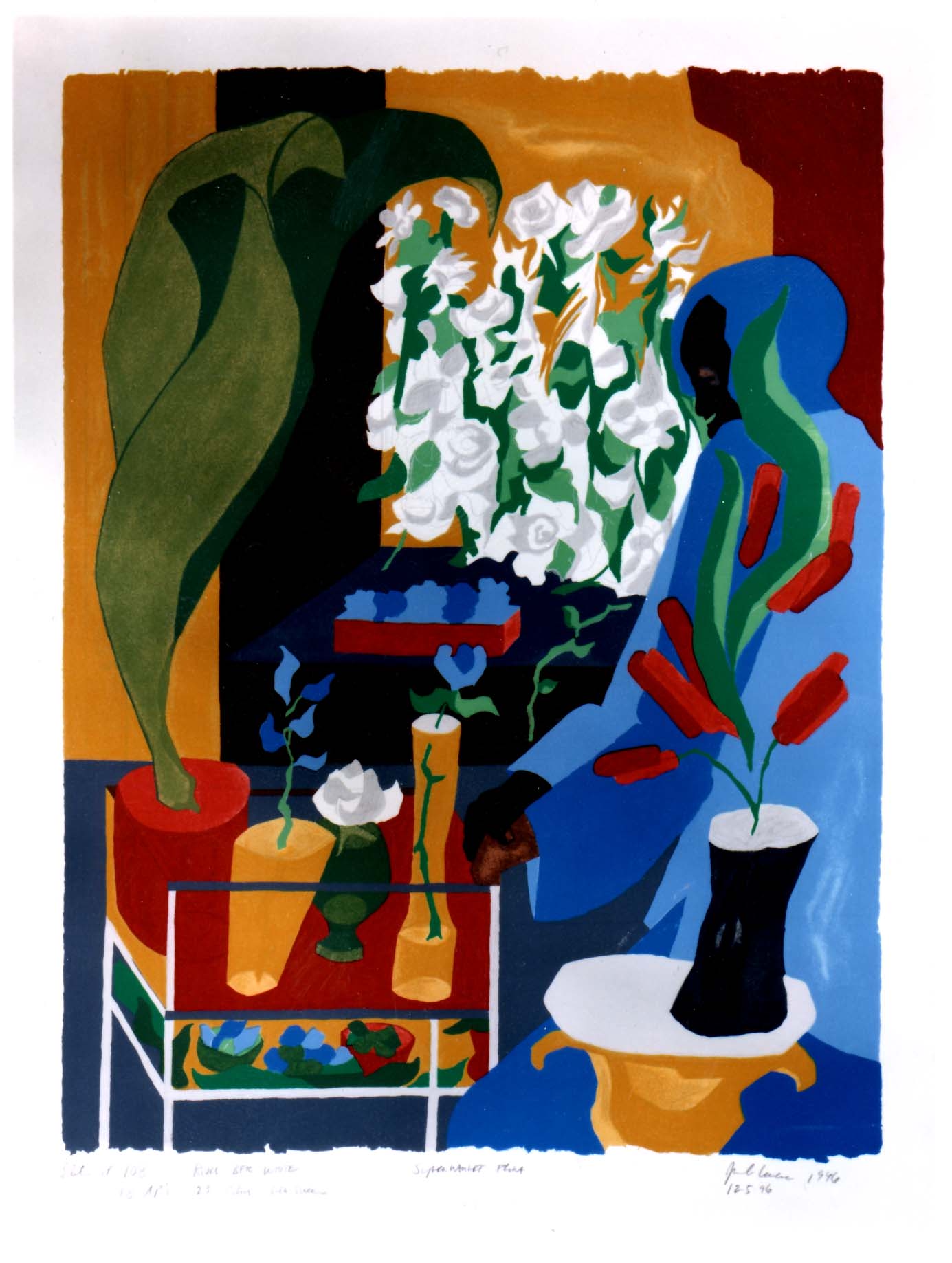 Supermarket–Flora. Original 23-color silkscreen, 1996. Edition: 108 signed and numbered impressions plus 18 artist's proofs. One of Lawrence's largest prints (we actually think it is his largest) and certainly one of his most cheerful. Image size: 760x582mm. Price: SOLD.
This was our last signed impression, but we do have several impressions of the work on paper with a text advertising Lincoln Center for the Performing Arts in NYC. The text is at the bottom below the image and the work can be matted so that only the image as pictured above is visible. The poster edition—also a 23-color screenprint—was published in an edition of about 800, of which Lincoln Center consumed about 300 impressions on premises, leaving about 500 impressions originally available. While they last, these are available at $500 each (including matting and framing in a 40x30 inch frame with all-archival materials: 4-ply museum board on top, 2-ply underneath, acid-free backboard, acid-free tape, 1" deep aluminum frame).
Spaightwood Galleries, Inc.
To purchase, call us at 1-800-809-3343 (1-508-529-2511 in Upton MA & vicinity) or send an email to spaightwood@gmail.com. We accept AmericanExpress, DiscoverCard, MasterCard, and Visa.
For directions and visiting information, please call. We are, of course, always available over the web and by telephone (see above for contact information). Click the following for links to past shows and artists. For a visual tour of the gallery, please click here. For information about Andy Weiner and Sonja Hansard-Weiner, please click here.
Visiting hours: flexible. Call for availablility. Browsers and guests are welcome.

---