Click image for BBB rating
See our Privacy Policy
cool="cool" width="785" height="2210" border="0" cellpadding="0" cellspacing="0" gridx="16" showgridx="showgridx" usegridx="usegridx" gridy="16" showgridy="showgridy" usegridy="usegridy" bgcolor="#99ccff">

Spaightwood Galleries
120 Main Street, Upton MA 01568-6193; 800-809-3343; email: spaightwood@gmail.com
Robert Stackhouse (American, b. 1942): Original Prints
Robert Stackhouse is a sculptor, graphic artist, and printmaker. Stackhouse is interested in the theme of transition and ship motifs and bridges are important in his work, suggesting journeys and transitions from one place to another. The University of South Florida Contemporary Art Museum holds the archive of his prints, many of which were printed at their famous Graphicstudio print atelier. His works are in the permanent collections of the Museum of Modern Art, New York; the Art Institute of Chicago, the Corcoran Gallery of Art, the Hirshhorn Museum and Sculpture Garden, and The Phillips Collection, all in Washington, D.C.; the Philadelphia Museum of Art; the Museum of Fine Arts, Boston; the Smith College Museum of Art, Northampton, MA; the Walker Art Center, Minneapolis, Minnesota; the University of South Florida Contemporary Art Museum; the Brooklyn Bridge Anchorage; and the Museum of Art, Baltimore.

Selected Bibliography: Michael D. Hall and Mary Lee Corlett, Robert Stackhouse: Editions Archive (Tampa: University of South Florida Contemporary Art Museum, 2008); April Kingsley, Passings: Robert Stackhouse (Nassau County Museum of Fine Arts, 1980); Donald Kuspit, Robert Stackhouse: "Deep Swimmers", An Installation and Related Drawings (Knoxville: University of Tennesse, 1985); Carter Ratcliff, Robert Stackhouse (Wilmington: Delaware Art Museum, 1991).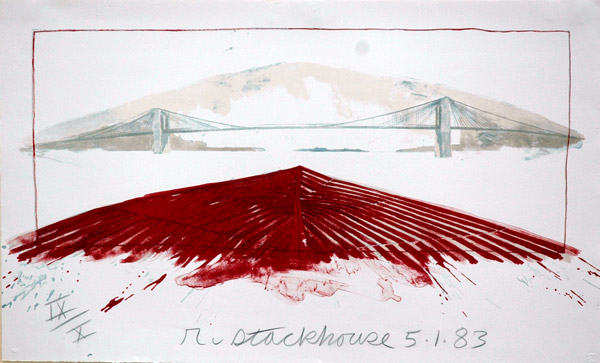 Brooklyn Bridge. Original 5-color lithograph, 1983. 20 impressions numbered 1/20-20/20 plus X impressions numbered I/X-X/X, of which ours is n. IX/X. This print was featured in an exhibition celebrating the 100th Anniversary of the Brooklyn Bridge shown at the Brooklyn Bridge Anchorage in 1983. A very strong, powerful work. Image size: 530x880mm (20-7/8x34-5/8 inches). Price: $2000.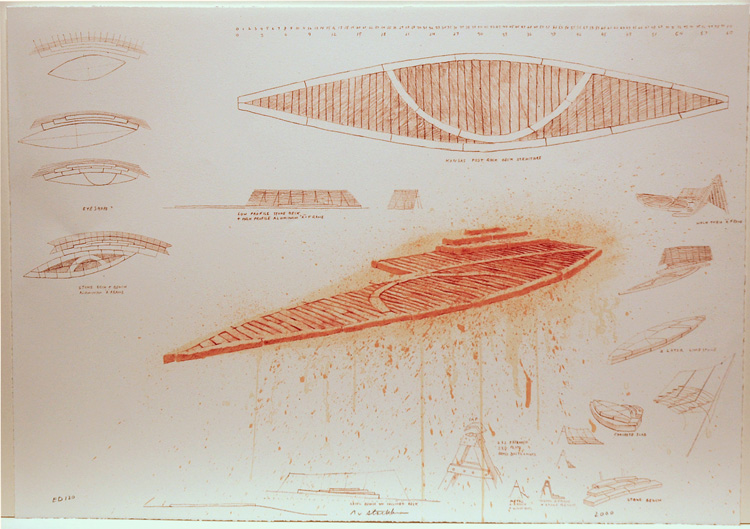 Working Drawing for an Unfinished Project. Original 4-color lithograph printed by the Tandem Press of the University of Wisconsin, Madison, 2000. 120 pencil-signed impressions inscribed "ed. 120" lower left (118 for members of the Madison Print Club, plus impressions for the Madison Museum of Contemporary Art and the Chazen Museum of Art of the University of Wisconsin, Madison. There were also 20 artist's proofs. Image size: 534x757mm (21x30 inches). Price: $1500.
Spaightwood Galleries, Inc.
To purchase, call us at 1-800-809-3343 (1-508-529-2511 in Upton MA & vicinity) or send an email to spaightwood@gmail.com.
We accept AmericanExpress, DiscoverCard, MasterCard, and Visa.
We also accept wire transfers and paypal.

For directions and visiting information, please call. We are, of course, always available over the web and by telephone (see above for contact information). Click the following for links to past shows and artists. For a visual tour of the gallery, please click here. For information about Andy Weiner and Sonja Hansard-Weiner, please click here. For a list of special offers currently available, see Specials.

All works are sold with an unconditional guarantee of authenticity (as described in our website listing).

Go back to the top of this page.

Visiting hours: Saturday 10:00 am to 5:00 pm and Sunday noon to 6:00 pm and other times by arrangement.
Please call to confirm your visit. Browsers and guests are welcome.