Click image for BBB rating
See our Privacy Policy
cool="cool" width="784" height="10666" border="0" cellpadding="0" cellspacing="0" gridx="16" showgridx="showgridx" usegridx="usegridx" gridy="16" showgridy="showgridy" usegridy="usegridy" bgcolor="#99ccff">

Welcome to Spaightwood Galleries, Inc.
120 Main Street, Upton MA 01568-6193

You can follow us on Facebook and Twitter!
We blog regularly on Facebook and announce special events and special sales on both sites.
The Gospel accounts of Jesus' death vary; I quote that of John since it is the most useful to an artist in its fuller listing of those present at the cross: "Now there stood by the cross of Jesus his mother, and his mother's sister, Mary the wife of Cleophas, and Mary Magdalene. When Jesus therefore saw his mother, and the disciple standing by, whom he loved [i.e., John himself], he saith unto his mother, 'Woman, behold thy son!' Then saith he to the disciple, 'Behold thy mother!' And from that hour that disciple took her unto his own home. After this, Jesus knowing that all things were now accomplished, that the scripture might be fulfilled, saith, 'I thirst.' Now there was set a vessel full of vinegar: and they filled a sponge with vinegar, and put it upon hyssop, and put it to his mouth. When Jesus therefore had received the vinegar, he said, 'It is finished': and he bowed his head, and gave up the ghost. The Jews therefore, because it was the preparation, that the bodies should not remain upon the cross on the sabbath day, (for that sabbath day was an high day,) besought Pilate that their legs might be broken, and that they might be taken away. Then came the soldiers, and brake the legs of the first, and of the other which was crucified with him. But when they came to Jesus, and saw that he was dead already, they brake not his legs: But one of the soldiers with a spear pierced his side, and forthwith came there out blood and water. And he that saw it bare record, and his record is true: and he knoweth that he saith true, that ye might believe. For these things were done, that the scripture should be fulfilled, A bone of him shall not be broken. And again another scripture saith, They shall look on him whom they pierced. And after this Joseph of Arimathaea, being a disciple of Jesus, but secretly for fear of the Jews, besought Pilate that he might take away the body of Jesus: and Pilate gave him leave. He came therefore, and took the body of Jesus. And there came also Nicodemus, which at the first came to Jesus by night, and brought a mixture of myrrh and aloes, about an hundred pound weight. Then took they the body of Jesus, and wound it in linen clothes with the spices, as the manner of the Jews is to bury. Now in the place where he was crucified there was a garden; and in the garden a new sepulchre, wherein was never man yet laid. There laid they Jesus therefore because of the Jews' preparation day; for the sepulchre was nigh at hand" (John 19:25-42).

For a sense of the scene as it might have been experienced by those of Jesus' followers who remained by him to the end, I offer the following passage from Charles Williams, Descent into Hell (1937; rpt. Grand Rapids: William B. Eerdmans, 1983); one of the characters moans: "He only moaned a little, a moan not quite of pain, but of intention and the first faint wellings of recognized obedience and love. . . . But that moan was not only his. As if the sound released something greater than itself, another moan answered it. The silence groaned. . . . The groan was at once dereliction of power and creation of power. In it, far off, beyond vision in the depths of all the worlds, a god, unamenable to death, awhile endured and died" (pp. 124-25). As Luke reports, the earth itself responds to the crucifixion and death of Jesus on the cross: "And it was about the sixth hour, and there was a darkness over all the earth until the ninth hour. And the sun was darkened, and the veil of the temple was rent in the midst. And when Jesus had cried with a loud voice, he said, 'Father, into thy hands I commend my spirit': and having said thus, he gave up the ghost" (Luke 23:44-45). What the various images of the lamenting of those at the cross try to convey is the impossibility of understanding the death of one whom they had come to believe was God.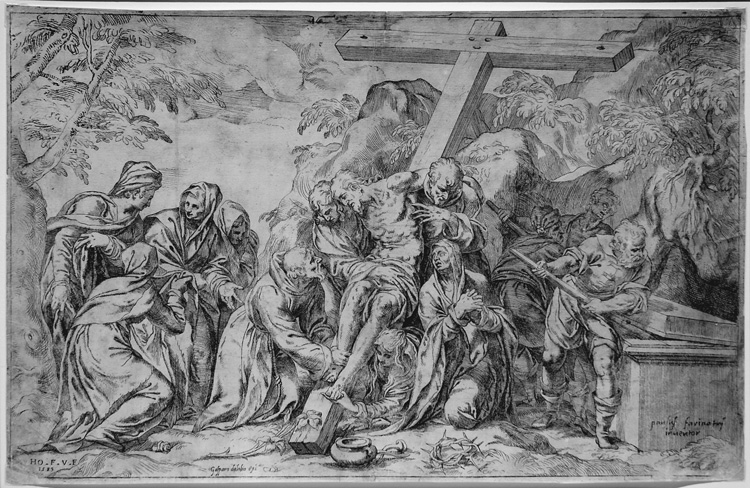 Orazio Farinati (Verona, c. 1559-1616), Descent for the Cross (B. 2). Etching after Paolo Farinati, 1593. According to the entry for Farinati in Sue Walsh Reed and Richard Wallace, Italian Etchers of the Renaissance & Baroque (Boston: Museum of Fine Arts, 1989), "Farinati's distinctive figure style combines the weightiness of Michelangelo's work with the elegant grace of Paolo Veronese" (63). Orazio (or Horatio) was one of Paolo Frainati's five children and succeeded his father as head of a successful studio that received numerous commissions for works in and around Veronea. All five of his etchings are after designs by his father, but are generally much larger than his father's. David Acton's note suggests that Orazio's etchings were etched in one bite and sometimes show areas of "Foul or insufficient biting" (63). Acton also suggestst that "Orazio etched on plates of a soft metal, perhaps pewter" and that the irregular edges may be a consequence of this material (65). Orazio's etchings were more popular than his father's: while Paolo's prints were only issued in one edition, all of Orazio's were reprinted and copied by other etchers. Inscribed lower left: "HO. F. V. F / 1593" (Horazio Farinati Veronese made this, 1593); left center: "Gasparo Dalosio e'xc" (Gasparo Dalosio published it); lower right on sarcophagus: "Paulus Farinatus inuentor" (Paulo Farinati designed it). Condition: the lower right corner shows signs of foul biting, there is a small reinforced tear by the ointment jar bottom center, and there is an irregular rounded corner lower, which may be a sign of a loss or of rounding of the corner. There is also a smal reinforced tear running down through the top right arm of the cross over the mountain behind Jesus's head and a vertical crease runing through the group of holy women left center. The etching itself is strong and clear throughout except as otherwise noted. Trimmed outside the border lines, on or within the platemark. Overall, a strong impression of this very large and rare etching. Image size: 360x567mm. Price: $3500.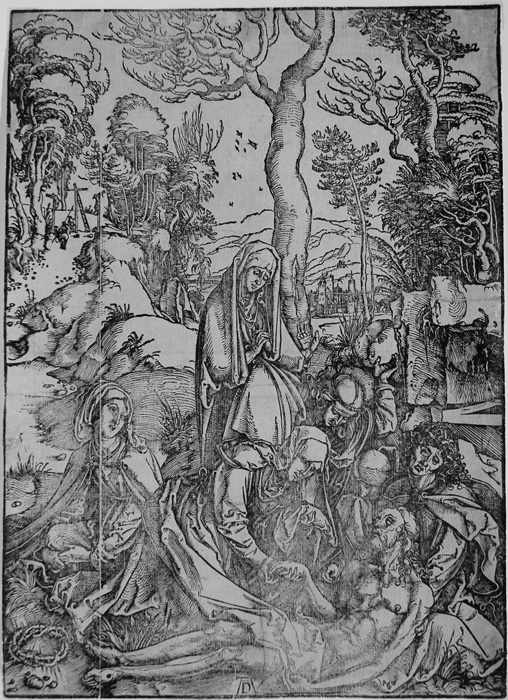 Albrecht Durer (Nuremburg, 1471-1528), The Lamentation (B. 13, M. 122, S. 60). Original woodcut, 1498-99. Executed in the late fifteenth century for the Large Passion, our impression is a post-1511 Latin edition Meder b, before the left border sprouted many breaks. Just back from restoration, our impression is mounted on an archival suport sheet to strenthen the folds. Repaired tears at margins. The long vertical crack on the left dates from 1511. Image size: 392x283mm. Price: $7500.
Albrecht Durer (Nuremburg, 1471-1528), The Lamentation (B. 43, S. 127) Original woodcut, c. 1509-10 for the Small Passion. In 1844 plaster casts were made from Durer's original woodblocks for the Small Woodcut Passion, which had just been acquired by the British Museum. From these casts, metal plates were made and a small edition produced. Our impression is from this edition. Image size: 125x96mm. Price: $1750.
Federico Zuccaro (Italian, 1540-1609), Attributed, The Lamentation. Pen and reddish brown ink and gray wash and red chalk with white heightening on cream laid paper. The Virgin Mary tenderly swaddles her dead son as she did her infant years earlier. The action takes place at the foot of the cross unnoticed by two men talking behind her to the right of the right cross. For works very close stylistically to this piece see E. James Mundy, with the assistance of Elizabeth Ourusoff de Fernandez-Gimenez, Renaissance Into Baroque: Italian Master Drawings by the Zuccari, 1550-1600 (Milwaukee: Milwaukee Art Center, 1989), plates 56, 82, 85, and 88. This work was illustrated in a review of our 2008 exhibition, "Images of Women in Old Master Prints and Drawings / Images by WOmen in Old Master Prints and Drawings." The Exhibition review, by Professor Jody Cranston (Boston University) can be found in Early Modern Women: An Interdisciplinary Journal, Fall 2008 Volume 3, 309-318. The journal is published under the auspices of theCenter for Renaissance & Baroque Studies, University of Maryland and the Arizona Center for Medieval and Renaissance Studies. Image size: 232x165mm. Price: $16,500.
Agostino Carracci (Italian, 1557-1602), AFTER, Pieta. See Diana DeGrazia Bohlin, Prints and Related Drawings by the Carracci Family (Washington D.C.: National Gallery of Art, 1979), n. 102. Pen and brown ink and gray wash on cream laid paper, after 1582. This drawing after Agostino's engraving after Paolo Veronese's painting suggests the way that paintings, drawings, and prints might all function in the artistic market. De Grazia suggests that Agostino interpreted Veronese's painting with his consent. Our drawing shows an artist studying Agostino's work. For an interesting study of the way artists can use their copies of works by other artists, see Jeremy Wood, Rubens: Drawing on Italy (Edinburgh: National Gallery of Scotland, 2002), which discusses Rubens use of drawings by Italian artists of the High Renaissance, Mannerist, and proto-Baroque movements (incluing Annible Carracci and Federico Zuccaro) not just while he was in Italy but after he returned as well. Image size: 403x295mm. Price: $9500.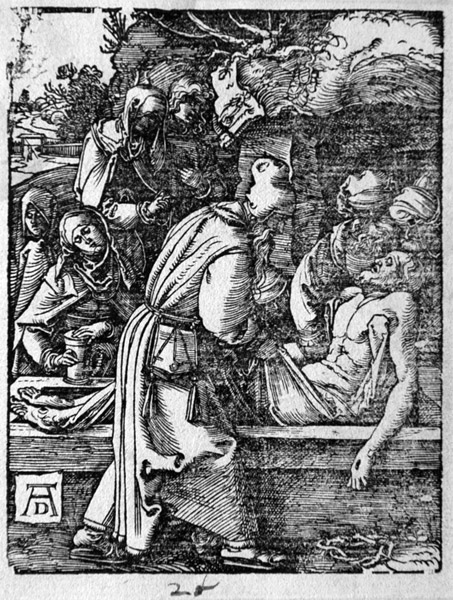 Albrecht Durer (Nuremburg, 1471-1528), The Entombment (B. 44, S. 128). Original woodcut, c. 1509-10 for the Small Passion. A fairly good 16th-century impression without text after the first edition with margins outside the border. The block is showing some wear (chipped upper and lower left corners. Image size: 126x97mm. Price: $3500.
Albrecht Durer (Nuremburg, 1471-1528), The Entombment (B. 44, S. 128). Original woodcut, c. 1509-10 for the Small Passion. In 1844 plaster casts were made from Durer's original woodblocks for the Small Woodcut Passion, which had just been acquired by the British Museum. From these casts, metal plates were made and a small edition produced. Our impression is from this edition. Image size: 125x96mm. Price: $1750.
Anea Vico (Parma 1523-Ferrara 1567), The Entombment (B. 7). Engraving after Raphael, 1543. A very good impression on laid paper with no watermark laid down upon a gray support sheet. Trimmed on or within the platemark on the bottom and sides; top 15mm missing. Upper left corner detached and reattached with slight discoloration. Image size: 277x201mm (full sheet would have been 292x202mm). Price: $2500.
Hendrik Goltzius (Dutch, 1558-1617), The Entombment (Bartsch 37, Hirschmann 31, Strauss 334 i/ii). Original engraving, 1596. A beautiful impression on laid paper of the first state of two. Signed, dated, and numbered 11 in the plate. Small stain lower left by the foot of the man placing Christ's legs in the tomb. Watermark: Coat of Arms with Tower (Briquet 2291-Amsterdam and Utrecht, 1592-96). Strauss sees Goltzius drawing upon both Durer and Lucas here but not following either too closely. Ex collection John S. Philips, The Pennsylvania Academy of Fine Arts (with their P.A.F.A. stamp verso), and the Philadelphia Museum of Art, who received it as part of their purchase of the P.A.F.A. collection and offered it for sale as a duplicate. Thread margins on all sides. Image size: 196x130mm. Price: $5500.

The print is rectangular; as I was photographing it, the bottom lifted up off the mat, so the photograph reduces a 3-dimensional image to 2 by distorting the bottom right of the photograph.
Jan II Collaert (Antwerp, 1561/62-1620, The Entombment (New Hollstein 222 iv/iv). Engraving after Maarten de Vos. This is number 49 of the 51-piece series, "The Life and Passion of Christ," based upon drawings by Maarten de Vos and executed by Jan Baptist Barbe, Jacques de Bie, Adriaen Collaert, Jan Baptist Collart, and Cornellis Galle I. A very good impression on laid paper with margins. The first edition, before the addition of the number, was published by Adrien Collaert as was the second, with the number, both inscribed across the bottom: M. de Vos inuentor / Ioan Collart sculp. / Adrian Collaert excud." The third edition was published by Theodore Galle, and the fourth, from which ours comes, was published by Ioan. Galle. Image size: 180x218mm. Price: $1100.
Jan Sadeler (Dutch, 1550-1600), The Entombment (TIB 7001:177, Holl. 188). Engraving after Dirk Barendsz., c. 1586. Very good impression after the crack in the plate upper left on laid paper with large margins. Small stain at right just outside platemark. Illustrated in Judson's monograph on Dirck Barendsz (1970), figure 26a. Inscribed "Theodore B. Amst. figurauit. Ioan. Sadler scalps. et excud." center right; "3" below the ewer. The composition is based upon a Titian painting. Image size: 244x197mm. Price: SOLD.
Raphael I Sadeler (Antwerp 1560-Munich 1632?), Lamentation with St. John, the Holy Women, and 2 Angels (Hollstein 39). Engraving after Joan. Stradanus. A very fine impression on laid paper with thread margins all around. Inscribed in the plate "Joan Stradanus inuent. Raph Sad. fe et exc." Sadeler and his brother Jan were the founders of a dynasty of engravers and print publishers that lasted nearly 100 years. Giovanni Stradano or Jan Van der Straet or van der Straat or Stradanus or Stratesis was a Flanders-born mannerist artist active mainly in 16th century Florence. Born in Bruges in 1523; he died in Florence in 1605. He began his training in the shop of his father, then in Antwerp with Pieter Aertsen. By 1545, he had joined the Antwerp guild of Saint Luke or painters' guild, the equivalent of the Roman (Accademia San Luca). He reached Florence in 1550, where he entered in the service of the Medici Dukes and Giorgio Vasari. He also worked with Francesco Salviati in the decoration of the Vatican Belvedere. He returned to Florence and worked in the Palazzo Vecchio and the villa of Poggio a Caiano. He was one of the artists involved in the Studiolo of Francesco I (1567-1577). He provided many drawings to Flemish engravers (like Philips Galle, Jan Sadeler) to be made into prints. There is a useful article on him in The Grove Dictionary of Art (29: 740-742) with a good bibliography. Image size: 210x278mm. Price: $2250.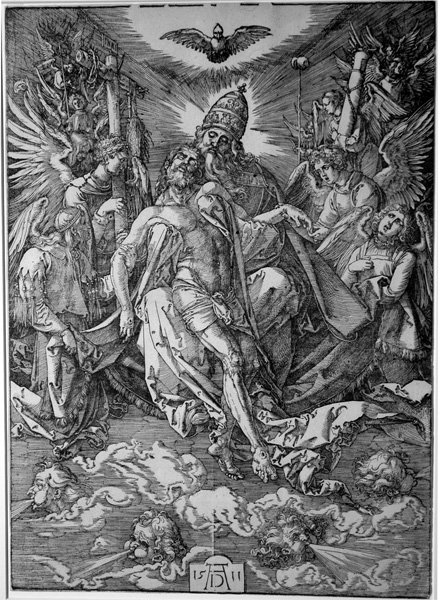 The Holy Trinity (B. 122, Strauss 164) Original woodcut, 1511. Our impression is a Meder i on laid paper with a VB lion coat of arms. 2 thinned spots lower area verso. Wölfflin calls this "the most beautiful and grandiose woodcut of the epoch . . . unrivalled in its powers of invention." Image size: 396x287mm. Price: SOLD.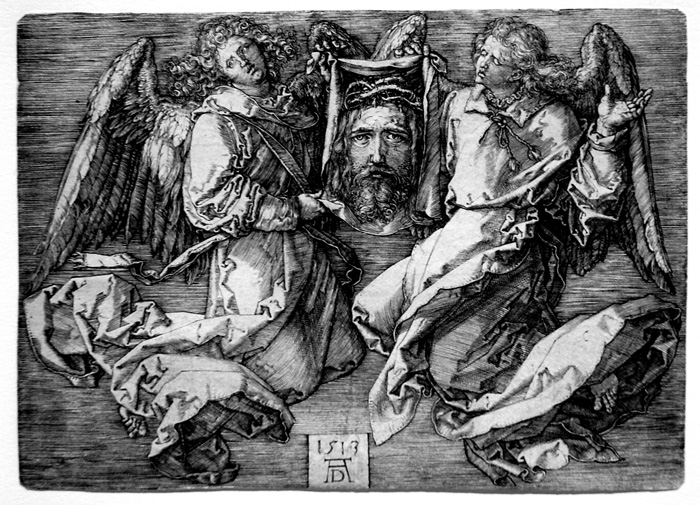 Sudarium held by two angels (Bartsch 25, Strauss 69, Meder 26 b/d). Original engraving, 1513. Wölfflin called this "The crowning representation of Dürer's Passion series" and observed that "The new face of Christ created by Dürer appears here in its purest form" (Strauss, Engravings, 192). Panofsky observes that "The features of the Saviour bear an unmistakable resemblance to Dürer's own" and adds, "Definitely heraldic in character, the angels are balanced with almost perfect symmetry, yet subtly differentiated in pose and gesture. The Holy Face fastens its eyes on the beholder with hypnotic intensity. Light and dark are subtly graded and more evenly balanced than in the engravings of 1508-1512. This is one of only three engravings by Dürer in the oblong format" (Strauss, Engravings, 193). Like Dürer's Salvator Mundi in the Metropolitan Museum of Art, once you glance at the eyes, it is very difficult to turn away and once you have been held by them, your eyes are immediately drawn back to them (Cardinal Nicolas of Cusa [1401-64], a German and the author of a treatise on Learned Ignorance, had strongly urged this and noted that this could be accomplished by putting the eyes at the perspective vanishing point of the image). Trimmed slightly within the platemark; an old crease is visible just above the plaque containing Dürer's monogram and the date. On of Dürer's masterpieces. Image size: 98x137mm. Price: $20,000.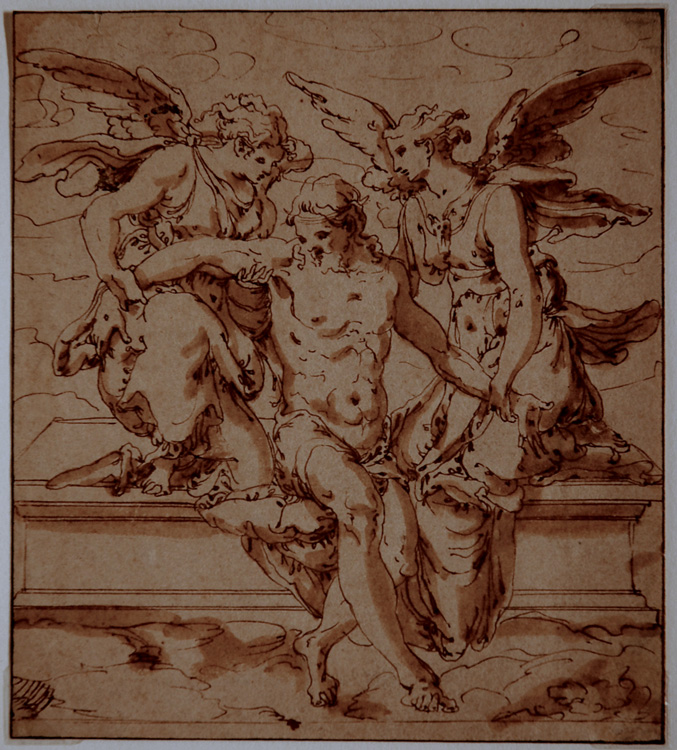 Pier Francesco Mazzuccelli (Morazone, 1573-1626), attributed, Christ on a tomb supported by two angels. Pen and brown ink and wash on cream laid paper. In this effective and moving drawing, the two angels present the dead body of the crucified Christ directly to the viewer. It is incumbent on the viewer not to give in to a Good Friday despair but instead to have faith that promised Easter Resurrection will occur. The painter, also known as Il Morazzone, was taken to Rome by his father, a master mason, in 1592. According to Alberto Bertoni's entry in the Grove Dictionary of Art (22: 81-83), "Borsieri (1619) claimed that he was taught there principally by the Sienese painter Ventura Salimbeni, whereas Baglione (1642) stated that he frequented the various academies of Rome" (81). Bertoni suggests that "it is likely that he also gained experience in the workshop of the Cavaliere d'Arpino" (81). He was apparantly able to attract attention fairly quickly, working in several important churches in Rome. After training in Rome for about 5 years, Il Morazzone returned to Lombardy, where he painted frescoes in churches and palaces in Varese, Milan, Como, Varollo, Turin, and Mantua. According to Bertoni, "With Cerano, Giulio Cesare Procaccini, and Tanzio da Varallo, he was one of the principal Lombard painters of the early 17th century. Like many of his contemporaries, he was strongly affected by the piety and mysticism of the teaching of St. Carlo Borromeo, yet his work is distinguihsed from theirs by a greater classicism, owing to his training in Rome" (81) Bertoni also praises him as "an original draughtsman" and notes that the major collections of his drawings are in Milan and Florence (in the Uffizzi). For a comparable drawing, see Martin Royalton-Kisch, Hugo Chapman, and Stephen Coppel, Old Master Drawings from the Malcolm Collection (London: British Museum, 1996), p. 91. Image size: 164x145mm. Price: SOLD.
Spaightwood Galleries, Inc.
To purchase, call us at 1-800-809-3343 (1-508-529-2511 in Upton MA & vicinity) or send an email to spaightwood@gmail.com.
We accept AmericanExpress, DiscoverCard, MasterCard, and Visa.
We also accept wire transfers and paypal.

For directions and visiting information, please call. We are, of course, always available over the web and by telephone (see above for contact information). Click the following for links to past shows and artists. For a visual tour of the gallery, please click here. For information about Andy Weiner and Sonja Hansard-Weiner, please click here. For a list of special offers currently available, see Specials.

All works are sold with an unconditional guarantee of authenticity (as described in our website listing).

Copyright 2004-2017, Spaightwood Galleries, Inc.

Go back to the top of this page.

Visiting hours: Saturday 10:00 am to 5:00 pm and Sunday noon to 6:00 pm and other times by arrangement.
Please call to confirm your visit. Browsers and guests are welcome.