Click image for BBB rating
See our Privacy Policy
cool="cool" width="785" height="5544" border="0" cellpadding="0" cellspacing="0" gridx="16" showgridx="showgridx" usegridx="usegridx" gridy="16" showgridy="showgridy" usegridy="usegridy" bgcolor="#99ccff">

Welcome to Spaightwood Galleries, Inc.
120 Main Street, Upton MA 01568-6193
Old Master Drawings: Abraham Bloemaert (Dutch, 1566-1651)
After the Spanish victory in the southern provinces of what used to be Burgundy during the civil wars / rebellion of the late 16th century and the early 17th century, the Jesuits began building churches and commissioning art in an attempt to confirm the faith of Catholics living in what would later become Belgium and to overwhelm the senses of Protestants so that they might be the more easily converted to Catholicism. But unlike the Catholic south, the Protestant north seems to have been more tolerant of what and how their artists made. By the beginning of the 17th century, Bloemaert, a devout Catholic, was the leading master in Utrecht. His contemporary Carel Van Mander including him in his section on "Living Artists" in his history of Dutch and Flemish Painters, the Schilderboeck (trans. Constant van de Wael [NY: McFarlane, Warde, McFarlane, 1936]: "Because Bloemaert has not wanted anything to distract his mind from creative work, he has not been interested in painting portraits from life. Many of his subjects, compositions, and figures, which he drew with a pen and painted afterwards have been engraved in copper by the able Joan Muller. The famous Saenredam has made engravings after Bloemaert's drawings. Saenredam did his best to represent beautifully and artistically the work of the artist. Bloemaert is, in 1604 [when van Mander was writing] theirty-seven years old; he will be thirty-eight next Christmas. He is a quiet man, and he is very able. He is thoroughly devoted to Pictura, and he tries to represent her strength and beauty. Pictura has bestowed her favors on him generously for the sake of his bloemaert; he adorns her with the flowers of his art. Pictura is grateful. Fame, who sees and hears evrything, has heralded Bloemaert's renown from the town of Utrecht to all the world. . . . She will add the name of Bloemaert to the list of famous painters in the hall of honor, and she will preserve his name for Immortality" (pp. 416-417). See also the entry in The Grove Encyclopedia of Northern Renaissance Art, ed. Gordon Campbell, 3 volumes (NY: Oxford University Press, 2009), I:172-76).

Bloemaert was a prolific draftsman who executed over 1500 drawings, many of which served as models for prints. A recent 2-volume study of Bloemaert by Marcel Georges Roethlisberger, Abraham Bloemaert and His Sons (Doornspiijk: Davaco Publisher, 1993), argues that we should try to see him as his contemporaries saw him: as the foremost master of Utrecht, his stature comparable to that of his contemporaries Hendrick Goltzius and Cornelis van Haarlem. Bloemaert painted at least 200 paintings and designed over 625 prints that were engraved by such masters as Jacob Matham, Jan Saenredam, Jan Muller, Schelte à Bolswert, and his sons Cornelis and Frederick Bloemaert. During his career of over 60 years, he moved from mannerist works in the style of Spranger and the school of Haarlem to a realist approach, a Caravaggesque interlude, a stint at court art, and a final classicizing style. He treated a multitude of themes from the Old and New Testament, altarpieces, mythological works, landscapes, and genre pieces, with important contributions in each field. A fervent Catholic with Jesuit ties, he is the chief representative of Dutch Catholic art. For a brief and more accessible introduction, also see Marcel G. Roethlisberger and Sally Metzler, Abraham Bloemaert (1566-1651) and his Time (St Petersburg, Florida: Museum of Fine Arts, 2001). For his drawings, see J. Bolten, Abraham Bloemaert, c.1565-1651: The Drawings (2007).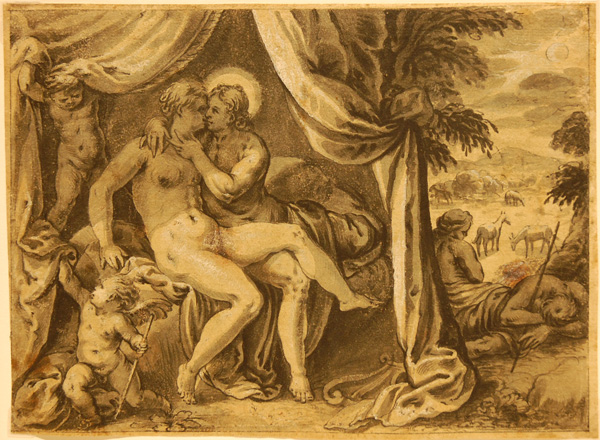 Abraham Bloemaert (Dutch, 1566-1651), attributed to, Phoebus Apollo and Clymene. Brush and black and gray ink and wash with white ink heightening on cream laid paper, early 17th c. The most available version of the story for Renaissance painters and their public would have been Ovid, where the center of the story is not Helios (or Apollo) and Clymene, but their son Phaeton (Metamorphoses I:1038-II: 495). Although most of the story centers around the vain and unwise effort of Phaeton to be publicly acclaimed as his father's son, a task he thinks to accomplish by driving his father's chariot across the heavens for one day, the love of his parents for him and each other is what enables the tragedy of his fall to occur. Ex-collection Walter Beck (Lugt supplement 2603, verso) and R. von Kühlmann, according to an old inscription on the old mat. Image size: 180x245mm. Price: SOLD.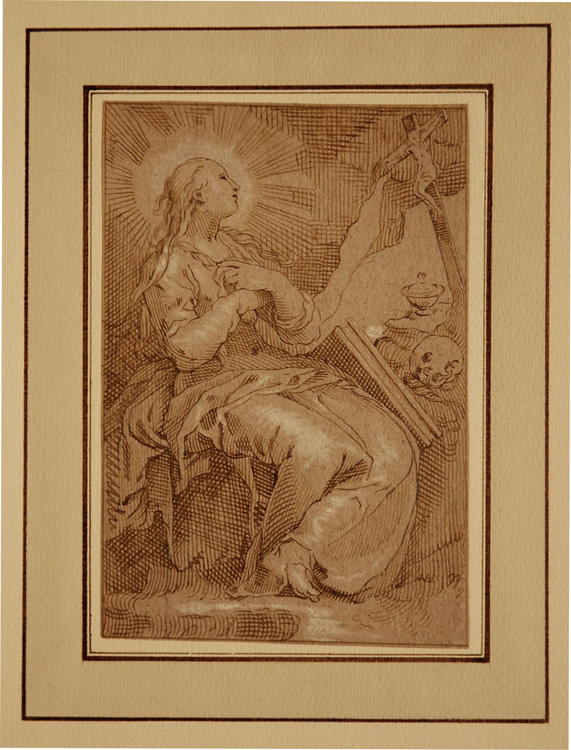 Abraham Bloemaert (Dutch, 1566-1651), attributed to, The Penitent Magdalene. Pen and brown ink heightened with white on laid paper mounted on gray paper, early 17th c. Image size: 130x90mm. Price: $8500.
Abraham Bloemaert (Dutch, 1566-1651, attributed to), The Penitent Magdalene. Pen and brown ink heightened with white on laid paper mounted on gray paper, early 17th c. Image size: 130x90mm. Price: $8500.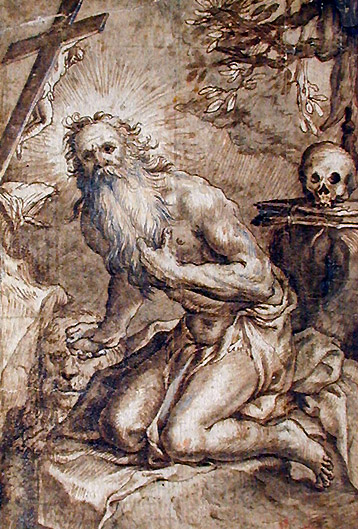 Abraham Bloemaert (Dutch, 1566-1651), School of, St. Jerome in Penitence. Pen and brown ink and wash, partly squared in black chalk, with touches of red chalk, black ink and white lead on cream laid paper mounted on card stock. Slightly larger copy after Bolswert's engraving of Bloemaert's design (Hollstein 104) from the set of 23 saints and hermits (Hol. 96-119). According to Dr. Jaap Bolten, this is the only known copy after the design of St. Jerome. It is a very strong drawing with great presence (although it has had a hard life). See below for the whole sheet. Image size: 160x104mm. Price: $3875.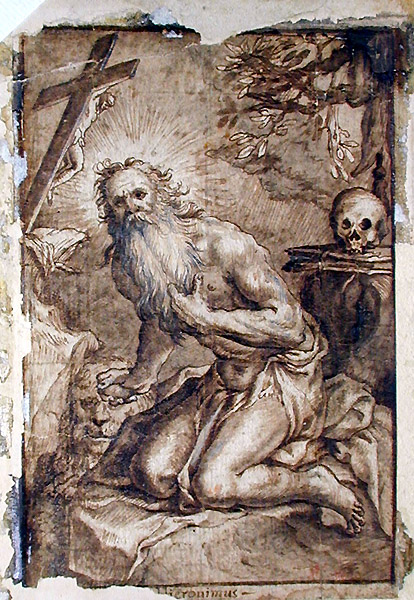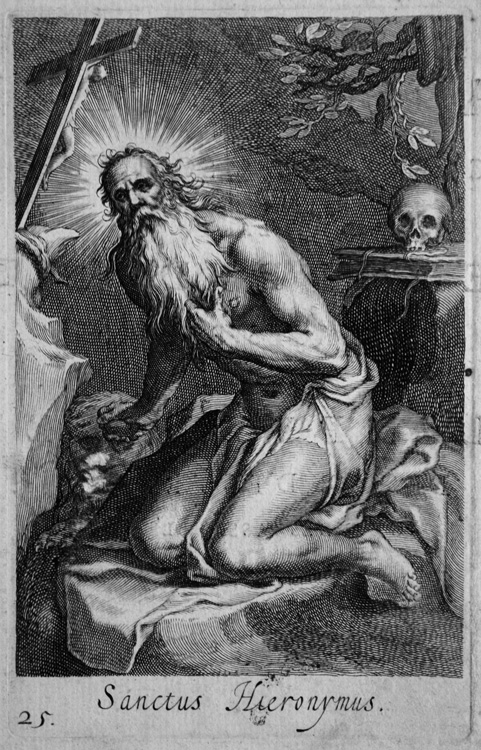 Schelte Adam Bolswert (Flemish, 1586-1657), St. Jerome in Penitence (Hollstein 104), engraving after Abraham Bloemaert (Dutch, 1566-1651) from the set of 23 saints and hermits (Hol. 96-119). Our impression was used in a book of treatises by St. Ambrose, one of which was La Chastete cherche la solitude. Printed on laid paper with text verso. Image size: 144x91mm. Price: $850.
Spaightwood Galleries, Inc.
To purchase, call us at 1-800-809-3343 (1-508-529-2511 in Upton MA & vicinity) or send an email to spaightwood@gmail.com.
We accept AmericanExpress, DiscoverCard, MasterCard, and Visa.
We also accept wire transfers and paypal.

For directions and visiting information, please call. We are, of course, always available over the web and by telephone (see above for contact information). Click the following for links to past shows and artists. For a visual tour of the gallery, please click here. For information about Andy Weiner and Sonja Hansard-Weiner, please click here. For a list of special offers currently available, see Specials.

All works are sold with an unconditional guarantee of authenticity (as described in our website listing).

Copyright 2004-2017, Spaightwood Galleries, Inc.

Go back to the top of this page.

Visiting hours: Saturday 10:00 am to 5:00 pm and Sunday noon to 6:00 pm and other times by arrangement.
Please call to confirm your visit. Browsers and guests are welcome.