Click image for BBB rating
See our Privacy Policy
cool="cool" width="784" height="3219" border="0" cellpadding="0" cellspacing="0" gridx="16" showgridx="showgridx" usegridx="usegridx" gridy="16" showgridy="showgridy" usegridy="usegridy" bgcolor="#99ccff">
---
Spaightwood Galleries, Inc.
Hans Schäufelein (German, 1480/85-1538/48): The Passion
Hans Schäufelein was one of Dürer's first group of journeymen and even after he had become a master himself and had developed his own style he retained Dürer's friendship and confidence. Nothing is known about the date and place of Hans Schäufelein's birth or his initial training, but he is considered to have been born c. 1480/1485. Although often called Hans Leonhard Schäufelein, there is apparently no documentation for the name Leonhard. Schäufelein probably entered Albrecht Dürer's Nuremberg workshop c. 1503/1504 and Dürer's influence is evident in Schäufelein's earliest graphic works, the woodcuts he produced for Der Beschlossen Gart der Rosenkranz, published by Ulrich Pinder in 1505, and in 1507 the illustrations to the Speculum Passionis Domini Nostri Ihesu Christi. According to the Getty Museum biography, Schäufelein made most of the 150 woodcuts for a 1507 collection of New Testament passages and texts. A born storyteller, he conceived his scenes as narratives, which he populated with well-observed details. At the time of Dürer's second trip to Italy, Schäufelein seems to have held a responsible position in the shop, for he painted, partly from Dürer's designs, the Ober-Sankt Veit altarpiece, commissioned by Elector Friedrich the Wise and his brother John, possibly for a church in Nuremberg. Schäufelein left Nuremberg around 1507; he seems to have gone first to Augsburg where he may have worked in the shop of Hans Holbein the Elder. His first dated painting is the Crucifixion with John the Baptist and King David of 1508, and around this time he begins to sign works with the combination of his monogram in ligature and a small shovel (Schaufel). Schäufelein journeyed to Tirol in 1509/1510, where in Niederlana bei Meran he painted scenes of the Passion on the wings of an altarpiece carved a local artist, Hans Schnatterpeck. Between 1508 and 1510, Schäufelein traveled to Austria, then returned to Augsburg, where he contributed to woodcut projects for Holy Roman Emperor Maximilian I, designed book illustrations for local publishers, painted, and designed stained glass. In 1515 he settled permanently in Nördlingen, where, as city painter, his focus shifted to painting. He painted portraits, provided a mural for the city hall, which is still in place, and designed woodcuts. He maintained contact with Nuremberg, where he met with Dürer and painted portraits and a town hall decoration. Schäufelein's later prints were usually published in Nuremberg. He returned to Augsburg in 1510 where he was active both as a painter and a designer of woodcuts; in 1513 he painted a large altarpiece with scenes of the Passion and the Apocalypse for the high altar of the Benedictine abbey at Auhausen, near the Swabian city of Nördlingen. In 1515 Schäufelein moved to Nördlingen and quickly obtained citizenship. This began a decade of great productivity which saw several painted commissions, as well as numerous woodcuts for projects ordered by Maximilian I. Schäufelein remained active in Nördlingen well into the 1530s and it was the influence and example of Dürer that remained paramount for him throughout his career. He was an important and talented continuator of the Dürer style. Among his last works are the illuminations of 1537/1538 in a prayer book done for the Counts of Oettingen. Hans Schäufelein died sometime between 1538 and 11 November 1540, when his wife is mentioned as a widow. (Drawn from the web-biographies of the National Gallery of Art and the Getty Museum).

In her recent study, Albrecht Dürer: A Biography (Princeton: Princeton University Press, 1990), Jane Campbell Hutchinson, talks about the remarkable generosity with which Dürer ran his workshop. By 1503, Dürer had three journeymen, Hans Süss, Hans Schäufelein, and Hans Baldung: "Dürer not only taught these three young men, and assigned them portions of the workshop projects, but helped them to begin earning independently—Schäufelein, for example, was permitted to sign certain works as his own as early as 1504. . . . Dürer's students were allowed to develop their own styles, rather than simply being set to copy the work of the master" (pp. 109-10). Hutchison notes as well that "Dürer enjoyed great rapport with the young men who were his first journeymen, and they remained his friends throughout their lives. At times, even after they had 'graduated' from his workshop he loaned them his own drawings" (p. 112). When Dürer traveled to the Netherlands in 1519-1521, he took along prints by Baldung and Schäufelein and sold them on their behalf when he could (p. 159). Schäufelein's career, although he had some important painting commissions, seems to have devoted most of his career to printmaking, producing over 1000 woodcuts for books (see bibliography below for sources of information about the range of his works.)

Selected Bibliography: Falk, Tilman, ed., The Illustrated Bartsch 11: Burgkmair, de Negker, Schäufelein, Cranach (NY: Abaris Books, 1985); M. Consuelo Oldenbourg, Die Buchholzschnitte Des Hans Schäufelein (Baden-Baden: Heitz, 1964), 2 vols; Karl Heinz Schreyl, Hans Schäufelein Das Druckgraphische Werk (Nördlingen: Dr. Alfons Uhl, 1990), 2 vols.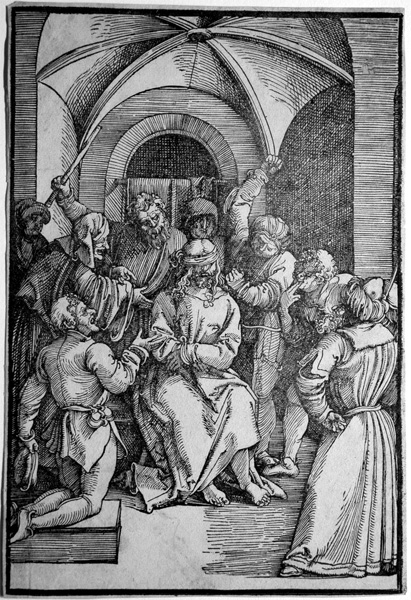 The Mocking of Christ (Bartsch 34-10, Oldenbourg 176). Original woodcut for the Speculum Passionis Domini Nostri Ihesu Christi / The Mirror of the Passion of Our Lord Jesus Christ, 1507. Very good dark impression showing no breaks in the border and printing clearly throughout; small margins on all sides. Image size: 235x164mm. Price: $1400.
The Crowning with Thorns (Bartsch 34-15, Oldenbourg 181). Original woodcut for the Speculum Passionis Domini Nostri Ihesu Christi / The Mirror of the Passion of Our Lord Jesus Christ, 1507. Very good dark impression showing no breaks in the border and printing clearly throughout; small margins on all sides. Dürer's monogram appears top right, indicating that this work proceeded from his workshop. Image size: 235x164mm. Price: $1400.
Spaightwood Galleries, Inc.
To purchase, call us at 1-800-809-3343 (1-508-529-2511 in Upton MA & vicinity) or send an email to spaightwood@gmail.com. We accept AmericanExpress, DiscoverCard, MasterCard, and Visa.

For directions and visiting information, please call. We are, of course, always available over the web and by telephone (see above for contact information). Click the following for links to past shows and artists. For a visual tour of the gallery, please click here. For information about Andy Weiner and Sonja Hansard-Weiner, please click here. For a list of special offers currently available, see Specials.

Visiting hours: Noon to six Saturdays and Sundays; other times by arrangement. Please call to confirm your visit. Browsers and guests are welcome.

---