Click image for BBB rating
See our Privacy Policy
cool="cool" width="864" height="3652" border="0" cellpadding="0" cellspacing="0" gridx="16" showgridx="showgridx" usegridx="usegridx" gridy="16" showgridy="showgridy" usegridy="usegridy" bgcolor="#99ccff">

Welcome to Spaightwood Galleries, Inc.
120 Main Street, Upton MA 01568-6193; 800-809-3343; email: spaightwood@gmail.com

You can follow us on Facebook at https://www.facebook.com/andrew.weiner.16
and https://www.facebook.com/pages/Spaightwood-Galleries-Inc/122951564441757
Old Master Drawings: Andrea Schiavone (Zara 1510-1563 Rome)
According to the Grove Dictionary of Art, Schiavone (also known as Andrea Meldolla) was born in Zara in Dalmatia and trained either in Zara or in Venice. He worked in fresco, panel painting, and etching (teaching himself to etch by working initially from drawings by Parmigianino). By 1540, he was well enough established in Venice that Vasari commissioned a large battle picture (which he mentions in his Lives). Although initially much influenced by Parmigianino and Central Italian Mannerism, "he was also a strikingly daring exponent of Venetian painterly techniques," and ultimately combined both in his works, influencing Titian, Tintoretto, and Bassano among others. His works "shocked some contemporaries and stimulated others." By the 1550s, he had achieved a new synthesis of Raphael and Titian's compositional elements with his own interest in atmosphere, effecting a "fusion of form with a dense atmosphere in a pictorial fabric whose elements tend to lose their separate indenties" (Francis E, Richardson, in the Encyclopedia of Italian Renaissance & Mannerist Art, 2: pp. 1502-04 at 1503). Richardson also insists on his importance as an etcher: "In etching he was similarly innovative. his technique was unlike that of any contemporary: unsystematically he used dense webs of light, fine, multidirectional hatching to create a tonal continuum embracing form, light, shadow, and air. His etchings are the only real equivalent in printmaking of later 16th-century Venetian painterly modes, and his technical experiments were emulated by 17th-century etchers such as Jacques Bellange, Giovanni Benedetto Castiglione, and Rembrandt" (2: 1503-04).

Selected Bibliography: Francis E. Richardson, Andrea Schiavone (Oxford and New York: Oxford University Press, 1980); for his etchings see Henri Zerner et al, ed. The Illustrated Bartsch 32: Parmigianino, Master F.P., Meldolla, Schiavone, Titian, Marconi, Tintoretto, Bresciano, Franco, P. Farinati, H. Farinati, del Moro, Fontana, Valentinis (NY: Abaris, 1979).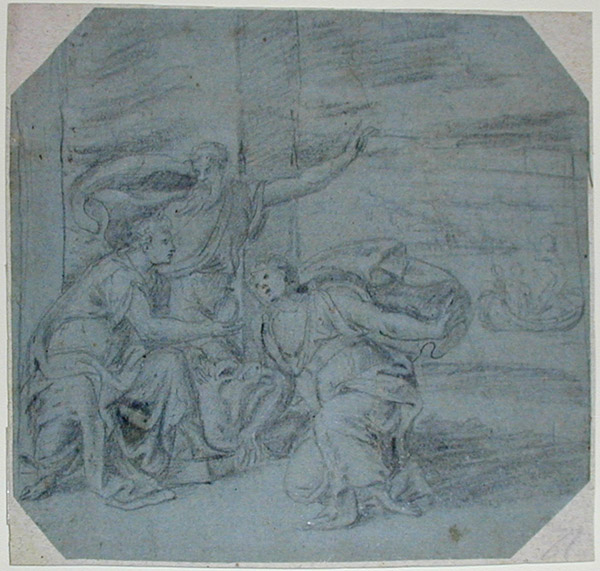 Dido receiving word of Aeneas' departure. Black and white chalks on blue laid paper mounted on card stock. Aeneas, obedient to the will of the gods, has just abandoned Dido and sails off in the harbor en route to found Rome. Dido, astounded that her husband has left her without a word, is frozen while all around her the world seems to move in sympathy to the wind that takes Aeneas away from her. (When the stasis ends, she will commit suicide.) This "betrayal" by Aeneas– ordered by Mercury on behalf of Jupiter–wil ultimately be the cause of war between Carthagem Dido's city, and Rome, the city Aeneas is going to found in Italy. Image size: 145x150mm Price: $7250.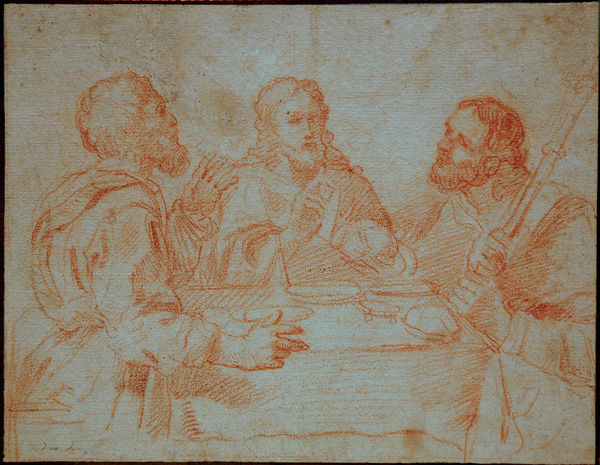 The Supper at Emmaus. Red chalk on tan laid paper mounted on laid paper. The drawing illustrates the verses in the Gospel of Luke that describe the happenings of Easter Sunday:

"And, behold, two of them went that same day to a village called Emmaus, which was from Jerusalem about threescore furlongs. And they talked together of all these things which had happened. And it came to pass, that, while they communed together and reasoned, Jesus himself drew near, and went with them. But their eyes were holden that they should not know him. And he said unto them, What manner of communications are these that ye have one to another, as ye walk, and are sad? And the one of them, whose name was Cleopas, answering said unto him, Art thou only a stranger in Jerusalem, and hast not known the things which are come to pass there in these days? And he said unto them, What things? And they said unto him, Concerning Jesus of Nazareth, which was a prophet mighty in deed and word before God and all the people: And how the chief priests and our rulers delivered him to be condemned to death, and have crucified him. But we trusted that it had been he which should have redeemed Israel: and beside all this, today is the third day since these things were done. Yea, and certain women also of our company made us astonished, which were early at the sepulchre; And when they found not his body, they came, saying, that they had also seen a vision of angels, which said that he was alive. And certain of them which were with us went to the sepulchre, and found it even so as the women had said: but him they saw not. Then he said unto them, O fools, and slow of heart to believe all that the prophets have spoken: Ought not Christ to have suffered these things, and to enter into his glory? And beginning at Moses and all the prophets, he expounded unto them in all the scriptures the things concerning himself. And they drew nigh unto the village, whither they went: and he made as though he would have gone further. But they constrained him, saying, Abide with us: for it is toward evening, and the day is far spent. And he went in to tarry with them. And it came to pass, as he sat at meat with them, he took bread, and blessed it, and brake, and gave to them. And their eyes were opened, and they knew him; and he vanished out of their sight. And they said one to another, Did not our heart burn within us, while he talked with us by the way, and while he opened to us the scriptures? And they rose up the same hour, and returned to Jerusalem, and found the eleven gathered together, and them that were with them, Saying, The Lord is risen indeed, and hath appeared to Simon. And they told what things were done in the way, and how he was known of them in breaking of bread. And as they thus spake, Jesus himself stood in the midst of them, and saith unto them, Peace be unto you" (Luke 24:13-36).

Attributed to Schiavone in an early italic hand lower left recto and on the verso at the top of the backing sheet, which also gives an old collector's catalogue number. Image size: 201x264mm Price: $15,000.

After long blocks of text, there will be huge open spaces. Please persevere: images and texts will follow.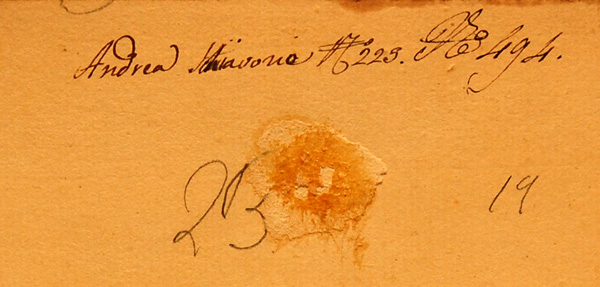 Spaightwood Galleries, Inc.
To purchase, call us at 1-800-809-3343 (1-508-529-2511 in Upton MA & vicinity) or send an email to spaightwood@gmail.com
We accept AmericanExpress, DiscoverCard, MasterCard, and Visa.
We also accept wire transfers and paypal.

For directions and visiting information, please call. We are, of course, always available over the web and by telephone (see above for contact information). Click the following for links to past shows and artists. For a visual tour of the gallery, please click here. For information about Andy Weiner and Sonja Hansard-Weiner, please click here. For a list of special offers currently available, see Specials.

All works are sold with an unconditional guarantee of authenticity (as described in our website listing).

Copyright 2004-2017, Spaightwood Galleries, Inc.

Go back to the top of this page.

Visiting hours: Saturday 10:00 am to 5:00 pm and Sunday noon to 6:00 pm and other times by arrangement.
Please call to confirm your visit. Browsers and guests are welcome.