Click image for BBB rating
See our Privacy Policy
cool="cool" width="786" height="2306" border="0" cellpadding="0" cellspacing="0" gridx="16" showgridx="showgridx" usegridx="usegridx" gridy="16" showgridy="showgridy" usegridy="usegridy" bgcolor="#99ccff">
---
Spaightwood Galleries
Girolamo Fagiuoli (Italian, active Bologna by 1539, d. 1574)
Fagiuoli was active in Bologna during the middle third of the sixteenth century. Vasari mentions him briefly. He is known to have made engravings after artists including Perino del Vaga and Francesco Salviati and, according to Suzanne Boorsch, at least some of the prints recently attributed to Nicholas Beatrizet (fl. c. 1540-?73) are actually the work of "another engraver, the little-known Girolamo Fagiuoli."

Bibliography: Edith Wyss, The Myth of Apollo and Marsyas in the Art of the Italian Renaissance: An Inquiry into the Meaning of Images (Newark: University of Delaware Press, 1996), reprints Fagiuoli's engraving of The Flaying of Marsyas after Francesco Salviati's drawing on p. 89.
Girolamo Fagiuoli (Italian, active Bologna by 1539, d. 1574), The Flaying of Marsyas. Engraving after Francesco Salviati, 1539, printed on thin laid paper. Wyss describes the engraving as "rare" and notes that Salviati's original drawing is lost. Reinforced crease below center with restored paper loss; otherwise a very good impression of this important work. Image size: 386x265mm. Price: SOLD.

For Apollo in a less fierce mood, see below.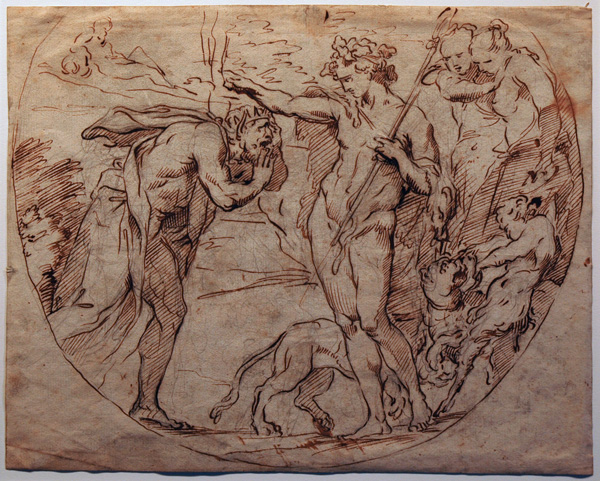 Annibale Carracci (Italian, 1560-1609), attributed, Apollo giving ass's ears to King Midas for prederring Pan's music to that of Apollo in a singing contest. Pen and brown ink and pencil on cream laid paper, c. 1603-1604. Annibale did drawings of Pan c. 1597-98 (National Gallery 2000 n. 49), and a number of other drawings of Apollo c. 1603-1604 for the Farnese Gallery in Rome. Image size: 270x335mm. Price: $9850.
Spaightwood Galleries, Inc.
To purchase, call us at 1-800-809-3343 (1-508-529-2511 in Upton MA & vicinity) or send an email to spaightwood@gmail.com. We accept AmericanExpress, DiscoverCard, MasterCard, and Visa.

For directions and visiting information, please call. We are, of course, always available over the web and by telephone (see above for contact information). Click the following for links to past shows and artists. For a visual tour of the gallery, please click here. For information about Andy Weiner and Sonja Hansard-Weiner, please click here. For a list of special offers currently available, see Specials.

Visiting hours: Saturday 10:00 am to 5:00 pm and Sunday noon to 6:00 pm and other times by arrangement. Please call to confirm your visit. Browsers and guests are welcome.

---