Click image for BBB rating
See our Privacy Policy
Spaightwood Galleries
120 Main Street, Upton MA 01568-6193
Womanshow VII: Contemporary Art by American Women Artists
This omnibus show presents some of our personal favorites from our gathering of the works that 40 years ago would not have been found in a standard work like Janson's History of Art but which are now recognized as powerful and, in many cases, classic works. Our interest in contemporary art by women predates Sonja's class in "Women in the Arts" (which quickly became a course in Women in the Visual Arts) and began with our love for the works of Joan Mitchell, Louise Nevelson, and Helen Frankenthaler and grew from there. We invite you to join us either at the gallery or virtually via an on-line tour of the show which focuses on our first loves—Frankenthaler (including her very recent 51-color screenprint for Lincoln Center, "Southern Exposure"), Mitchell, and Nevelson (including several never-before-shown mixed media works)—and will include original prints by Jennifer Bartlett, Louise Bourgeois, Louisa Chase, Chryssa, Sue Coe, Elaine de Kooning, Leslie Dill, Nancy Graves, Margot Humphrey, Anita Jung, Lee Krasner, Georgia Marsh, Suzanne McClelland, Phyllis McGibbon, Elizabeth Murray, Judy Pfaff, Jaune Quick-to-See Smith, Susan Rothenberg, Betye Saar, Hollis Sigler, Kiki Smith, Joan Snyder, Pat Steir, May Stevens, and Emmi Whitehorse. It will also include a large (8 feet x 6 feet canvas) by Lois Lane and a number of paintings on canvas and paper by Jonna Rae Brinkman, whose works we have shown extensively in our Madison incarnation before moving to Upton last year.

The show includes 12 works by Joan Mitchell, 15 works by Louise Nevelson, and 9 works by Jonna Rae Brinkman. What these works have in common is their high quality; what they offer is, in many cases, a different perspective on some of the most important tendencies in 20th-century art.

Spaightwood Galleries, located in the former Unitarian Church in Upton MA on the corner of Main Street (Highway 140) and Maple Avenue, is available by appointment on Saturdays and Sundays from noon to 6 p.m. and by mutual arrangement at other times.

Helen Frankenthaler (American, b. 1928), Spoleto (Harrison 37). Original 5-color silkscreen, 1972. 100 signed & numbered impressions on Arches published by the Spoleto Festival Foundation and printed by Patricia Yamashiro in NY. The work was commissioned for the Spoleto (Italy) Festival of the Two Worlds. There was also an unsigned poster with text. Image size: 1003x749mm (40"x30"); framed: 48x36 inches. Price: SOLD.
Joan Mitchell (American, 1926-1992), Sunflower 1. Original color etching, 1972. 50 signed and numbered impressions on Arches. Published in Paris in 1972 by Maeght Editeur. Image size: 180x110mm. Price: SOLD.
Louise Nevelson (American, 1899-1988), Composition for the UNESCO Portfolio. (Baro 105). Original color intaglio and stencil, 1970. 75 signed and numbered impressions plus 25 artist's proofs. Printed in Rome at Atelier 2RC on handmade Japanese paper. This is one of Nevelson's most elegant and desirable prints. Image size: 632x457mm. Price: $4850.
Joan Snyder (American, b. 1940). Requiem. Original color lithograph, etching, and woodcut, 1998. 120 signed and numbered impressions for the Madison Print Club plus 20 artist proofs. Snyder has been an important presence in the feminist art movement since the early 1970s. Her work has been shown in many galleries and museum in the US and Europe. In 1994, "Joan Snyder-Painter: 1969 to Now," was featured at the Rose Art Museum, Brandeis University, Waltham (MA). In 1998 the Brooklyn Museum of Art presented a retrospective of her prints; in 2005 "Joan Snyder: A Painting Survey, 1969–2005" opened at the Jewish Museum in NYC organized by Katherine French of the Danforth Museum of Art in Framingham, MA where it is currently showing (Dec. 2005). A book by Hayden Herrera, with an essay by Jenni Sorkin and an introduction by Norman L. Kleeblatt, accompanies the show. Image size: 657x510mm. Price: $2000.
Suzanne McClelland (American, b. 1959), Mankind. Original color lithograph and chine collé, 2004. 120 signed and numbered impressions for the Madison Print Club plus 20 artist proofs. McClelland's work has been shown at the Whitney Museum and galleries & museums in the US, Italy, Germany, Scotland, England, and Austria. Her print here mixes many different kinds of image as it presents an equation: Mankind = Stud. In the crossbar of the T in Stud we see the image of John the Baptist from Grunewald's Isenheim Altarpiece; surrounding it are images from NASA of the spaceship "Challenger" in flight. Image size: 390x322mm. Price: $1800.
Betye Saar (American, b. 1926), The Long Memory. Original 18-color screenprint, 1998. 100 signed and numbered impressions on Somerset UK printed at Grsham Studio Ltd. in Cambridge, England. Saar's early work attempted to destroy rascist stereotypes of African Americans; her more recent work explores her "deep-felt interest in the occult, astrology, and African consciousness.' According to Yolanda M. Lopez and Moira Roth in The Power of Feminist Art, edited by Norma Broude & Mary D. Garrard (Abrams, 1994), "Over the past twnety years, Saar . . . [has] traversed her mystic worlds in which she weaves together interests in the occult, family, and black culture and history" (146). Image size: 370x296mm. Price: $2750.
Lee Krasner (American, 1908-1984), Free Space. Original color lithograph, 1975. Edition: 175 signed and numbered impressions + 50 Roman numbered + 25 HC & 25 EA. Krasner was one of the original group of Abstract Expressionists and Jacskon Pollock's widow. Her work has been featured in many shows around the country. Image size: 495x660mm. Price: $7500.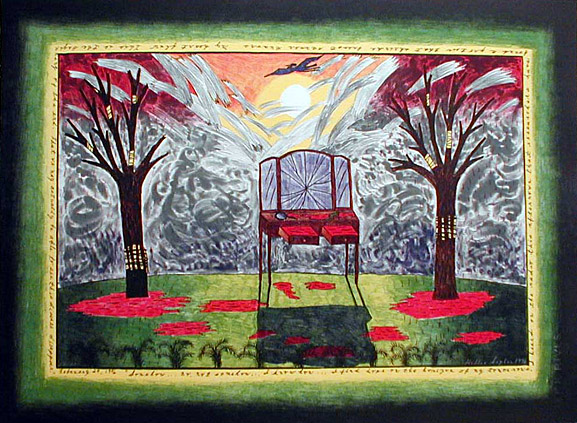 Hollis Sigler (American, 1948-2001), I find hope on the horizon of my tomorrows. Original color lithograph, 1997. 120 signed impressions plus 20 artists proofs. The text running around the central image says, "February 19, 1996. Somehow . . . no, not somehow . . . I know how I find hope on the horizon of my tomorrow. I heard on the radio this afternoon that researchers have found a protein that shrinks breast cancer tumors. My heart flew. This is the beginning of the end. That we may actually be able to see this disease disappear." Sigler has said that she views her work as "visual poems, and the individual visual metaphors are very important to the pieces. These metaphors, or icons, have become part of a vocabulary that I have used to explore my emotional life on paper. . . . in the Breast Cancer Journal pieces, the vanity showed up again. I have always found it fascinating that we have a piece of furniture called a "vanity," and I have used it frequently as a symbol since 1976. I had always meant vanity, literally: a place where women view their bodies with admiration. Now, the nature of the object "vanity" meant something different. The body was no longer whole. The shattered image of the vanity's mirror reflected woman's pain, her fragmented sense of self. . . . I introduced to the drawings the image of a dead and broken tree. The Lady (a consistent personality in my narratives, but one who is never seen except on rare occasions as a shadow) is trying to repair the tree by reattaching the branches. It is a fruitless gesture on her part, for it will never again be a living tree. The dead tree is the old self, the self before cancer. The lady is struggling with irreversible life changes." In this piece, with its sudden expression of a new hope, the trees are both bandaged, perhaps not dead but only wounded and capable of being healed. Image size: 570x760mm. Price: $2800.
Emmi Whitehorse (Native American, b. 1957), Light on water. Original color lithograph with hand-coloring, 2001. 120 signed and numbered impressions for the Madison Print Club plus 20 artist proofs. Printed at Bud Shank's Atelier in Colorado for the Madison Print Club. Whitehorse uses traditional Navaho symbols within the frame of a contemporary abstract style as a way of revisioning traditional Navajo themes. Signed lower right with three vertical red marks, her Navaho name; signed in pencil on the verso "Emmi Whitehorse." Image size: 766x568mm. Price: $1800.
Lesley Dill (American, b. 1950), Soul (Tamarind 94-345a). Original lithograph with stitching and collage on paper stained with acrylic paint, 1994. 30 signed & numbered impressions on Chiri/Gasen natural paper + 10 Roman numbered impressions& 3 Tamarind impressions. Her work is included in the collections of the de Young Museum in San Francisco, The Library of Congress, MoMA, the Metropolitan and Whitney Museums, & others. Image size: 295x245mm. Price: SOLD.
Lesley Dill (American, b. 1950), Dust is the only secret. Original lithograph on stained paper with synthetic fiber, 2006. 120 signed and impressions annotated "Ed. 120" for the Madison Print Club plus 20 artist proofs. Her work is included in the collections of the de Young Museum in San Francisco, The Library of Congress, MoMA, the Metropolitan and Whitney Museums, & others. Image size: 410x260mm. Price: $1250.
Pat Steir (American, b. Kyoto Chrysanthemum (Spencer 16). Original 26-color woodcut, 1982. Edition: 200 signed and numbered impressions plus 20 artist proofs, all on handmade Kozo paper. Printed in Japan for the Crown Point Press. Steir went to Japan and worked with a Japanese woodblock cutter. THe print was made from 20 woodblocks. Image size:369x516mm. Price: $3200.
9/11 Series: Self-Portrait: Sshhshh. Oil on canvas, 2001. This painting was executed on 9/11/01 from Brinkman's Brooklyn studio directly across the East River from the World Trade Center. Brinkman had been unable to get cell-phone reception and had gone up to the roof just before the second plane hit. She spent the rest of the day painting the aftermath of the destruction. For other paintings in the series, please click here. Image size: 14x16 in. Price: $2600.
Spaightwood Galleries, Inc.
To purchase, call us at 1-800-809-3343 (1-508-529-2511 in Upton MA & vicinity) or send an email to spaightwood@gmail.com. We accept AmericanExpress, DiscoverCard, MasterCard, and Visa.

For directions and visiting information, please call. We are, of course, always available over the web and by telephone (see above for contact information). Click the following for links to past shows and artists. For a visual tour of the gallery, please click here. For information about Andy Weiner and Sonja Hansard-Weiner, please click here. For a list of special offers currently available, see Specials.

Visiting hours: Saturday 10:00 am to 5:00 pm and Sunday noon to 6:00 pm and other times by arrangement. Please call to confirm your visit. Browsers and guests are welcome.

---