Click image for BBB rating
See our Privacy Policy
cool="cool" width="785" height="2258" border="0" cellpadding="0" cellspacing="0" gridx="16" showgridx="showgridx" usegridx="usegridx" gridy="16" showgridy="showgridy" usegridy="usegridy" bgcolor="#99ccff">
---
Spaightwood Galleries
Paul Signac (1863-1935)
Paul Signac was the theoretician of the Neo-Impressionist group and the only one of the group to create and important body of graphic work based on those principles. The work we are including in our show is not particularly dependent upon his theories, which advocated moving away from Seurat's scientific precision towards a freer, more spontaneous use of color. The Oxford Dictionary of Twentieth-Century Art notes that Signac spent a great deal of time on the Mediterranean and French Atlantic coasts. His work had a great influence on Matisse.
Select Bibliography: Marina Ferretti Bocquillon and Charles Cachin, Paul Signac. A Collection of Watercolors and Drawings (NY: Harry N. Abrams, 2000); Marina Ferretti Bocquillon et al, Paul Signac, 1863-1935 (NY: Metropolitan Museum of Art, 2001); Francoise Cachin, Paul Signac (Greenwich CT: New York Graphic Society Ltd., 1971); Martigny Suisse, Paul Signac (Paris: SPADEM, 2003); George Szabo, Paul Signac (1863-1935). Paintings, Watercolors, Drawings and Pr ints. Robert Lehman Collection (NY: Metropolitan Museum of Art, 1977).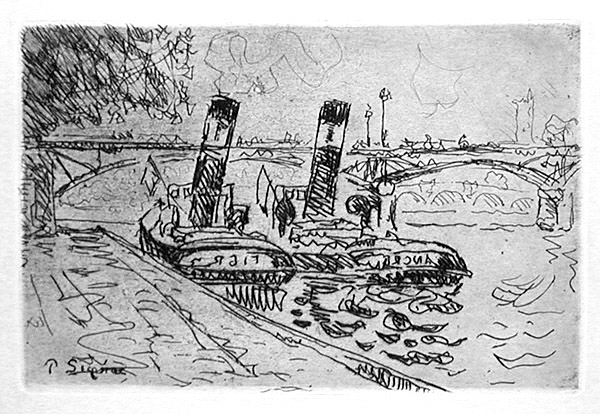 Paris: Le Pont des Arts avec Remorquers (K&W 24). Original etching and aquatint, 1927. Edition: 250 impressions for the portfolio, Dix Peintres au XXe Siécle. Ours is a brilliant proof on vellum. This is Signac's last print; it is illustrated in Carl Zigrosser's Prints, an important survey of the history of printmaking. Image size: 126x190mm. Price: $1875.
V. J. Roux-Champion (French, 1871-1953). Portrait de Paul Signac. Original etching for his portfolio, Dix Peintres de XXe Siécle in 1927. 250 impressions on various papers. Image size: 190x130mm. Price: $450.
Spaightwood Galleries, Inc.
To purchase, call us at 1-800-809-3343 (1-508-529-2511 in Upton MA & vicinity) or send an email to spaightwood@gmail.com. We accept AmericanExpress, DiscoverCard, MasterCard, and Visa.

Spaightwood Galleries is located at 120 Main St (aka Highway 140) in Upton MA at the corner of Main St and Maple Ave in a rehabilitated Unitarian Church. For directions and visiting information, please call. We are, of course, always available over the web and by telephone (see above for contact information). Click the following for links to past shows and artists. For a visual tour of the gallery, please click here. For information about Andy Weiner and Sonja Hansard-Weiner, please click here. For a list of special offers currently available, see Specials.

Visiting hours: Saturday and Sunday noon to six and other times by arrangement. Please call to confirm your visit. Browsers and guests are welcome.

---