Click image for BBB rating
See our Privacy Policy
cool="cool" width="784" height="5032" border="0" cellpadding="0" cellspacing="0" gridx="16" showgridx="showgridx" usegridx="usegridx" gridy="16" showgridy="showgridy" usegridy="usegridy" bgcolor="#99ccff">

Welcome to Spaightwood Galleries, Inc.
120 Main Street, Upton MA 01568-6193
Picasso as Printmaker: Pablo Picasso (Spanish, 1881-1973): Color
The vast majority of Picasso's many prints are in black and white (drypoints, engravings, etchings, lift-ground aquatines, and linocuts make up the great majority of his printed oeuvre). Picasso did experiment with color printa, especially in the later part of his career, and we offer a few examples.
The Dancers (M. 281). Original color lithograph, 1956. 3000 unsigned impressions for Picasso Lithographe III. This lithograph served as the frontispiece to the book. It is one of a long series of lithographs and etchings Picasso has made on this theme, which was particularly important to him during 1963-65. Image size: 320x235mm. Price: $2850.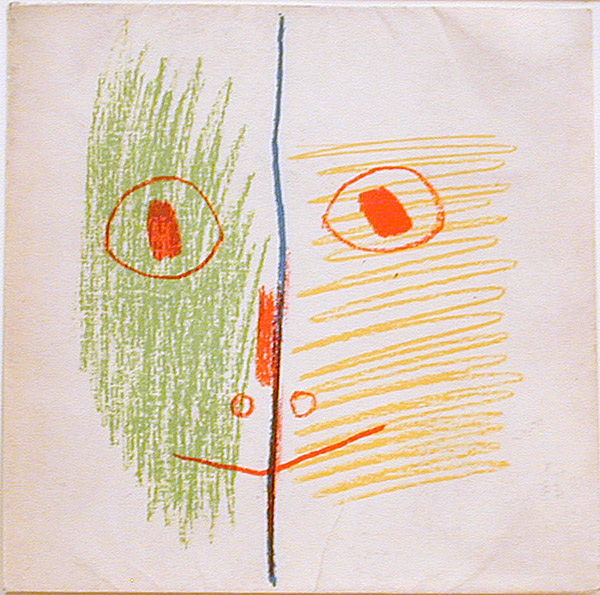 Portrait (M. 298, Bl. 837). Original color lithograph, 1957. 4000 impressions for Picasso Peintures 1955-56. A German gallery has been offering an unsigned proof before text of this lithograph for $2000. (Does he know something I don't know about the fate of the edition?) Image size: 166x166mm. Price: $1500.
L'Atelier Mourlot. Color lithograph, 1964. 1150 impressions for L'Atelier de Mourlot, a 1964 exhibition of works made at Mourlot's workshop held at the Redfern Gallery in London. Picasso produced two lithographs for the catalog, this one and M. 400. We have priced this so inexpensively because the National Gallery of Art printing of the Mourlot catalogue (which preceded the London show) calls this a lithograph after a drawing, although the Redfern Gallery catalogue calls it an original lithograph. Image size: 250x180mm. Price: $750.
A los toros avec Picasso: Le Picador II / The Picador II (Gauss 788, Mourlot 350, Bloch 1017, Cramer 113), Original 23-color lithograph on transfer paper, transferred to stone, 1961. 50 signed and numbered impressions on vellum with wide margins plus the edition for Sabartes' A los toros avec Picasso. Picasso was a lover of the bull fight and drew upon the scenes of the ring frequently. Image size: 207x226mm. Price: $3600.

The paper is actually white and the colors are much more subtle (for instance, in the original, the two blobs to the left of the horse's mouth are different colors (tbhe large one is orange and the smaller one is pinker)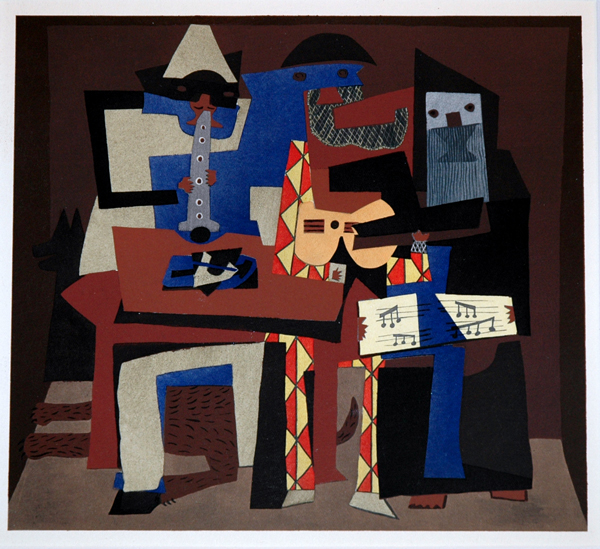 Les Musiciens. Color pochoir after a painting, 1930. 1250 unsigned impressions for Eugenio d'Ors's Picasso, published in Paris in 1930. Executed with Picasso's consent and under his supervision. The first 50 copies contained an original signed and numbered Picasso lithograph exectued for this book. Image size: 252x187mm. Price: $2275.
Flowers For UCLA (M. 351, Gauss 791, Roderigo, Picasso in his Posters: Image and Work, 4 vols., 113). Original 7-color lithograph, 1961. 100 signed and numbered impressions before the addition of the text "Bonne fête, Monsieur Picasso," of which there are 500 impressions signed in the stone. Ours is a proof on light-weight wove paper. Image size: 578x452mm; paper size: 648x495mm. Price: SOLD.
Exposition de Ceramics (M. 314, Gauss 745). Original 3-color lithograph, 1958. 500 impressions signed in the stone for an exhibition of his ceramics at the Maison de la Pensée Française in Paris. This is a variant of M313 / Gauss 744, which was printed in only two colors (lacking the green) and which was also printed in an edition of 500 impressions. There were also 125 impressions printed on slightly larger paper to be sold by the Maison de la Pensée Française. In addition to these two regular editions, there were a few artist's proofs. No signed and numbered edition exists. Image size: 645x475mm. Price: $3250.
Plante aux Torritos / Plant with bullflies. Published in Femmes et Faunes, a collction of 13 pochoirs done under Picaso's supervision for a collection of 13 works after his original drawings by Antonina Vallentin. Edition size: 200 impressions on heavy wove paper with a deckled edge. In the catalogue raisonné of Picasso's Prints, there is a color linogravure titled "Plante aux Toritos" dated 25 Juin 1956-9 Avril 1960 (Bloch 948) on the same subject as our lithograph, which is dated 24-6-1956 VII, indicating that it is the 7th work Picasso did on June 24 1956. I think Picasso did a number of drawings for the linogravure, one of which he chose as the model for the print and which he liked enough that he gave it to be copied by someone in his studio and then be printed by Mourlot, his regular printer (hence the watermark: "Ceci est une reproduction. Picasso." This also tells us that Picasso had special paper made so that he could print reproductions of drawings he liked without having to worry that someone might add a fake signature and try pass it off as an original Picasso lithograph. It also reminds us that Picasso could sometimes be charming and whimsical! Rare! Image size: 498x400mm. Price: $2000.
Spaightwood Galleries, Inc.
To purchase, call us at 1-800-809-3343 (1-508-529-2511 in Upton MA & vicinity) or send an email to spaightwood@gmail.com.
We accept AmericanExpress, DiscoverCard, MasterCard, and Visa.
We also accept wire transfers and paypal.

For directions and visiting information, please call. We are, of course, always available over the web and by telephone (see above for contact information). Click the following for links to past shows and artists. For a visual tour of the gallery, please click here. For information about Andy Weiner and Sonja Hansard-Weiner, please click here. For a list of special offers currently available, see Specials.

All works are sold with an unconditional guarantee of authenticity (as described in our website listing).

Copyright 2004-2017, Spaightwood Galleries, Inc.

Go back to the top of this page.

Visiting hours: Saturday 10:00 am to 5:00 pm and Sunday noon to 6:00 pm and other times by arrangement.
Please call to confirm your visit. Browsers and guests are welcome.