Click image for BBB rating
See our Privacy Policy
cool="cool" width="770" height="8178" border="0" cellpadding="0" cellspacing="0" gridx="16" showgridx="showgridx" usegridx="usegridx" gridy="16" showgridy="showgridy" usegridy="usegridy" bgcolor="#99ccff">

Welcome to Spaightwood Galleries, Inc.
120 Main Street, Upton MA 01568-6193
Last updated: 6/23/2019
Garache at the Musée d'art moderne de la ville de Paris in 2012
In 2012 Claude invited us to join him at the opening of a show of his paintings at the Musée d'arte moderne de la ville de Paris. We couldn't arrange for a flight that would let us get to the opening, but we arrived shortly after and spent most of the next week with him and his wife Helene, herself a ceramicist who works in sizes from the petite to the monumental (including a large mountain covered with shrubs and trees and bristling with boulders). We arrived at the museum before the Garaches at the show and began photographing the works included until we were joined by Claude and Helene. The museum had decided to purchse one of his larger paintings and wanted to form a show around it. Originally planned for two or three rooms, the financial crunch caused it to be limited to one area, with the purchased painting supplemented by a number of pieces loaned by collectors.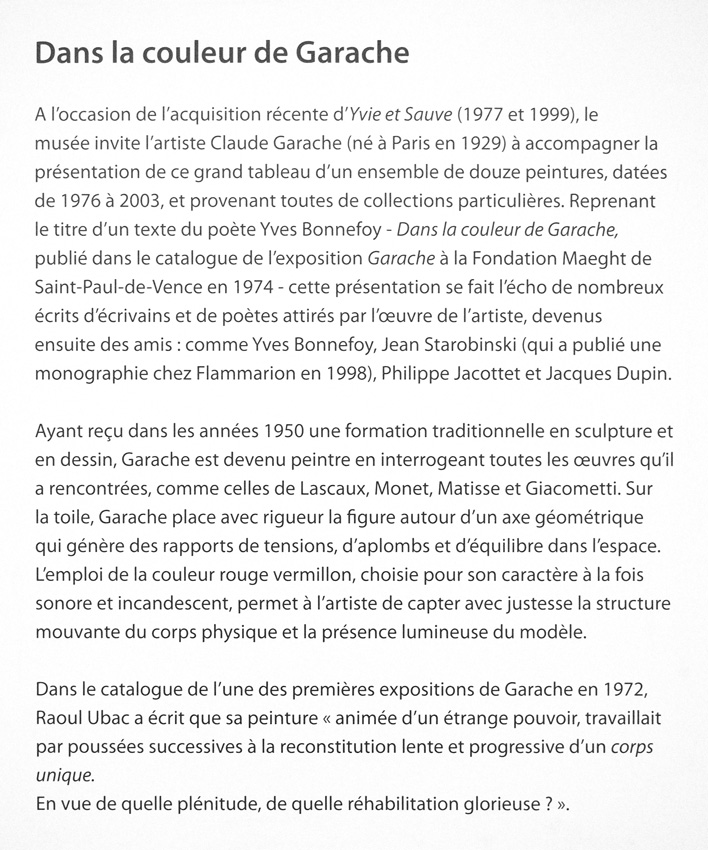 The text takes its title from an important essay by Yves Bonnefoy, poet and art critic, on Garache's work in general and in particular on his use of the color red. It reminds us of his frequent collaborations with poets and critics like Jean Starobinsky, the author of a monograph on Garache's paintings and prints, with poets and critics like Philippe Jacottet and Jacques Dupin, and the prefaces to exhibition catalogs by painters such as Raoul Ubac. (One is reminded that Garache was invited to join the roster of artists whose works were exhibited at Galerie Maeght after Miró and Chagall recommended him to Aimé Maeght, the founder and director of what was for many years one of the most important galleries in the world and whose artists also included Bram van Velde, Alberto Giacometti, Ellsworth Kelly, Antoni Tápies, Pierre Alechinsky, and many others.)
Sonja pondering the introductory text above.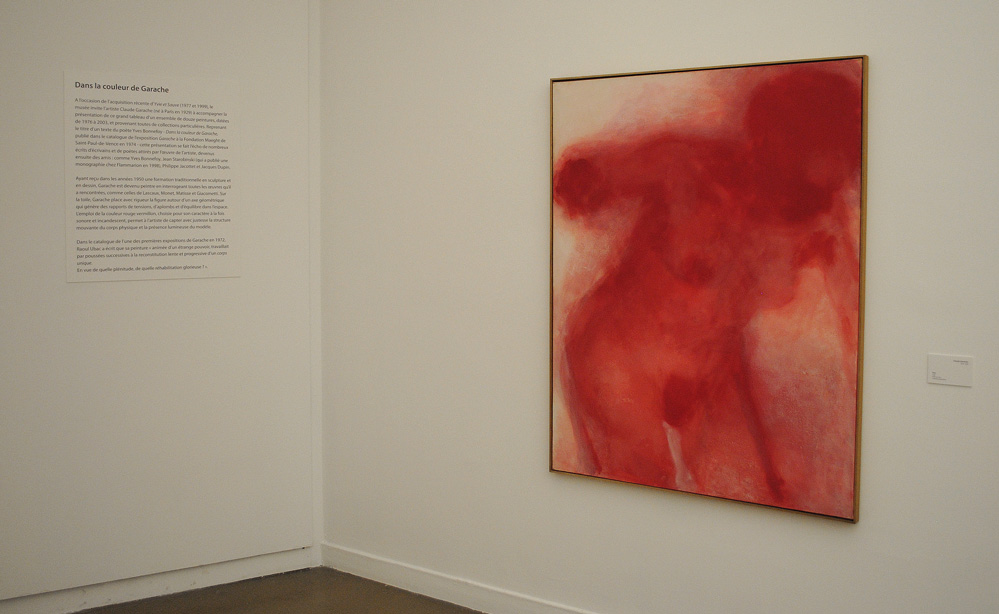 Vou (Oil on canvas, 1976).
Grande Daquine (Oil on canvas, 1992).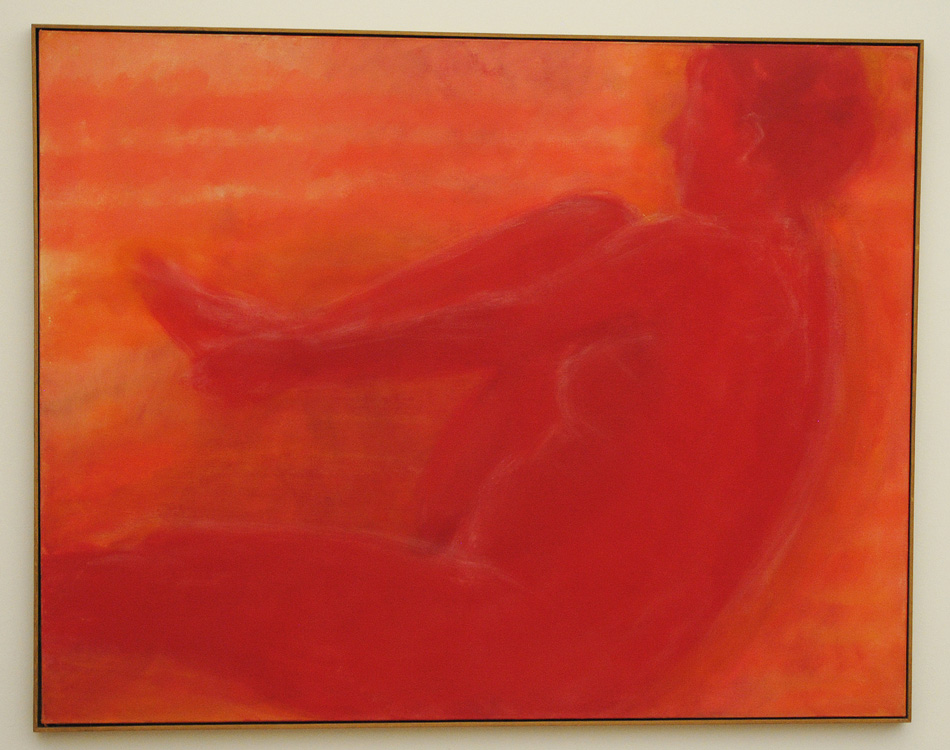 Nile (Oil on canvas, 1995).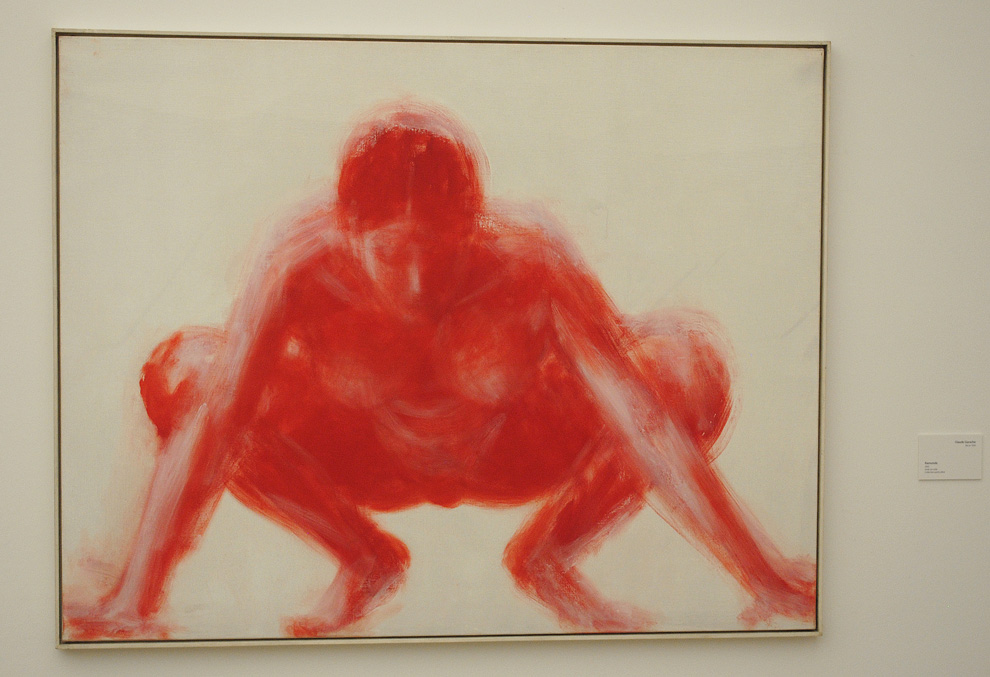 Ramonde (Oil on canvas, 2005).
Yvie (Oil on canvas, 2005).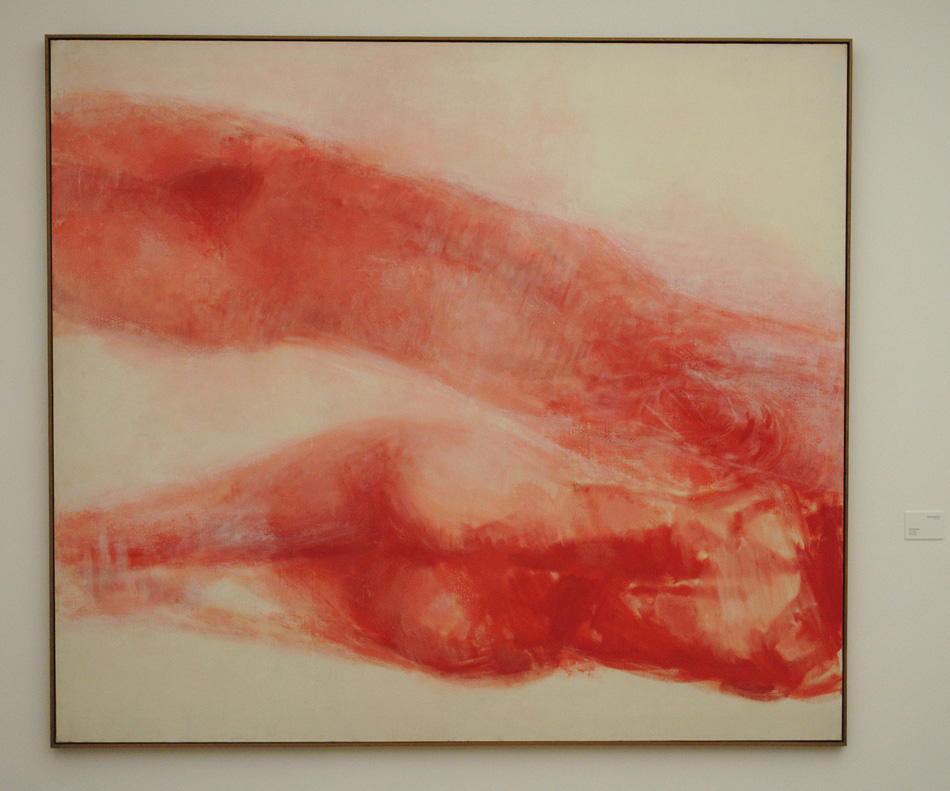 Yvie et Sauve (Oil on canvas, 1977, 1999). This is the work purchased for the permanent collection of the museum. Garache began it in 1977, returned to the canvas 20+ years later and completed the compostion by adding the second figure.
Coeuvreine (Oil on canvas, 1991)
Vou M (Oil on canvas, 1990).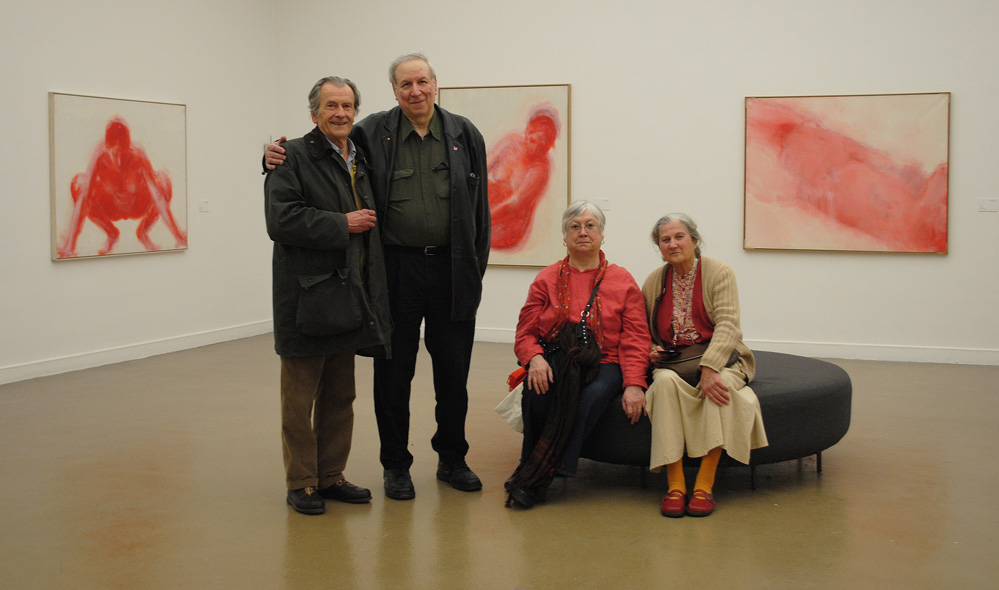 At this point, Claude and Helene Garache arrived and a passing guard obliged us and took a group picture.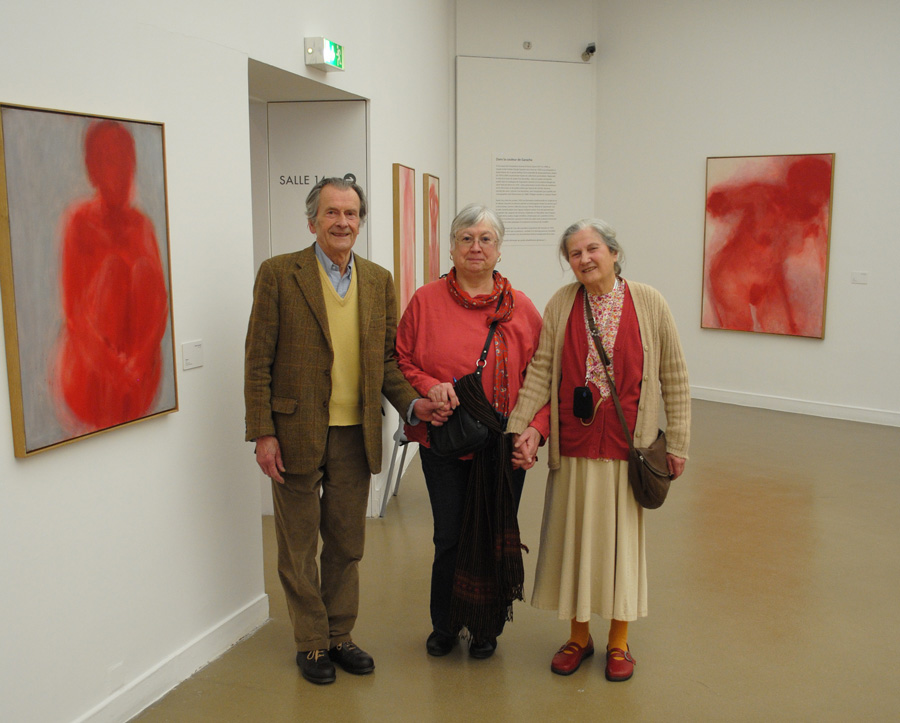 I seemed to have omitted photographing some of the additional works (such as the painting to Claude's right and the two behind the group) in favor of memorializing Claude, Sonja, and Helene.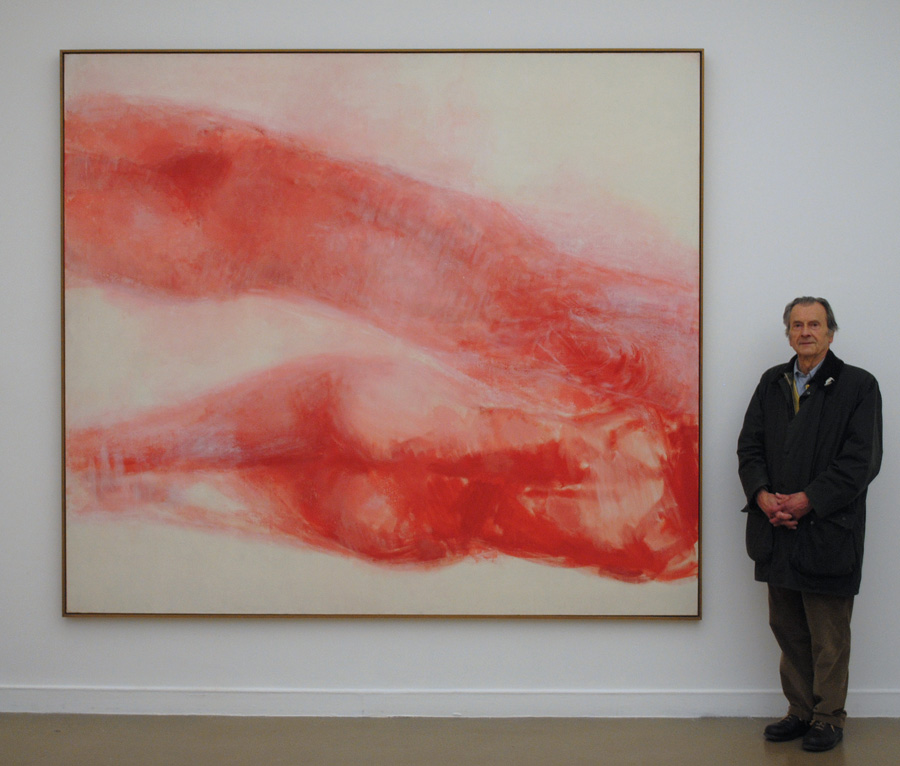 Claude standing next to the museum's purchase.
Spaightwood Galleries, Inc.
To purchase, call us at 1-800-809-3343 (1-508-529-2511 in Upton MA & vicinity) or send an email to spaightwood@gmail.com.
We accept AmericanExpress, DiscoverCard, MasterCard, and Visa.
We also accept wire transfers and paypal.

For directions and visiting information, please call. We are, of course, always available over the web and by telephone (see above for contact information). Click the following for links to past shows and artists. For a visual tour of the gallery, please click here. For information about Andy Weiner and Sonja Hansard-Weiner, please click here. For a list of special offers currently available, see Specials.

All works are sold with an unconditional guarantee of authenticity (as described in our website listing).

Copyright 2004-2017, Spaightwood Galleries, Inc.

Go back to the top of this page.

Visiting hours: Saturday 10:00 am to 5:00 pm and Sunday noon to 6:00 pm and other times by arrangement.
Please call to confirm your visit. Browsers and guests are welcome.