Click image for BBB rating
See our Privacy Policy
cool="cool" width="784" height="2072" border="0" cellpadding="0" cellspacing="0" gridx="16" showgridx="showgridx" usegridx="usegridx" gridy="16" showgridy="showgridy" usegridy="usegridy" bgcolor="#99ccff">

Spaightwood Galleries
120 Main Street, Upton MA 01568-6193; 800-809-3343
"The Sleep of Reason Produces Monsters":

Goya's Caprichos etchings (1799), Durer's Ship of Fools woodcuts (1494), David Deuchar's etchings (1786) after Hans Holbein's Dance of Death, John Martin's Paradise Lost mezzotints (1823-25), and Georges Rouault's Miserere mixed-media intaglios (1922-1928)

David Deuchar's etchings (1786) after Hans Holbein's Dance of Death
David Deuchar published (c. 1786) a set of etchings based upon Hans Holbein's early 16th-century series of woodcuts on the theme of the "Dance of Death," originally published in 1538 as Les simulachres & histories faces de la mort. Holbein, working shortly after the Reformation had thrown all Europe into chaos, was a congenial inspiration to Deuchar, working shortly after the American revolution had forced the world's greatest military power, England, to abandon the colonies it had recently fought a war to keep safe from the French. It was a war that may have contributed to the dissolution of the French Monarchy, itself shortly to experience revolution and an outbreak of terror, pushing all Europe into a series of wars that led to a revival of French power under Napoleon and then its destruction at the battle of Waterloo at the hands of the British Army and supported by the British Navy. Despite the title, Holbein and Deuchar (in the bulk of his etchings in this series) are more aligned with the memento mori tradition than that of the Dance of Death. Hamlet, holding the newly-disinterred skull of Yorick, his father's jester, is playing against this injunction to "remember death," when he tells the skull to "get you to my lady's chamber and tell her, let her paint an inch thick, to this favour she must come. Make her laugh at that" (V.i.188-90). Holbien's woodcuts and Deuchar's etchings are both designed to remind an audience that no matter how much power, authority, and wealth one may have, sooner or later death will come to take it all away. Less frequently, they also serve to remind the wretched that even wretchedness will someday end. Our impression is taken from an edition published in London in 1802.

Unless otherwise noted, all of the etchings measure 74x55mm and are printed on wove paper. All etchings also show scattered foxing, mostly in the margins. Price: $175 each.

P.S.: The actual etchings are much sharper than these scans and will be replaced by photographs as soon as we can get to them.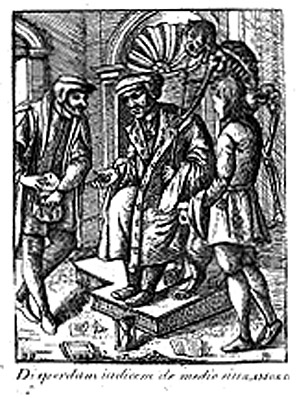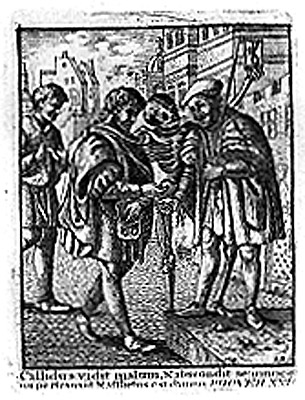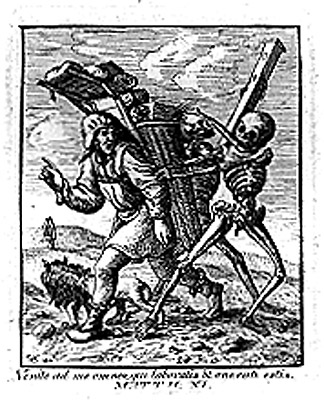 The Judge (plate 29). The Judge reaching out towards the wallet from which a rich man is withdrawing gold coins ignores both the poor man who has come to him for justice and Death who has just taken away his rod of office.
The Advocate (plate 31). The lawyer is offering advice to a well-dressed, well-fed man who is pouring gold into his hands. The lawyer ignores the poor man wringing his hands. He is also ignoring Death, who holds an hour glass whose sands have run out, above his shoulders. He will have no time to spend the gold he is receiving: Death cannot be ignored.
The Peddler (plate 33). The peddler, almost bent over by his heavy load, points toward his destination, but the two Deaths have no intention of allowing him to proceed. One pulls him back while the other begins the music of the dance.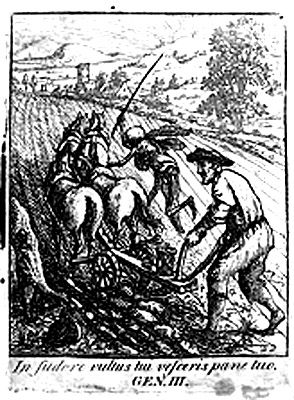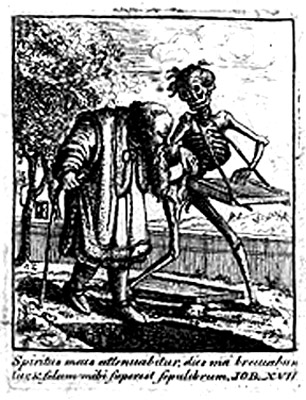 The Plowman (plate 36). Hard at work, the plowman suddenly finds his horses, whipped on by Death, pulling him away from the field that he had intended to plow. His work is over.
The Old Man (plate 41). Stooped with age, an old man allows Death (playing on a psaltery) to lead him to his grave. As the Utopians in Holbein's friend Sir Thomas More's Utopia believed, those who can go to their graves without fear die with a clear conscience.
Death and the Fool (plate 46). The Fool, his finger in his mouth like Goya's Ninny, accompanies his new friend Death, who is playing on a very phallic-looking bagpipe.
Spaightwood Galleries, Inc.
To purchase, call us at 1-800-809-3343 (1-508-529-2511 in Upton MA & vicinity) or send an email to spaightwood@gmail.com.
We accept AmericanExpress, DiscoverCard, MasterCard, and Visa.
We also accept wire transfers and paypal.

For directions and visiting information, please call. We are, of course, always available over the web and by telephone (see above for contact information). Click the following for links to past shows and artists. For a visual tour of the gallery, please click here. For information about Andy Weiner and Sonja Hansard-Weiner, please click here. For a list of special offers currently available, see Specials.

Go back to the top of this page.

Visiting hours: Saturday 10:00 am to 5:00 pm and Sunday noon to 6:00 pm and other times by arrangement.
Please call to confirm your visit. Browsers and guests are welcome.