Click image for BBB rating
See our Privacy Policy
cool="cool" width="784" height="2033" border="0" cellpadding="0" cellspacing="0" gridx="16" showgridx="showgridx" usegridx="usegridx" gridy="16" showgridy="showgridy" usegridy="usegridy" bgcolor="#99ccff">

Spaightwood Galleries
120 Main Street, Upton MA 01568-6193; 800-809-3343
"The Sleep of Reason Produces Monsters":

Goya's Caprichos etchings (1799), Durer's Ship of Fools woodcuts (1494), David Deuchar's etchings (1786) after Hans Holbein's Dance of Death, John Martin's Paradise Lost mezzotints (1823-25), and Georges Rouault's Miserere mixed-media intaglios (1922-1928)

David Deuchar's etchings (1786) after Hans Holbein's Dance of Death
David Deuchar published (c. 1786) a set of etchings based upon Hans Holbein's early 16th-century series of woodcuts on the theme of the "Dance of Death," originally published in 1538 as Les simulachres & histories faces de la mort. Holbein, working shortly after the Reformation had thrown all Europe into chaos, was a congenial inspiration to Deuchar, working shortly after the American revolution had forced the world's greatest military power, England, to abandon the colonies it had recently fought a war to keep safe from the French. It was a war that may have contributed to the dissolution of the French Monarchy, itself shortly to experience revolution and an outbreak of terror, pushing all Europe into a series of wars that led to a revival of French power under Napoleon and then its destruction at the battle of Waterloo at the hands of the British Army and supported by the British Navy. Despite the title, Holbein and Deuchar (in the bulk of his etchings in this series) are more aligned with the memento mori tradition than that of the Dance of Death. Hamlet, holding the newly-disinterred skull of Yorick, his father's jester, is playing against this injunction to "remember death," when he tells the skull to "get you to my lady's chamber and tell her, let her paint an inch thick, to this favour she must come. Make her laugh at that" (V.i.188-90). Holbien's woodcuts and Deuchar's etchings are both designed to remind an audience that no matter how much power, authority, and wealth one may have, sooner or later death will come to take it all away. Less frequently, they also serve to remind the wretched that even wretchedness will someday end. Our impression is taken from an edition published in London in 1802.

Unless otherwise noted, all of the etchings measure 74x55mm and are printed on wove paper. All etchings also show scattered foxing, mostly in the margins. Price: $175 each.

P.S.: The actual etchings are much sharper than these scans and will be replaced by photographs as soon as we can get to them.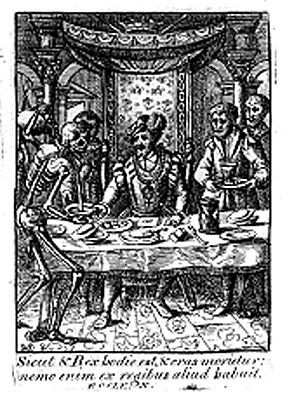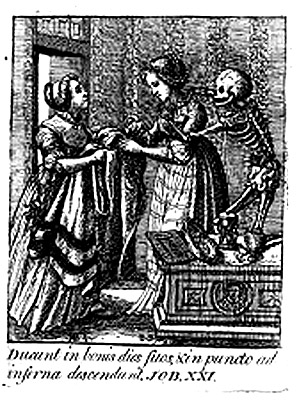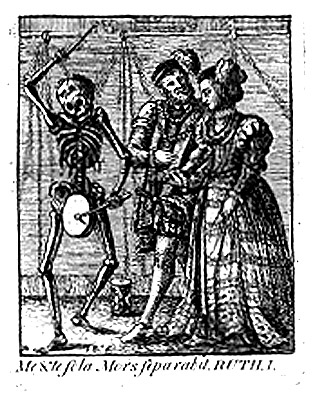 The King (plate 18). Death, serving as the King's cupbearer, offers him his last drink. The King, sitting in state, holding a paper, probably a suit for favor, but the only suit the King will answer after his drink is the winding sheet that will wrap him in the grave.
The Countess (plate 22).With eyes only for the fine clothes her lady-in-waiting is offering her, she does not notice that Death has just slipped a necklace of bones around her neck.
The New-Married Pair (plate 23). The newly weds, eyes only for each other, do not notice Death celebrating their marriage with his drum, initiating them into his embrace.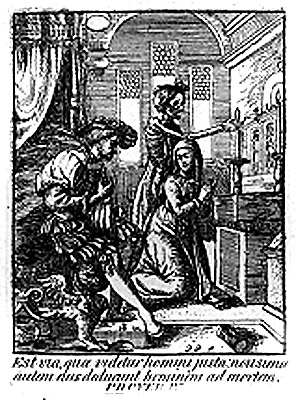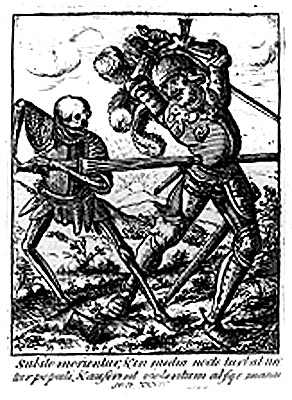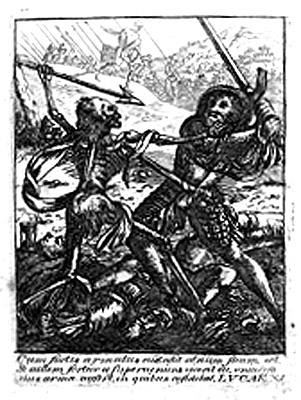 The Nun (plate 24). Kneeling before a little altar, telling her rosary, she is distracted by songs the young man sitting on her bed plays for her on his lute. While she is distracted, Death comes to put out the candles burning on her altar.
The Knight (plate 26). Death has come to teach a knight what killing is all about.
The Swiss Soldier (plate 28). The Switzer (one of King Claudius' bodyguards?), despite the terror that he inspires in others as one of the most feared mercenaries available, is out of his depth, about to receive a killing blow from Death's lance.
Spaightwood Galleries, Inc.
To purchase, call us at 1-800-809-3343 (1-508-529-2511 in Upton MA & vicinity) or send an email to spaightwood@gmail.com.
We accept AmericanExpress, DiscoverCard, MasterCard, and Visa.
We also accept wire transfers and paypal.

For directions and visiting information, please call. We are, of course, always available over the web and by telephone (see above for contact information). Click the following for links to past shows and artists. For a visual tour of the gallery, please click here. For information about Andy Weiner and Sonja Hansard-Weiner, please click here. For a list of special offers currently available, see Specials.

Go back to the top of this page.

Visiting hours: Saturday 10:00 am to 5:00 pm and Sunday noon to 6:00 pm and other times by arrangement.
Please call to confirm your visit. Browsers and guests are welcome.