Click image for BBB rating
See our Privacy Policy
cool="cool" width="786" height="11548" border="0" cellpadding="0" cellspacing="0" gridx="16" showgridx="showgridx" usegridx="usegridx" gridy="16" showgridy="showgridy" usegridy="usegridy" bgcolor="#99ccff">

Welcome to Spaightwood Galleries, Inc.
120 Main Street, Upton MA 01568-6193
Pop Art in the U.S. and Europe
Spaightwood Galleries invites you to browse our recently-updated 2001 Pop Art show, featuring works by a number of POP Artists in America and Europe. As many of the Americans involved have said, they were simply tired of the heroic claims of Abstract Expressionism, of the "poetry" of paintings on the grand scale that painters like Pollock and Motherwell were creating. As Tom Wesselmann said, "I didn't want to deal in poetry. I got rid of that after a few months. I began to anyway. I guess it took me a couple of years to get rid of that. In fact, I guess it was a good two years before I began to come around to the idea that was also voiced and reinforcing myself by Alex Katz when I heard him say one time that his paintings looked brand new, like they'd just come out of a box. This was part of the climate at the time. It was all coming together in about 1962, I guess. More and more, I mean, because you had Lichtenstein coming on the scene, and Warhol and Rosenquist. Things were kind of clean and slick. It was just kind of in the air at the time." POP paintings looked to at least some of the people involved like something "brand new, like they'd just come out of a box" and many of the artists tried to make things that "were kind of clean and slick." On the other hand, one could argue that at the root of this aesthetic was the desire to do to American culture of the 1950s what Duchamp had done to French culture in the teens of the century when he shocked and outraged it by signing a store-bought urinal and displaying it in an exhibition as a work of art. For Johns and Rauschenberg, POP art was a return to DADA, to the anarchic impulse that proclaimed that art is whatever artists say it is and if they say a urinal, or a Brillo box, or a Campbell's Soup Can, or an F-111 is art, so be it. On the other hand (I think we're up to three hands here—perhaps space aliens have gotten involved), since one is hardly expected to study such objects seriously, perhaps we are not trying to outrage but to mock: POP as social satire. On the other hand still again, perhaps it is not necessary to divide things into either/or categories, perhaps American POP art was not so much a movement as a bunch of guys (relatively few women seem to have been involved, unlike Abstract Expressionism, which counted Helen Frankenthaler, Joan Mitchell, Lee Krasner, and Grace Hartigan among its prominent exponents) caught up in the heady excitement of messing about with new stuff. In Europe, however, despite the surface similarities, a different set of impulses can often be seen. For Valerio Adami, the appearance of newness seems more a part of an attempt to revitalize European culture by reminding it of its mythic roots; for Joan Gardy Artigas, it is clearly more a Duchampian strategy of presenting the unpresentable—sexuality—to the last moments (nearly 8 years of them) of Franco's Spain).
Roy Lichtenstein (American, 1923-1997), CRAK! (Corlett 11.2.c). Offset lithograph, 1963. Edition unknown. Printed, according to the text below the image, for Lichtenstein's breakout show: "Leo Castelli 4 E. 77 NY September 28-October 24 1963. According to the late Professor Wayne Taylor of the University of Wisconsin–Madison Art Department who ws there, after the show, Lichtenstein cut off the printed text (still present on our impression) and signed 300 of the remaining impressions of the poster. Printed on thin wove paper. Rich unfaded colors, overall very good condition. One of the classic defining POP images. In July 2005, we received a catalogue for a Lichtenstein show in London by the very reputable Sims-Reed Gallery listing the poster-announcement version of Crying Girl. They were asking £4000 (then about $7600). Sheet size: 536x722mm. Image size: 471x681mm. Price: $4500.
Andy Warhol (American, b. 1928-1987), AFTER. Marilyn Monroe (F&S 27). Color screenprint after Warhol, c. 1970. Edition unknown. Sunday B. Morning, a Swiss publisher, has issued portfoilos of both Warhol's Marilyns and his Flowers. Each print is stamped on the verso, "Sunday B. Morning" and "Fill in your own signature," a reference to Warhol's habit of signing his works on the verso and his use of rubber stamps. Some (though not ours, alas) of these prints are hand-signed by Warhol, "This is not by me. Andy Warhol." Wehave been told that after Warhol had sold out the edition of 250 printed at The Factory, he gave the original screens used to print his edition to Sunday B. Morning but have not found written confirmation of this. If true, these would then be restrikes of the original Warhol's and not scrrenprints after the originals. Image size: 913x912mm. Price: $1500.
James Rosenquist (American, b. 1933), For Love (Solomon 9, Glenn 13). Original color seriraph, 1965. 200 signed & numbered impressions plus 50 H.C. for contributors (numbered I/L-L/L) for the portfolio, 11 Pop Artists III. One of Rosenquist's most important early Pop prints. Included in The Pop Image: Prints & Multiples. A wonderful example of painterly POP art. Image size: 892x678mm. Price: $3700.
Carousel, State 2 (Glenn 131A). Original color aquatint & etching, 1978. 78 signed, titled, & numbered impressions + 24 APs. Printed by Flatstone Studio and published by Multiples Inc. Marginal handling creases and several small marginal tears well away from the platemark. Image size: 578x1013mm. Price: $2750.
Jim Dine (American, b. 1935), Awl. Original color serigraph, 1965. 200 signed & numbered impressions + 50 H.C. for contributors (numbered I/L-L/L) for the portfolio, "11 Pop Artists I." One of Dine's earliest "Pop art" prints; it is also one of Dine's signature prints and one of the classic Pop prints. Image size: 607x504mm. Price: $5500.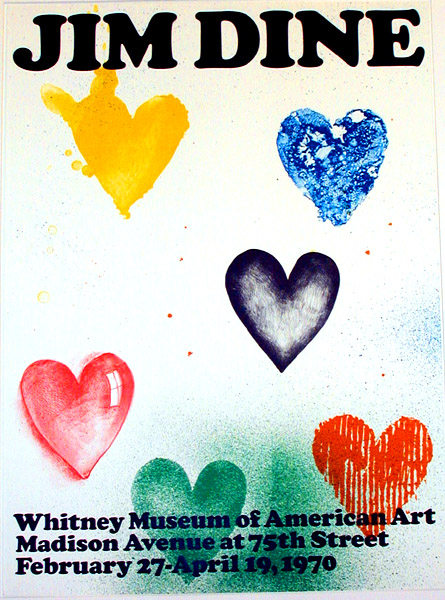 Whitney Museum Poster (Mikro 73). Original color lithograph, 1969. 350 signed & numbered impressions + 1000 unsigned impressions. A very fresh example of this important work (signed impressions sell for up to $12,000), here used as a kind of trademark impression for this major retrospective. In Dine's work, the heart refers to his wife, Nancy. Image size: 755x551mm. Price: $950.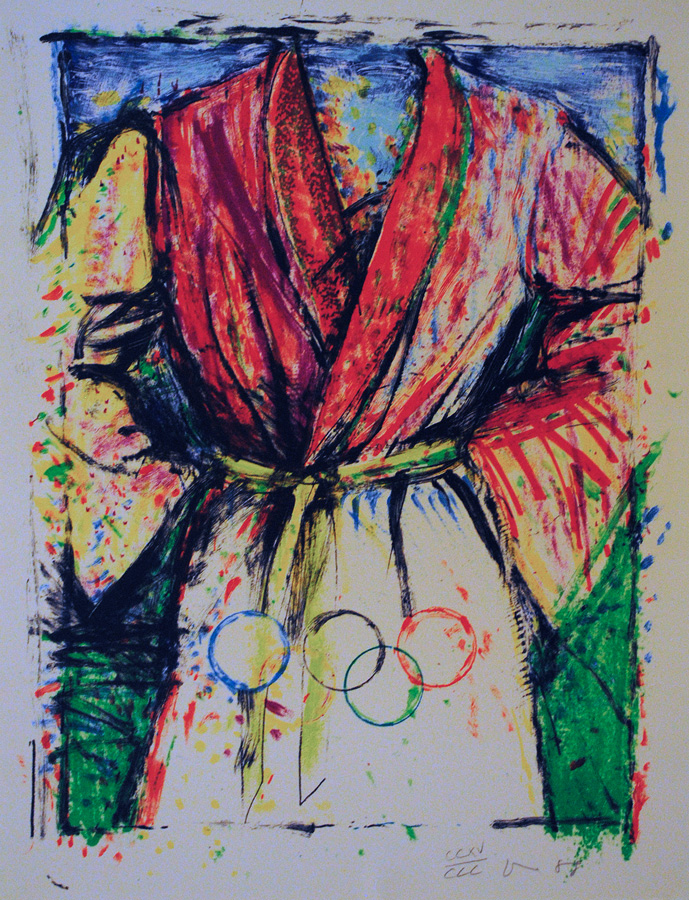 Jim Dine (American, b, 1935), Olympic Bathrobe. Original color lithograph, 1988. Executed for the 1988 Seoul Olympic Portfolio but not actually released to the public because the publisher went bankrupt. The edition was supposed to be 300 signed & numbered impressions plus 30 artists proofs. There was also printed a Roman-numeraled edition of 300 that was supposed to be for the members of the International Olympic Committee but, so far as we know, that too was never released to the members (we have had several of the roman-numeraled impressions, all acquired from one of the people who bought up the bankruptcy paper). We have been told by one of the creditors that while the prints were in storage under the supervision of the Bankruptcy Court, many impressions were water damaged, but we have not actually seen any of these damaged pieces. Several impressions of this work were sold at auction between 1990 and 1993, averaging nearly $7000. Image size: 890x685mm. Mat size: (44x36 inches inches). Price: $6500.
Larry Rivers (American, 1935-2002), Camel Quartet. Original color lithograph & screenprint, 1978-90. 50 signed and numbered impressions. Printed by Styria Studios & published by Marlborough Graphics. Rivers was one of the first Pop Artists. Over the years, he has become one of the most important living American artists. A wonderful example of painterly POP art. Image size: 522x417mm. Price: $2975.
Allen Jones (English, b. 1937), Por les lèvres / For the lips (Lloyd 30). Original 9-color seri9raph, 1965. 200 signed & numbered impressions plus 50 H.C. for contributors (numbered I/L-L/L) for the portfolio, 11 Pop Artists III. Jones is one of the most necessary of the founding fathers of Pop Art in spreading the imagery of Pop Art beyond the walls of galleries and museums. In addition to his fine art, he was also active in designing settings for the theater, ballet, and film (including Blow Up and A Clockwork Orange). Illustrated in Pop Impressions Europe/USA: Prints and Multiples from the Museum of Modern Art. Image size: 769x590mm. Mat size: 40x32 inches. Price: $4750.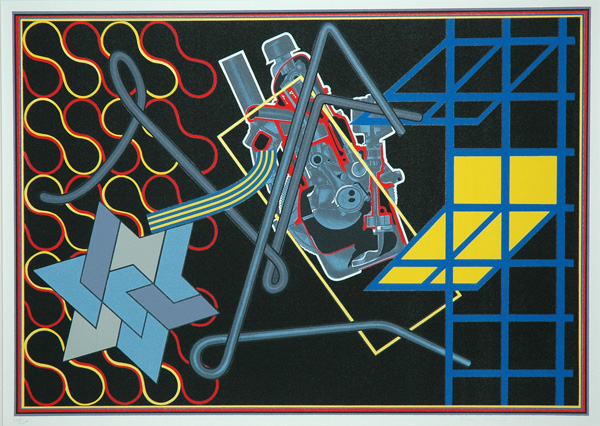 Peter Phillips (English, b. 1939), Composition. Original color serigraph, 1970. 200 signed & numbered impressions on Rives wove paper. Once again, Phillips employs the customizing of cars as a metaphor for the work of the artist. Signed and dated lower right, numbered 164/200 lower left. Image size: 454x653mm. Price: $2000.
Mel Ramos (American, b. 1935), Del Monte Catsup. Original color lithograph, 1972. 2500 numbered impressions for an exhibition in Zurich. Our's is a rare impression pencil-signed by Ramos. An unsigned impression of this important lithograph sold at auction several years ago for $1100 plus buyer's premium for a total of about $1300. One of Ramos's most typical Pop images combining pin-up culture with commercial advertising. Image size: 780x635mm. Mat size: 40x32 inches. Price: $2500.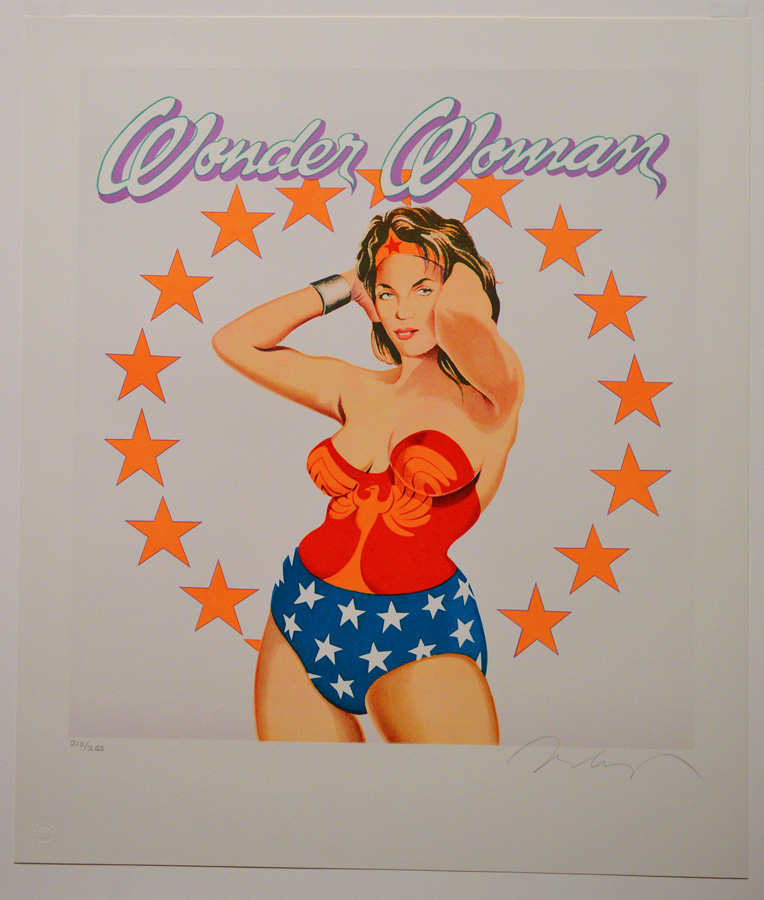 Mel Ramos (American, b. 1935), Wonder Woman. Original color lithograph, 1981. 250 signed and numbered impressions of which ours is n. 210/220. Ramos is one of the best known of the POP artists specializing in exploring the commercialization of the female image via comic book figures and advertising. Published by Atelier Dumas (NY). For more information, see Robert Rosenblum, "Mel Ramos" (Cologne, London, Paris, NY: Taschen Boks, 1997). Image size: 480x455mm. Mat size: 30x24 inches. Price: $1850.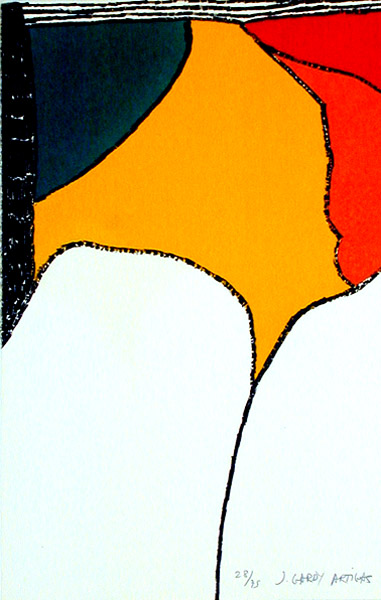 Joan Gardy Artigas (Spanish, b. 1938), The geographie of desire. Original color lithograph, 1979. 75 signed and numbered impressions published by Maeght Editeur in Paris. Image size: 501x322mmmm. Price: $575.
Robert Indiana (American, b. 1928), V/H (9). Original color serigraph, 1982. 125 signed & numbered impressions. Image size: 610x610mm. Price: $2950.
Valerio Adami (Italian, b. 1935), Le peintre aux lunettes. Original color lithograph, 1983. 75 signed & numbered impressions. Adami has long been interested in re-visioning scenes from classical mythology, Europe's lost "history." Image size: 560x710mm. Price: $975.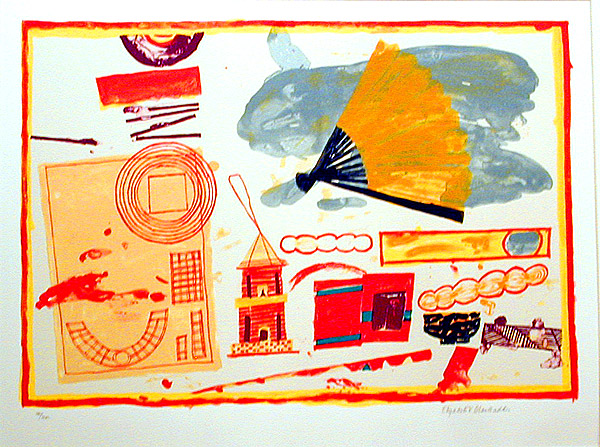 Elizabeth Blackadder (Scots, b. 1931), Still Life with Pagoda Original 12-color screenprint, 1998. 100 signed and numbered impressions on Somerset UK printed at Grsham Studio Ltd. in Cambridge, England and published by the National Museum of Women in the Arts in their 25th Anniversary portfolio. Respected as a printmaker for over four decades, Blackadder is the first woman ever elected to membership in both the Royal Academy and the Royal Scottish Academy. She was awarded the Order of the British Empire by Queen Elizabeth II. During her career, Blackadder has experimented with a range of printing media including lithography, etching, aquatint, drypoint, woodcut and screenprint beginning with her student days in the early 1950s. Her first prints were published in 1958; since then Blackadder has worked with a range of studios and publishers, including Curwen Studio, The Mercury Gallery, Peacock Printers and, most extensively, the Glasgow Print Studio Image size: 410x585mm. Price: $1800.
Judy Pfaff (American, b. London, 1946), WU FU WU. Original etching on Japanese Kozo paper with hand-colored opalescence, 1995. Edition: 120 signed impressions printed at the Tandem Press of the University of Wisconsin-Madison for the Madison Print Club (whose members include the Chasen Museum of Art at the University of Wisconsin, Madison and the Madison Museum of Contempoorary Art) plus 20 artists proofs. Signed "J. Pfaff '95" lower right and "ed 120 lower left." Image size: 260x720mm (10-1/8x27-1/2 inches). Price: $2500.
Spaightwood Galleries, Inc.
To purchase, call us at 1-800-809-3343 (1-508-529-2511 in Upton MA & vicinity) or send an email to spaightwood@gmail.com.
We accept AmericanExpress, DiscoverCard, MasterCard, and Visa.
We also accept wire transfers and paypal.

For directions and visiting information, please call. We are, of course, always available over the web and by telephone (see above for contact information). Click the following for links to past shows and artists. For a visual tour of the gallery, please click here. For information about Andy Weiner and Sonja Hansard-Weiner, please click here. For a list of special offers currently available, see Specials.

All works are sold with an unconditional guarantee of authenticity (as described in our website listing).

Go back to the top of this page.

Visiting hours: Saturday 10:00 am to 5:00 pm and Sunday noon to 6:00 pm and other times by arrangement.
Please call to confirm your visit. Browsers and guests are welcome.