Click image for BBB rating
See our Privacy Policy
cool="cool" width="785" height="5730" border="0" cellpadding="0" cellspacing="0" gridx="16" showgridx="showgridx" usegridx="usegridx" gridy="16" showgridy="showgridy" usegridy="usegridy" bgcolor="#99ccff">

Welcome to Spaightwood Galleries, Inc.
120 Main Street, Upton MA 01568-6193

You can follow us on Facebook and Twitter!
We blog regularly on Facebook and announce special events and special sales on both sites.
Pierre Alechinsky: Transformations
In the Chinese calendar, the Year of the Snake comes every twelve years. For Alechinsky, a founding member of COBRA (an acronym for the cities that contributed members to the group, Copenhagen, Brussels, and Amsterdam), the Year of the Snake can be an auspicious one. In 1977, also the Year of the Snake, Alechinsky was awarded the first Andrew W. Mellon Prize for Painting and executed one of the prints we are featuring, also called The Year of the Snake. In 1989, Alechinsky's Guggenheim retrospective which had been traveling in Europe for almost two years had finally come to its end, in 2001, we celebrated the Year of the Snake with a large show of Alechinsky's original prints and several drawings; in 2013, the Year of the Sanke will come again, but we have no intention of waiting until then. Only time will tellwhen, but time is whispering in our ears, why not in the fall of 2009 in a salute to Alechinsky's turning 81 (9x9, a number that probably has not significance whatsoever so far as Alechinsky is concerned). We are featuring lots of Alechinsky's favorite images: Central Park, snakes, volcanoes, gardens, dog-kings, smiling crocodiles and sea monsters, and people existing as best they can in a world that often seems to invite extreme emotional responses. (Sometimes you just want to scream!) Still, the central act of Alechinsky's art is the making of marks on a sheet of paper, on a canvas, on a copperplate, on a lithographic stone: for that is what distinguishes artists (visual or verbal) from destroyers.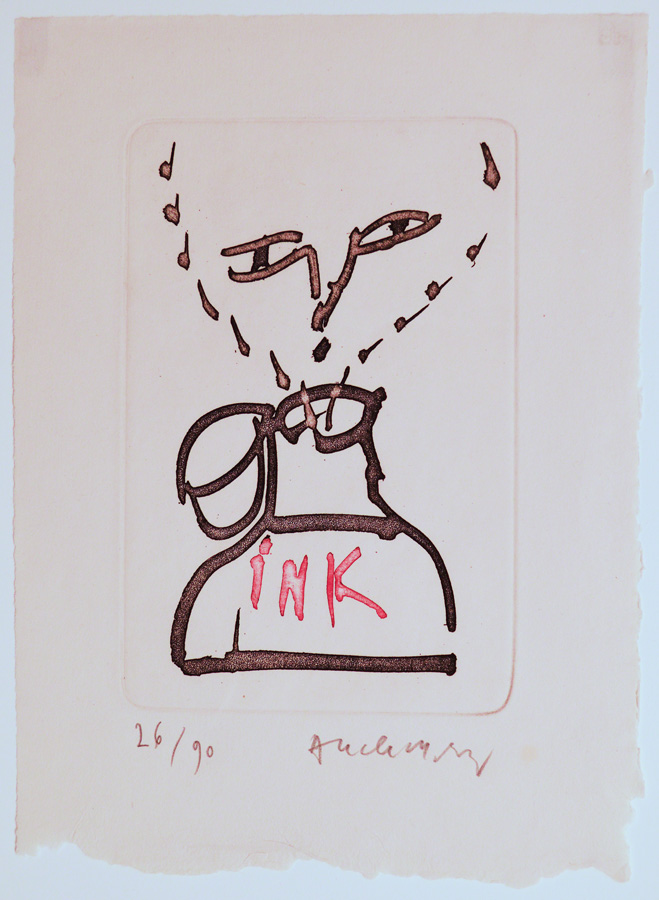 Ink. Original color etching, 1989. 90 signed & numbered impressions on handmade rice paper. Like a djinn arising out of a magic lamp, an image of the artist arises out of a bottle marked "ink." Art is no less magic than when the the artist consciously acknowledges his role as a creator. Image size: 165x110mm. Price: Please call or email for current pricing information.
L'avenir de la propriété / The future of the property. Original etching, 1992. 60 signed & numbered impressions of w hich this is n. 26. on on a hand-wriiten hisory of the sixteenth century. The sheet is headed "1565" and is concerned with the events of the time. On top of it, however, Alechinsky has superimposed an uncapped bottle of ink out of which is rising a large black question mark. Although numbered 24/60, each of the images must differ with the paper. Image size: 130x78mm. Price: Please call or email for current pricing information.
Crevette en salade / Shrimp salad (A. 382). Original color lithograph, 1969. 100 signed & numbered impressions plus xv artist's proofs, of which ours is n. 79/100. Image size: 500x730mm. Price: Please call or email for current pricing information.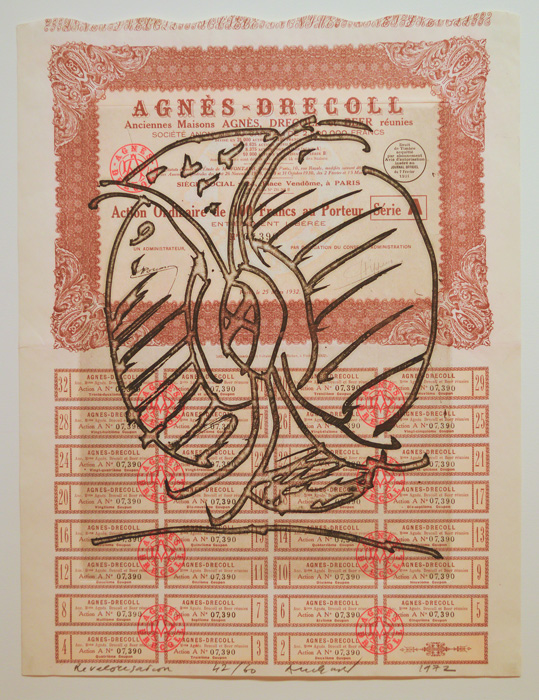 Revalorisation. Original etching on old commercial paper mounted on arches, 1972-1981. 60 signed and numbered impressions. Once upon a time, the bond had value, then it became worthless. But then Alechinsky printed upon the worthless paper and it again took on value, this time as a work of art. Our impression has all of its coupons still present (others we have seen had had some of them clipped). Image size: 411x311mm. Price: Please call or email for current pricing information.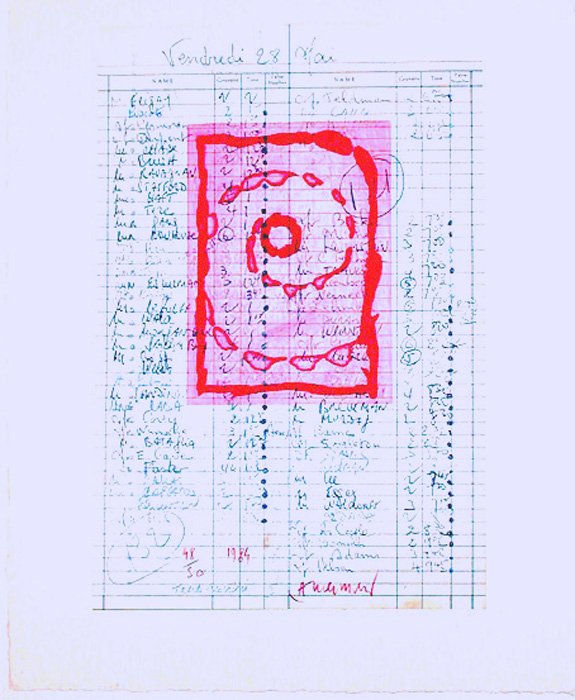 Table reserve II. Original color etching on old paper, 1984. 50 signed and numbered impressions. For this pprint, Alechinsky printed on the pages of the resevation book of one of his favorite New York restaurants. The pages were then hinged to special hand-made paper with Alechinsky's watermark. Each impression is thus unique. The image here the photograph was taaken in 2001 when the world was younger, I was just learning how to photograph art with a digital camera, and my camera was not very good) does not do justice to the real thing, but the presence of many different colors of inlk drove my poor photo programs nuts. Image size: 502x385mm. Price: SOLD.
Avec Michel Portal. Original color lithograph, 1980. 90 signed and numbered impressions. This work was designed for to be reproduced on the cover of an album of music by Michel Portal, one of Alechinsky's friends, and, was then, perhaps more importantly for our consideration, selected by the Guggenheim Museum to be reproduced on the front cover of Margin and Center, the catalogue that accompanied their major Alechinsky retrospective in 1987. This cover was reproduced on at least the Belgium version of the catalogue of this show, which circulated for over two years, going to Germany, Belgium, and ending in Paris. One of Alechinsky's most sought-after images. Slightly browning at bottom and right edges, far away from the image area. Image size: 368x327mm. Price: SOLD.
Writing Book. Original color lithograph, 1984. 99 signed & numbered impressions on Arches. Surrounding the central image, most of the page is fuilled with a grear many repetitions of phrases to increase the beauty of the hand that made them, but in the center of the sheet, that hand appears, holding the pen with it worked, a giant, pink blob retouched with green crayon, reminding us that writing can have consequences. Image size: 490x647mm. Price: Please call or email for current pricing information.
Chanps clos (M. 1981, p. 19). Original color etching and lithograph, 1980. 99 signed & numbered impressions. In the midst of a verdant green backsground a city, with highly defied boundaries (the etchings platemark separates it from the green surrounding it), but the green is clearly pushing at the city, like the Old Forest in Tolkien's Fellowship of the Ring and clearly has plans for a future takeover in mind. Image size: 900x630mm. Mat size: 42x30 inches. Price: Please call or email for current pricing information.

For of a view of this work on one of our 13 feet high walls, see Gallery Tour 2.
Spaightwood Galleries, Inc.
To purchase, call us at 1-800-809-3343 (1-508-529-2511 in Upton MA & vicinity) or send an email to spaightwood@gmail.com.
We accept AmericanExpress, DiscoverCard, MasterCard, and Visa.
We also accept wire transfers and PayPal.

For directions and visiting information, please call. We are, of course, always available over the web and by telephone (see above for contact information). Click the following for links to past shows and artists. For a visual tour of the gallery, please click here. For information about Andy Weiner and Sonja Hansard-Weiner, please click here. For a list of special offers currently available, see Specials.

All works are sold with an unconditional guarantee of authenticity (as described in our website listing).

Go back to the top of this page.

Visiting hours: Saturday 10:00 am to 5:00 pm and Sunday noon to 6:00 pm and other times by arrangement.
Please call to confirm your visit. Browsers and guests are welcome.